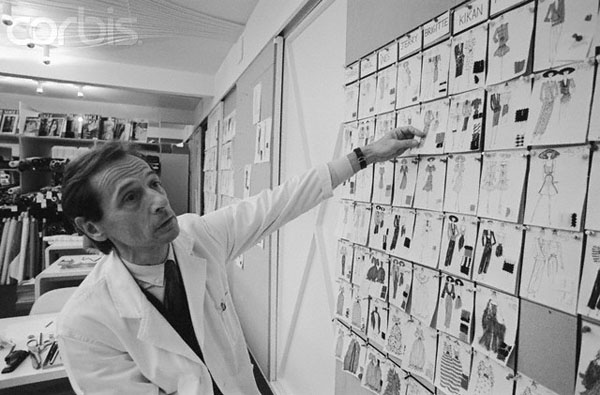 Marc Bohan. Photo by Pierre Vauthey.
Correctly guessed by the reader Vintage_, that guy is legendary fashion designer and couturier Marc Bohan! Bohan became interested in fashion at a young age, learning a great deal from his mother, who was a milliner. He secured his first placement at Piguet, where he worked for four years, and then accepted a job as an assistant at Molyneux in 1949. Five years later, he was offered a job at Jean Patou, designing the haute couture collections.
With an impeccable design pedigree, Bohan joined the house of Dior, first as the director of their English operations in London. But in 1960, when then creative director Yves Saint Laurent left Dior for military service, Bohan was called back to Paris to take over as chief designer and artistic director. Bohan's collections for Dior were widely influential, and expertly tiptoed the line between top fashion and traditional haute couture. He helmed Dior for nearly 30 years, leaving in 1989.
Bohan is an unsung hero, a talented designer who always put the house he worked for above himself. We can certainly see his influence in Raf Simons' approach to couture at the house of Dior, not a bad role model to look up to.
Follow the jump for the significance of the clues!
Clue #1: Doctor Zhivago – One of Bohan's most influential collections was inspired by the movie Doctor Zhivago. The 1966 collection featured full, fur-trimmed coats, swirling calf-length dresses and high boots.
Clue #2: Grace Kelly – Kelly was one of Bohan's biggest fans, and clients. She adored his flowing chiffon dresses, and several of his designs were included in an exhibit that showcased her most memorable ensembles.
Clue #3: Oleg Cassini – This clue might seem a bit odd at first, as Oleg Cassini was a fellow designer, best remembered for dressing Jacqueline Kennedy. What you may not know, is that Cassini was specifically instructed to copy several of Bohan's designs for Dior, as the First Lady could not wear French designers but greatly admired his work. But the admiration was mutual, as Bohan's first collection for Dior was inspired by Mrs. Kennedy and dubbed the Slim look.