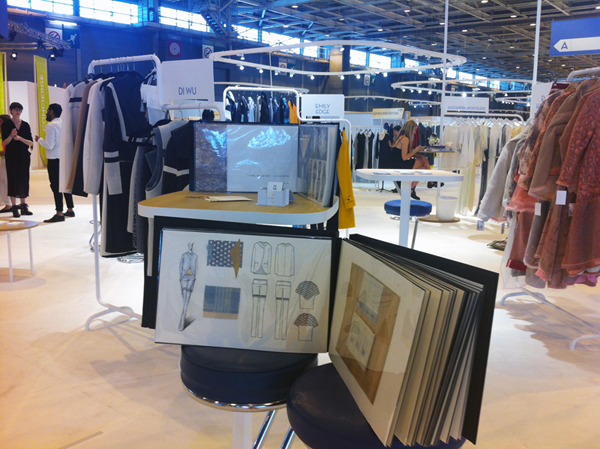 Wu Di showcases her collection at the Arts Thread/Who's Next exhibition in Paris.
For today's Alumni Update, we spoke with 2012 MFA Fashion Design alumna Wu Di. Di debuted her senior collection at Mercedes-Benz Fashion Week  last February, and was recently invited to display her collection at the Arts Thread/Who's Next Prêt à Porter exhibition in Paris. We chatted with Di about her experience at the exhibition and in the wonderful City of Light – read on for the interview!
How did you get involved with the Arts Thread/Who's Next exhibition?
Sean Moore, the director of graduate fashion, nominated me to be part of this event and then I submitted my graduate collection and portfolio to the Arts Thread website. One morning, I got an email from Arts Thread saying I was one of the winners and would have the opportunity to go to Paris! I was so excited for the opportunity, and so grateful to Sean.
What did you do at the exhibition and in Paris?
At the exhibition, I displayed my collection and my portfolio. I received a lot of feedback on my designs, which made me very happy. It showed me that my designs have a market in the industry and it gave me confidence for my future career. I was also able to network with people in the industry, and people in the Arts Thread community. They are from many different countries and universities, and we all shared our ideas and designs with each other – we learned a lot from each other.
After the exhibition, I was invited to see the showroom for some Parisian designers at BUREAUSEUTAIL. And of course, I did lots of the touristy things in Paris – I went to the Tour Eiffel, Musee du Louvre, Centre National d'Art de Culture Georges Pompidou and so on. I also really enjoyed the architecture and sculptures in Paris.
Follow the jump to read more!
What was your favorite experience at the exhibition?
It was a very interesting experience. I think that the best experience of this exhibition was seeing a major fashion trade market on a global scale. It opened my eyes and broadened my view of the fashion industry. It also allowed me to build my network within the industry, which is very important.
Were there any other designer's whose collections you loved?
Yvonne Lin, who graduated from Ryerson University in Canada. Her inspiration came from a wide array of cultures and she used white lambskin to create the entire collection. I loved her attention to detail.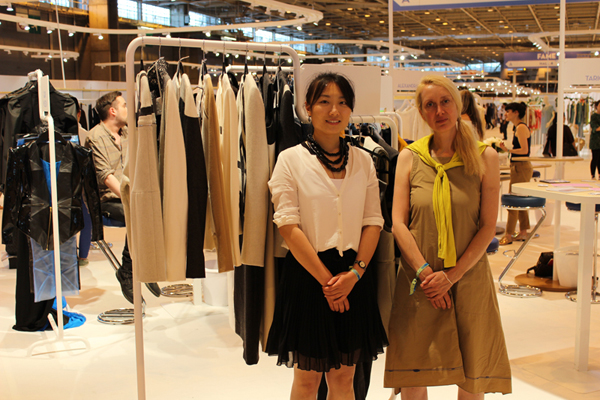 Di with Katie Dominy, co-founder and director of Arts Thread.
For more Alumni Updates, click here.