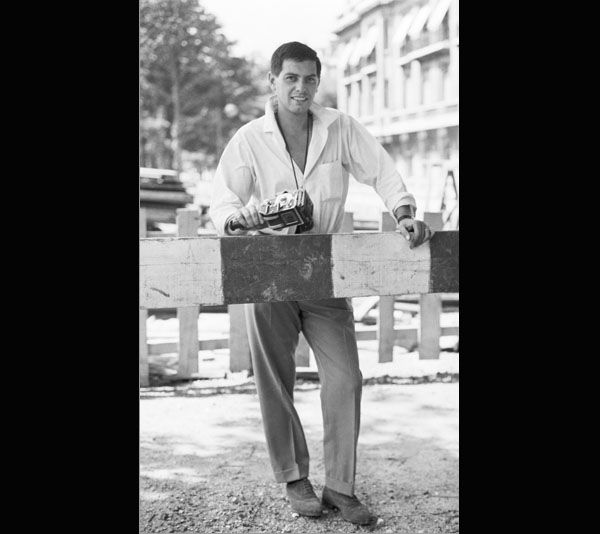 We're seriously impressed by Ashley Strunk's knowledge of fashion history – for the fourth week in a row, she's nailed our mystery man, and this week it's Georges Dambier! You may recognize Dambier's name from our latest edition of Monday Morning Photo, featuring the lovely Bettina in front of a Miró – one of our all-time favorite images. Dambier was known for his effortless style and the life he brought to all of his photographs. Though the era often brings to mind photographers such as Irving Penn and Richard Avedon, the influence of Dambier's photographs is undeniable. He was one of the first photographers to go out in the streets, bringing an elegant spontaneity to his images that felt fresh and new – he had an uncanny ability to capture those perfect stolen moments.
Now follow the jump for the clues!
Clue #1: Rita Hayworth – After WWII, the night life scene in Paris took off, just as Dambier was gaining an interest in photography. One night he managed to capture several photos of Rita Hayworth arriving incognito at the famous night club, Le Jimmy's. He approached the editors at France Dimanche, a new weekly magazine in Paris, and said he would give them the photos in exchange for a staff position at the publication. He became a photo-reporter for the weekly, traveling around the world covering current events.
Clue #2: TWENTY – In 1964, Dambier launched his own magazine, TWENTY. He hired young artists and photographers, and sought to present fashion and culture in a way that attracted the younger generation. Though the publication lasted only a few years, it helped launch the careers of many notable aritsts and photographers, including Jean Paul Goude and Bosc.
Clue #3: Paris – Dambier's heart belonged to Paris. He loved shooting on the streets, at the markets, in the cafés – the city was his favorite backdrop.
Thanks for playing!