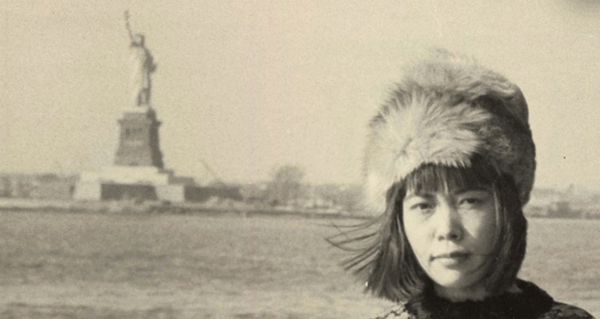 We thought we might fool you with a picture from so long ago, but we thought wrong. Correctly guessed by Tremaine Wheaton and Ian Horn, that gal is Yayoi Kusama! The legendary Japanese artist, who recently collaborated with Louis Vuitton and currently has an exhibit at the Whitney Museum, is on everyone'e radar lately, but has been a major force in the art world for decades.
The photo above was taken while Kusama lived in NYC in the from the late 1950s to the early '70s. During her time in the Big Apple, she established her reputation as a leader of the avant-garde movement. She produced a number of works, including installations and even performance pieces, often in protest of the Vietnam War. Kusama returned to Japan 1973, where she began writing novels and short stories in addition to painting and sculpture. Her work often explores themes of repetition, sexuality, and feminism on deeply personal levels. There is not doubt that she is one of the great artists of the 20th – and 21st – centuries.
Follow the jump for the clues!
Clue #1: Sensei – As a senior, Kusama entered the Kyoto Municipal School of Arts and Crafts to study Nihonga painting. Her instructors held the philosophy that students should learn the tradition through the sensei – a strict system of master and disciple. She hated the rigidities of the program, and her time at the school.
Clue #2: Infinity – Kusama is best known for the vast fields of polka dots she creates in her work She dubbed them "infinity nets," looking to create a feeling of infinite space in paintings, photographs, and installations. She says that the infinity nets are taken directly from her hallucinations.
Clue #3: Georgia O'Keeffe – When Kusama first moved to the United States after living in Japan and France, she spent a year in Seatttle, Washington. It was through a correspondence with artist Georgia O'Keeffe that Kusama became interested in the city. She was drawn to the New York artistic circle and the notoriety that fellow artists had achieved.
Thanks for playing – until next week!