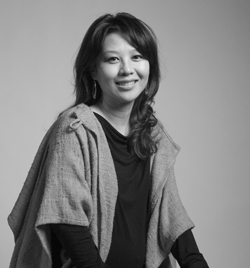 Jie Jessie Liu was born and raised in Penglai, in the Shandong Province of China, and earned her B.F.A. in Accounting from York University in Canada. At Academy of Art University, she has earned her M.F.A. in Fashion Design. Liu's designs were also presented at the University's Spring 2012 Fashion Show as part of the Italian Trade Commission Collection, and she earned second place in the Inspired by Vitamin Water design competition that was judged former Project Runway finalist Mondo Guerra.
Liu collaborated with textile designer Tanja Milutinovic for her Spring 2013 collection. She was inspired by the artist Anish Kapoor, known for his geometric, streamlined sculptures and installations, which she interpreted in the garments' sharp lines and angular silhouettes.
Follow the jump to read our interview with Jie!
When did you first realize you wanted to be a designer?
My story is quite simple. Like so many women, I loved to dress my Barbie dolls when I was young.  Naturally, I became a shopaholic when I could financially support myself, albeit with selective prudence. And though I worked in finance, I loved looking through fashion magazines with beautiful editorials – they spoke to me in a way that financial statements and quarterly earnings reports didn't. I decided that I wanted to work in a profession that I didn't consider a "job" – and so I turned to fashion design.
What was the first article of clothing you ever designed?
My first attempt at designing clothing was when I was in kindergarten. I made clothes for my dolls and Barbies, and was constantly changing their outfits.
What other designers do you admire and why?
I admire those young designers who have given the classic houses a face-lift.  For example, Burberry Prorsum's Christopher Bailey, Balenciaga's Nicolas Ghesquière, and Salvatore Ferragamo's Massimiliano Giornetti. They have all had the courage to challenge the status quo and have created fabulous looks in recent years.  I respect their can-do attitude and innovative spirit.
What is your present state of mind?
I am humbled thinking of all the fabulous fashion designers who came before me in earning this opportunity to present my work and I am grateful for the chance.
What has been the hardest part of designing and creating your own collection?
The hardest aspect of designing is to have the physical strength and will power to spend such long hours to develop each look.  The devil is in the details.
Where do you find inspiration?
I find inspiration in architecture, literature, cultural relics, and modern art.
What do you love most about being a designer?
I love the flexibility and space for creativity.  In the beginning of each design process, my creative space is like a blank slate, waiting for me to fill it with ideas and inspirations.  I love the exhilarating feeling of finding and distilling design elements from my inspiration.
What is the most important thing people should know about you?
No matter the project is small or big, simple or extravagant, if I am to work on it, I will give it all I have and then some!
For more on the Academy of Art University Spring '13 Fashion Show, click here.