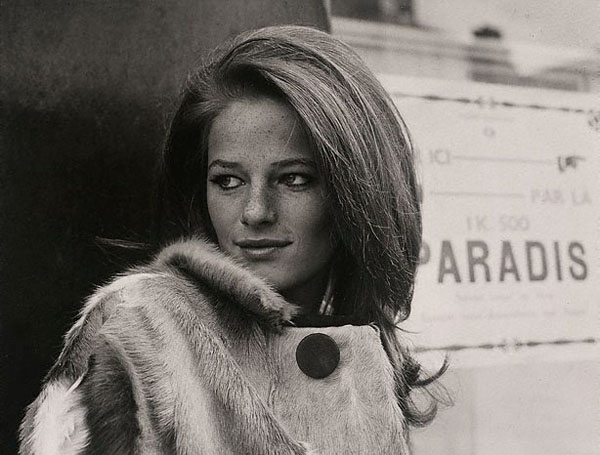 Photo by Lewis Morley.
Guessed correctly by Ashley Strunk – for the second week in a row – that gal is Charlotte Rampling! Rampling is an English actress who got her start in the modeling industry at the age of 17. After only a few years, she made the leap to acting, but has remained a style icon throughout her career. Known for playing chilly, villainous women, Rampling has always sought out roles that offered a challenge, to much acclaim. The British film critic, Barry Norman, even coined the term "to rample," which he defined as "an ability to reduce a man to helplessness through a chilly sensuality." Rampling's sensuality is quite legendary, and her personal life often caused controversy in the media – not that she ever cared. And now for the clues!
Clue #1: A Chimpanzee – Rampling starred opposite a chimpanzee in Max mon amour. Her character is the wife of a British diplomat in France, and takes the chimpanzee, Max, as her lover. When asked about the experience, she replied, "Difficult acting with a chimp? No, no. The emotions were the same. In a way, it was like playing opposite Paul Newman. The chimpanzee reacted differently, thats all."
Follow the jump for the rest of the clues!
Clue #2: Nudity – Widely revered for her provocative roles, Rampling has never shied away from nudity in films. In Dirk Bogarde's The Night Porter, Rampling played a concentration camp survivor who has a sadomasochistic relationship with a Nazi officer. And more recently, in a 2004 ad campaign for Marc Jacobs, Rampling poses in various states of undress with a naked Juergen Teller. 
Clue #3: The Look – A new documentary on Rampling, The Look, features a series of conversations between the actor and her close friends and confidantes. The title comes from her two-time costar Dirk Bogarde who once wrote, "I have seen the Look under many different circumstances… The glowing emerald eyes turn sleet within a second, [and] fade gently to the softest, tenderest, most doe-eyed bracken-brown." The film is an intimate portrait of Rampling, certainly a must see.
Thanks for playing this week – until next!!
[imagebrowser id=19]