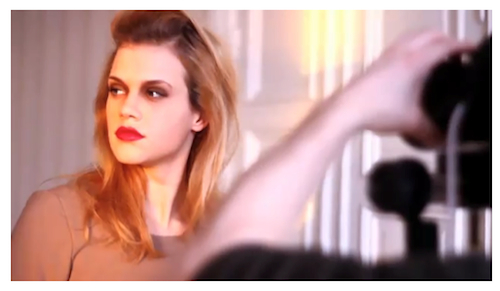 The Berghs School of Communications, based in Stockholm, Sweden, hosted a reception on April 27th to increase awareness of their partnership program with the Academy of Art University. Faculty from the Advertising, Web Design, and Graphic Design schools were invited as well as local industry professionals for a cocktail reception and presentation of the award-winning work of Berghs' students.
Students from Berghs often work with instructors on real client projects, such as a collaboration with the Swedish Fashion Council called "Rookies for Rookies" where the brand and advertising teams of Berghs helped create "mini commercials" for upcoming designers:
Another interesting project was the "Don't Tell Ashton" campaign. Berghs' students come primarily from Sweden and the school wanted to increase global awareness of their program. So a few students created a Twitter campaign where anyone who tweeted the hashtag would get their avatar included in a giant collage. The size of your avatar was based on your number of followers and the team realized that if Ashton Kutcher (who has one of Twitter's largest group of followers) were to tweet, his picture would cover most of the collage and defeat the purpose. Within a few days, over four million people had tweeted the hashtag, #donttellashton. The team then took the collage to show Kutcher and he tweeted the picture to five million of his followers, more than doubling the distribution. At the end of the project, Berghs received applications from 14 countries, dramatically increasing their global reach.
Follow the jump to read more.

Although much smaller than the Academy of Art University (Berghs has only 250 full-time students, and roughly 2,000 part-time students), the schools are similar in that both utilize working industry professionals as instructors. Berghs' students start their program with a foundational semester in Stockholm and then choose from one of three partner schools to complete their degree: The Academy of Art University for the Fine Arts degree, Edith Cowan University in Perth, Australia for Communications, and Billy Blue College of Design in Sydney, Australia for Design. Berghs' partnership with our school started in 2007 and there are 37 Berghs students currently enrolled with the Academy of Art University. A recent Fashion Merchandising graduate came from Berghs and returned to Sweden to take a job with Monki, a women's apparel company.
Written by: Yasha Stelzner, MFA Fashion Journalism. Visit her blog, www.bizstylist.com and follow her on Twitter: @bizstylist.