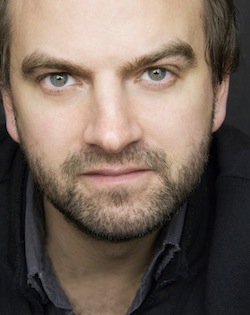 Menswear designer, Andrew Buckler, was born in England, graduated from the Royal College of Art in London with a Master of Art, was awarded the Mercier Champagne Scholarship, and was a representative on the Royal College of Art Senate. He launched Buckler in April 2001 and has since opened his flagship in New York's Meatpacking District and stores on Grand Street in New York's SoHo, as well as London and Toronto. Buckler is sold at select retailers internationally and worn by such personalities as Jeremy Renner, Robert Buckley, Jay-Z, Shia LaBeouf, Giovanni Ribisi, Robert Plant, John Legend and Tommy Lee. He is a member of the Council of Fashion Designers of America (CFDA). His designs are tailored, versatile, masculine and sexy, brought to life with quality textiles from the U.S. and Italy. Buckler, the brand, has stayed true to its origin aesthetic conception: English Bloke meets New York.
Fashion School Daily caught up with Andrew Buckler before his San Francisco visit next week.
Have you ever been to San Francisco before?
This is my first time. I'm looking forward to my visit!
What are you planning to do during your visit?
I will be meeting some of our wholesale stores and looking at possibilities for a Buckler retail store — would be great to have our own store in San Francisco!
How far in advance does a collection usually come together? Have you begun working on your Spring/Summer '12 collection for September?
Yes, Spring/Summer '12 is well on the way; we started it in January — researching ideas then creating actual designs. Now we are starting to review prototypes. Menswear (Spring/Summer) has to be finished by June and ready in time for wholesale (US/Europe), with the show in September, for the press.
Follow the jump to read more.

Where do you find inspiration from the most when creating a collection?
I think the biggest influence for me is a mix of current books, exhibitions, music and culture. Our Fall '11 collection was inspired by street art and artists like Bansky. I've never been that influenced by vintage aside from construction — the way garments used to be put together.
After fashion week is over, do you often take a holiday?
I actually rarely take a holiday after shows; it tends to be straight back to work and maxing the show with sales, and designing the next collection. However, I do travel a lot for work to Istanbul and Italy so I usually try tack on a few days to chill out. 

When interviewing applicants for internships, what do you look for the most in the person?
It would be a mix of talent, dedication and a good understanding of design software programs. Design communication is key in my team.
P.S. Alum Mun-soo Kwon has worked with Andrew Buckler as an associate designer. For the past couple of seasons, we were able to chat with him while at New York Fashion Week. Click here to read about his work with the label.
You can follow Andrew Buckler on Twitter: @Andrew_Buckler
For more information on our graduation fashion show and events, click here.