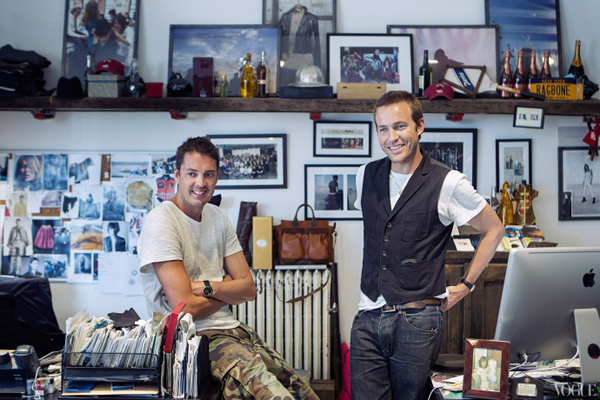 Marcus Wainwright and David Neville in the Rag & Bone design studio. Photo by Victoria Will, Courtesy of Vogue.
Touring a designer's studio offers an intimate look at who they are, what is meaningful to them, and what inspires them. Looking into the spaces of various creative minds, both in person and online, is such a fun experience, and we absolutely love Vogue's most recent Studio Tour at Rag & Bone.
David Neville and Marcus Wainwright, who visited the School of Fashion in 2011, have created a signature blend of London cool meets American workmanship, which is reflected in their studio space. Chock full of memorabilia, iconic images, books,  and more, there is inspiration at every turn. Particularly special is a handwritten from Ralph Lauren, congratulating the designers on their 2010 CFDA Menswear Designer of the Year Award.
Located in the Meatpacking District, it definitely has a downtown vibe, and the exposed brick ads a rustic touch that perfectly matches the Rag & Bone aesthetic. Samples are produced on the first floor, where mounds of denim, leather, and zippers are piled high. The space also houses a showroom, where buyers and editors can peruse the latest collections. We wouldn't mind borrowing a few things from there – or the entire Fall '12 collection.
Follow the jump for the rest of the studio tour!
[imagebrowser id=31]
All Photos by Victoria Will, Courtesy of Vogue.