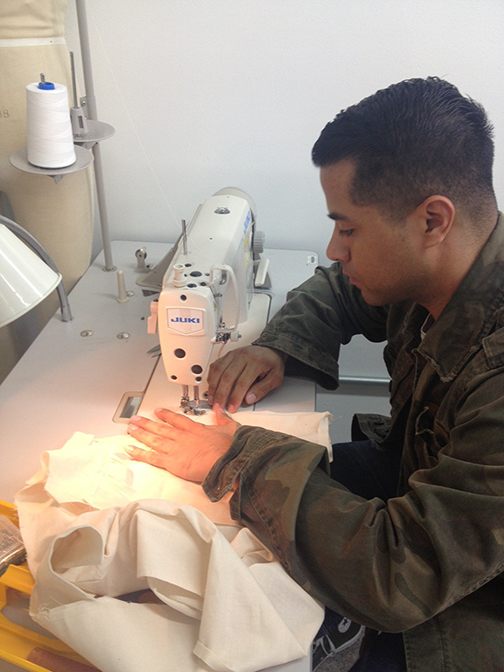 Photo courtesy of Mel Alegria.
The School of Fashion is applauded for the diversity of its student body and the varied continents each designer travels from to launch their career here in San Francisco. This week's "Student Spotlight" highlights a local Bay Area kid, born and raised in San Jose, but who comes to the Academy of Art University by way of Afghanistan. A former member of the most decorated regiment in the U.S. Marine Corps, Mel Alegria is currently in his first year of the MFA Fashion Design program after completing a one year deployment overseas. Mel enlisted in the Marine Corps Reserve in 2002, while simultaneously completing an undergraduate degree in Apparel Merchandise & Management at Cal Poly Pomona.  More than ten years later, he has returned from his tour and is continuing his fashion education with renewed commitment, as well as a profound sense of discipline and purpose as he transitions from a career in combat to couture.
What made you interested in pursuing your first and second fashion degree?
I have always been interested in pursuing a career in fashion design, even before I joined the Marines. I initially became interested in fashion when I was in high school. I was ridiculed by my peers for not having any style. As I got older, dressing well became an obsession of mine and ultimately led to my career decision. I decided that it was a good idea to study the business of fashion before pursing a design education, that is why I majored in Apparel Merchandising & Management [for my undergraduate degree.]
What prompted you to enlist in the military?
[While still a student] I joined the U.S. Marine Corps because I wanted to gain managerial and communication skills to prepare me for the job market. Propaganda convinced me that in the Marine Corps, I would benefit from the "best management training program in America." Enlisting in the Marine Corps Reserve allowed me the flexibility to complete my undergraduate degree.
How were you deployed to Afghanistan?
I deployed to Afghanistan in August of 2011 with 5th Marines for a one year tour. I volunteered for this deployment because I had never gone on an overseas combat tour. I had been in the Marine Corps since July of 2002, and felt guilty that my brothers and sisters had gone on multiple tours to Iraq and Afghanistan. With America being involved in two wars for over ten years, deployment was a right of passage for any Marine.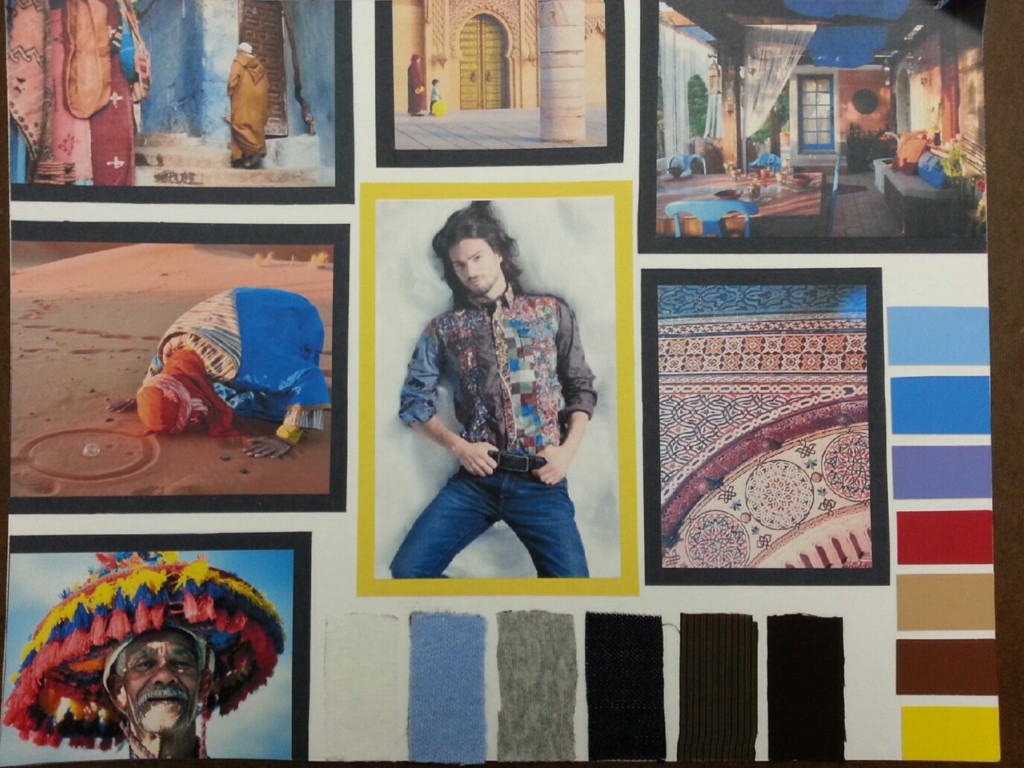 Mel's moodboard inspired by his experiences overseas. Photo courtesy of Mel Alegria.
What has helped you normalize your life after being in the combat zone?
When I came home in August of 2012, I was happy to be alive and in good health. Adjusting back to society was a slow process. I had to deal with a lot of aggression and anger accumulated over the course of the year. Luckily my family and close friends were there for me when I needed them. When I started the MFA program this past spring [2013], I had kind of come out of it. It can be a daunting task to find yourself in a relaxed academic setting after living in a combat zone just a few months prior. However, by 10 weeks into the semester, I had become comfortable again with the routine of academia.
What do you like about the School of Fashion so far?
Well, this was only my first semester of the MFA fashion design program, but so far so good! I am pleased that the courses I'm currently taking are challenging and pushing me to work hard for results. I'm looking forward at the challenges that lie ahead in the next two years. I'd like to be one of the few graduating seniors that present at Mercedes Benz Fashion Week in New York. This may be wishful thinking, since the program is filled with so many talented students, but who knows? Look me up in a few years!
Who are some of you favorite designers and artists?
John Varvatos is the first designer that pops into my head. I remember watching a segment that E! featured on him back in 1999 when he had just started his label. I have been a fan ever since. I like the idea that he is one of the few prominent menswear designers in the industry, something I'd like to aspire to. My interest in other designers can be labeled as "eclectic" since their design aesthetics are so different from one another. For example, I like the clean sartorial look that Simon Spurr presents vs the darker aesthetics of Rick Owens.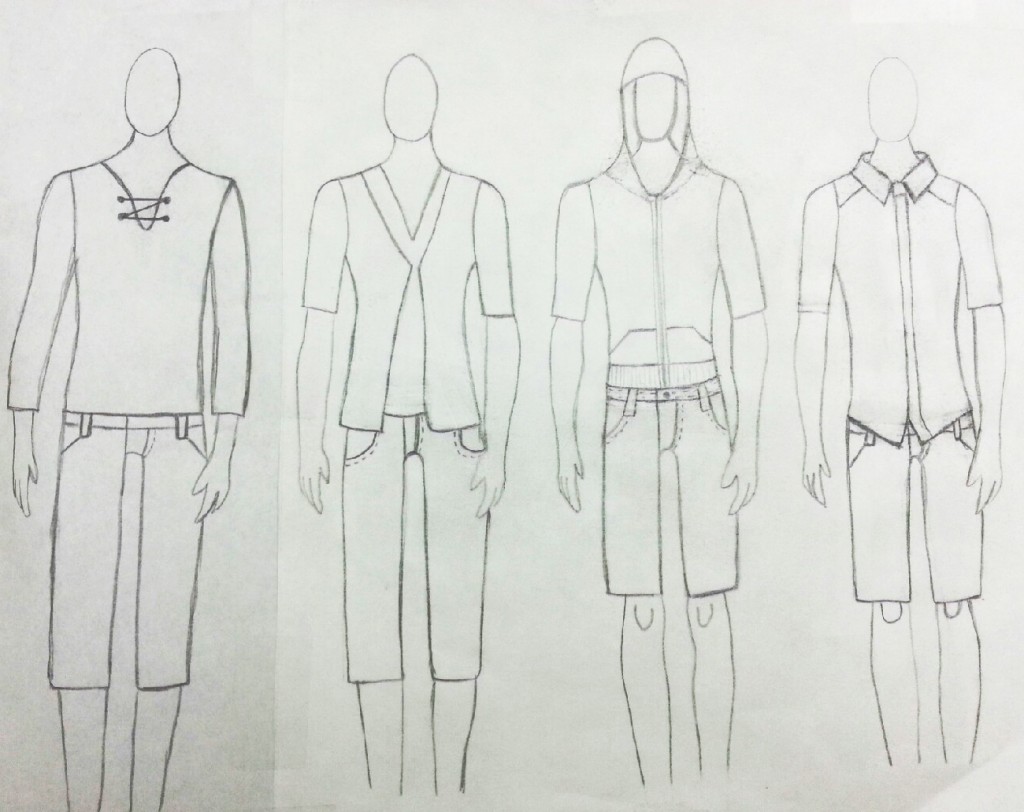 Some of Mel's first sketches at the University. Photo courtesy of Mel Alegria.
What is your favorite thing about fashion?
My favorite thing about fashion is that you can classify a person's personality and lifestyle by how they dress. Fashion defines the individual. 
What do you dream of doing after you complete grad school?
Like most fashion design students, my dream is to start my own label and be featured in exclusive magazines. Luckily I have a realistic view, since starting a label from scratch is nearly impossible without the proper contacts and financial backing. My goal upon completion of the MFA program is to either move to New York or London. I'd be completely content if I could land a design job in the menswear division of any major label, and grow within the company.
For more "Student Spotlights", click here.