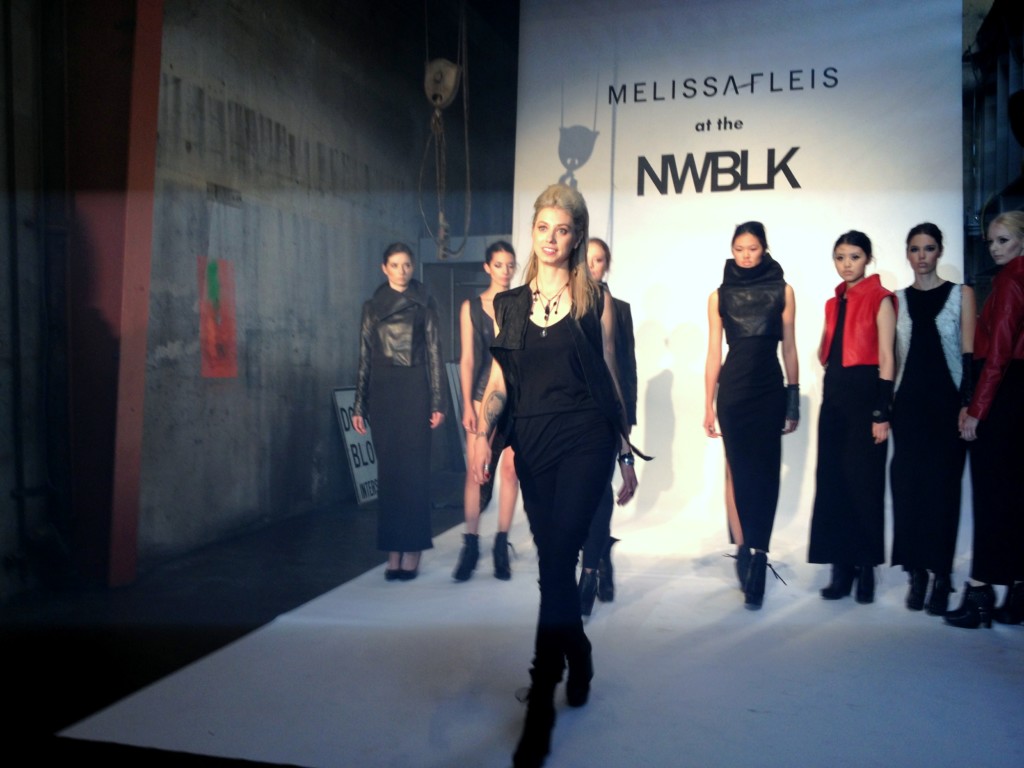 Melissa Fleis during the finale walk for the launch of her new collection. Photo courtesy of Jazelle Prado.
Melissa Fleis has turned the streets of San Francisco into her runway! The leather savvy, MFA Fashion Design alumna, is best known for her successful debut on Season 10 of Project Runway. From reality TV to…well…real life, Melissa launched her self-titled line to the public last month at design and applied arts gallery, the NWBLK, located east of Melissa's native abode-Mission Dolores. With her fresh line of leather clutches and hand-tailored jackets, the mother of black collaborated with students in the FSH 363 Fashion Show & Special Event Production class to produce a "smoke'n" presentation. Melissa chatted with Fashion School Daily and shared with us her soundtrack while working in her atelier, hopes in styling Fiona Apple and how she stays true to all black everything!
Would you say the tweed jacket is to Chanel as the leather jacket is to Melissa Fleis?
That made me smile. I never thought about it that way, but I'd say it's a fair comparison. Leather jackets are definitely one of my most requested orders, as well as a signature look of mine.
Being an alum of the Academy of Art University, what skills have you cherished the most by being a part of the fashion program? Which do you use in creating your designs today?
Out of all the things I've learned [while at the School of Fashion], pattern making, sewing, and design philosophy play the most important roles in my everyday life. I'd say that all of what you learn [at the School of Fashion] will eventually be helpful in some way. I've found that especially true for myself. The University is where I learned the structure behind this process.
How long have you been working on your current accessory and leather jacket line?
I've been working on those pieces on and off for several months. It was one garment after the other, as fast as I could finish them. I won't say it wasn't tiring!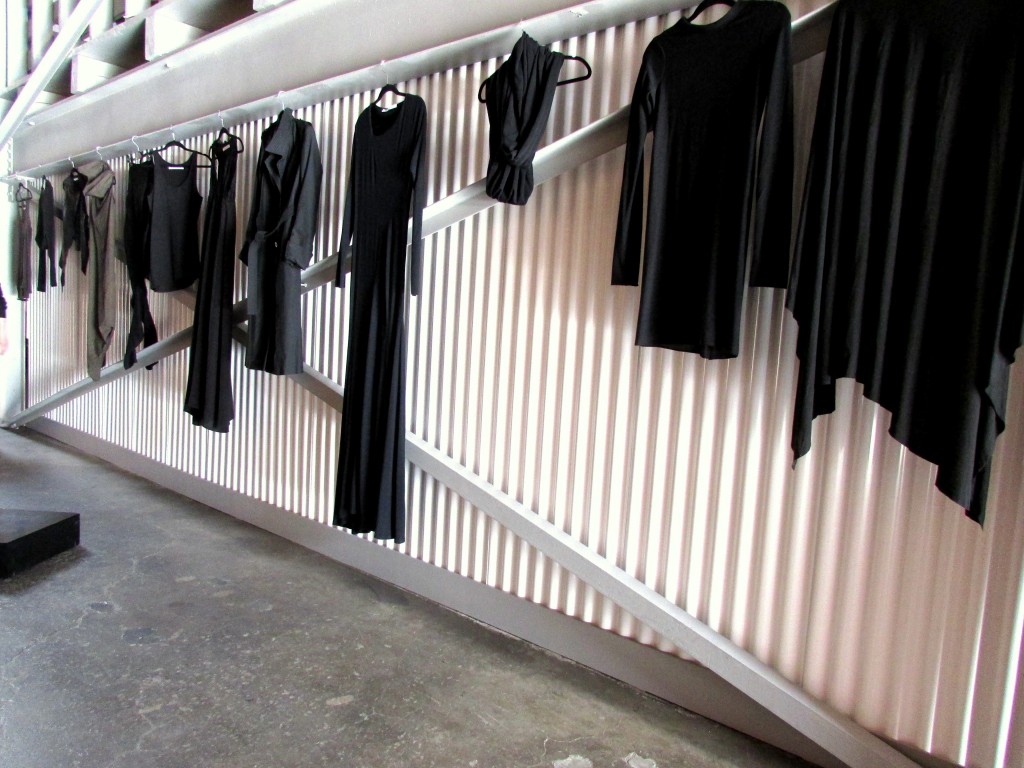 The latest collection from Melissa Fleis. Photo courtesy of Jazelle Prado.
Do you ever find it difficult to reinvent black within your collections? How do you keep it fresh and modern?
I'm not trying to reinvent black. Black is black, it's classic. I am merely designing into it.
What was the inspiration for your leather accessory line?
Bauhaus, and the artist Erik Desmazières.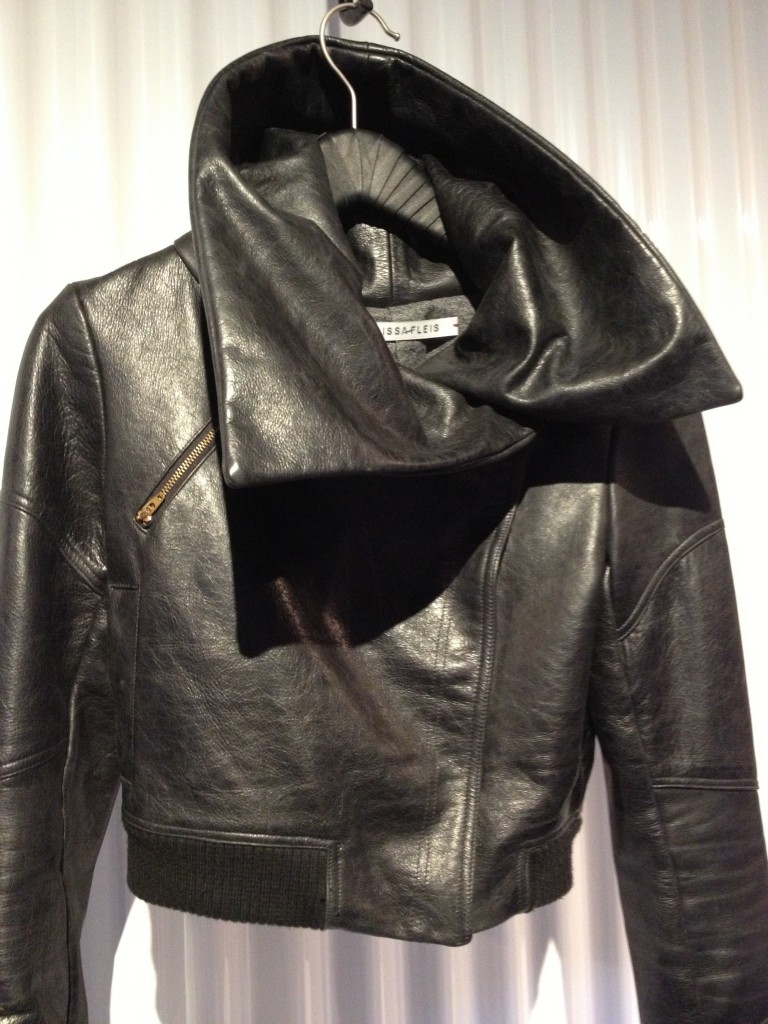 Melissa Fleis' signature leather jacket. 
How do you stay true to your design philosophy and still create pieces that appeal to the masses?
I don't really have a problem with straying from my design philosophy. At the end of the day, I'm designing for a woman.
What celebrity would you like to see wearing your designs?
I get this question a lot! Today, it's Fiona Apple.
At any given point, did you ever find yourself doubting a career in fashion?
Many times throughout my life. It's a brutal industry, but I always try to just keep moving forward.
When working on your pieces, what music do you like to listen to?
I usually just shuffle around Spotify depending on the mood I'm in at the time. Sometimes, I even like to work in complete silence.
Here was the playlist from my show at The NWBLK:
Deadmau5 – "Strobe"
Boards of Canada – "Everything You Do Is A Balloon"
Boards of Canada – "Turquoise Hexagon Sun"
Boards of Canada – "Roygbiv" [Chosen by fans on Warp20.net]
Boom Bip – "New Order"
Boom Bip – "Last Walk Around Mirror Lake – Boards of Canada Remix"
Odd Nosdam – "Blast"
The Soft Moon – "Zeros"
The Soft Moon – "Breathe The Fire"
What is the best piece of advice you have received and how do you apply it to your work ethic?
They are either going to love or hate you. It's up to you to love what you do.
Follow the latest news from Melissa Fleis at www.melissafleis.com. For more "Alumni Updates", click here.
[justified_image_grid row_height=350 height_deviation=75 ids="24680,24685,24684,24682,24686,24683,24678,24681″]
article written by and photos courtesy of Jazelle Prado.