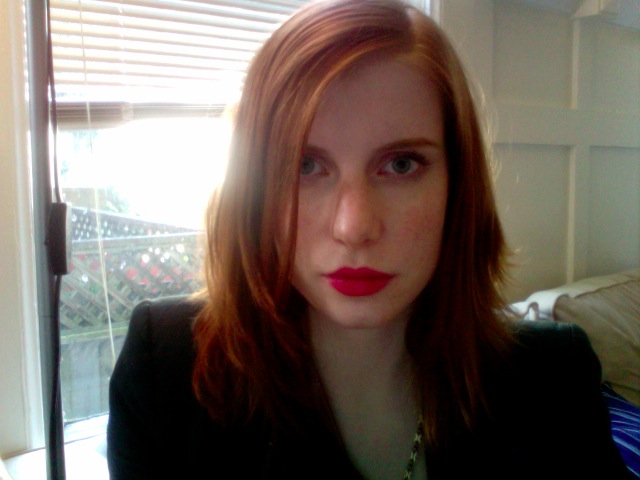 Emily Seger is a B.F.A. Fashion Merchandising student in the School of Fashion. She has had some amazing internships while at the Academy of Art University, and was nice enough to share some of her best experiences with us!
You have had some amazing internships – what was it like working with Public Relations Coordinator Erin Simpson at Benefit Cosmetics?
Benefit was great. I really got to see how the company works and how new products are launched. There is a really feminine energetic feeling to Benefit from their products, employees, even their offices are all pink!
And this came from a collaboration that LVMH did with the Academy of Art University in the Summer of 2010. What was that project like?
Oh that was a really interesting project. We had 16 hours to come up with a counter display idea for a Benefit product. I had no idea what product or LVMH brand they were going to give me! They were really testing their employees as well as us.
After the presentation I met a few people and was able to set up an informational interview at Benefit which blossomed into my internship there.
Last year after Marieke Van Der Poel visited your Fashion Trend Analysis class, you landed an internship at her company Proef. How did that come about?
Our whole class did a trend forecasting report about Italian fabrics, matching the next trends with the right look. It's not only about a fabric, we had had to make an argument about why the trends we chose were relevant. Hersha was really great about getting us excited to reach out into the zeitgeist.
I guess Marieke liked my work, because as I approached her she had already written a note for me! My heart soared, seriously.
Follow the jump to read more!
What was your internship like (day-to-day) and what did you learn?
We got down to work for some big clients. The process was very cerebral but also backed by current events and cycles of trends. Really interesting stuff, but also top secret! It takes a certain eye to bring every little example together. After seeing and contributing to the work, I'd love to do trend forecasting again.
What is your dream job?
Wow. Well, I'm moving to London next year and preparing for that with my Career Development class. I have a knack for marketing and forecasting what's next so I am going to offer that. I would love to have a position where I can do some creative thinking and branding. I am looking at companies like Stella McCartney, Mulberry, Asprey, and Paul Smith.
What are your favorite spots in SF?
Bluebird café has the best pancakes ever. A really special clothng boutique, Revolver, just opened on Fillmore, near Haight Street. Nearby is Churchill, a great place to meet up over a cocktail. The Kabuki Theater in Japantown has great movies and gourmet snacks. You really get a "theatre" experience there. Do Re Mi is right around the corner for a little karaoke after.
Do you have a fashion philosophy that describes your style?
Personally I am into a pretty but boyish look right now. Pink blazers, grey button downs, and 90's lace up boots.
Obviously, everyone should find out how they "tick" and go from there. Just dream big, figure out how you best work, and match that to your strongest passions. Readers, feel free to get in touch with me. Thanks!
For more Student Spotlights, click here.