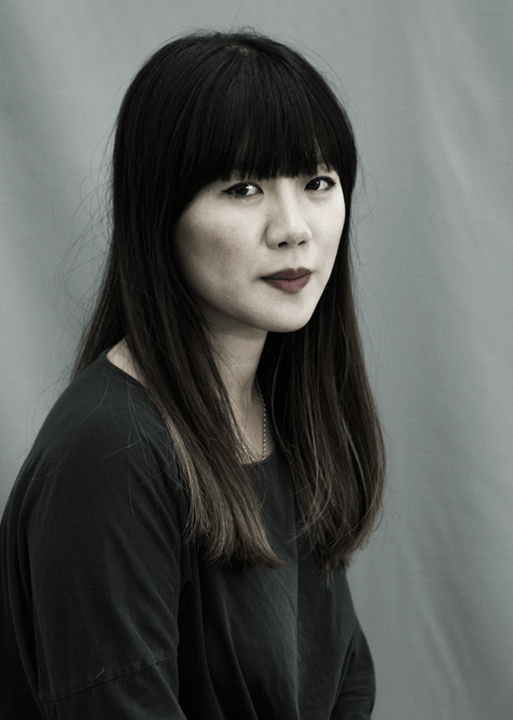 Fashion School Daily spotted this week's Student Spotlight, sketching in the front row of  Gladys Perint Palmer's Fashion Illustration workshop in February. Amy Yip's drawings stopped us in our tracks with her gorgeous renderings of everything from her Starbucks cup to a portrait of Gladys herself! We caught up with the artist who hails from New Zealand, and is in her second semester of studying Fashion Design. Below she tells us about her style inspiration, what brought her stateside, and why she's already left her heart in San Francisco.
What is your first vivid memory of fashion?
In 1999, I was eight years old and my favorite place to go shopping with my mum was a store called HBK – which as of about 2002, no longer exists (I also never found out what the letters stood for). HBK was in every mall in New Zealand for most of the nineties. I remember putting together this ensemble of purple glitter pants that had slits on the sides to show off my cool rainbow striped socks and I wore these with a striped rainbow turtle neck. I thought I was so cool at the time.
Can you tell us a little bit about your background?
I was born in New Zealand. I have a background in Fine Arts at Whitecliffe College of Art and Design in Auckland, New Zealand but I decided to go in a new direction because I longed for a career with a stronger emphasis on design.
Illustrations by Amy Yip
How did you make the decision to continue your studies in the US?
My boyfriend was the one that convinced me that I needed to go back to school. I decided that this time I needed to set higher goals, and challenge myself more than ever. What bigger challenge than moving to a completely new country?
I grew up always wanting to live in America. A lot of New Zealand culture is an assimilation of culture and media here in the United States.  I felt like I was experiencing everything by proxy, and that all these great things that were happening were taking place 10,000 miles away in this distant land. An old tutor at Whitecliffe told me I should study overseas. I didn't think much of it at the time. I thought my education would be the same anywhere. Now I understand that I have to be in control of my future and really consider myself on an international scale.
I was researching fashion schools all over the world – in London, Melbourne, Hong Kong and New York. I heard a lot of great things about San Francisco, and I came across AAU. Once I found out that it is the only school where the students get to show at New York Fashion Week, that pretty much sold it for me. When I arrived I didn't know how much I would love the city, but I do. Life is so convenient, eventful, exciting, fun and challenging.
What have been your favorite classes that you've taken?
My favorite class last semester was Fashion Illustration 1. It was the most time consuming, most demanding, and most challenging class, but I really loved it. My tutor was amazing. She was from New Zealand too, but was only teaching at the University for one semester. She always made us laugh and made drawing fun. It can be very tedious sitting for eight hours a week, studying every little inch of the nude figure. It was always a pleasure to come to her class because I knew that with each one I was improving. It was also good to have a fellow kiwi in the room!
[justified_image_grid row_height=300 height_deviation=50 ids="22914,22945,22909,2290
Illustrations by Amy Yip
How would you describe your aesthetic?
I don't think I have one in particular at this stage. Rather than come here and attempt to view my learning through the filter of my own aesthetic, I'm trying to learn new styles and techniques and allow them to inform the creation of my aesthetic. At the moment, I love the perfectly imperfect line that captures the angle or movement of the subject. It's interesting how little of the line can be used, and what the eye can still recognize. I'm also really fond of mixed media work. I like drawings to be playful, whimsical, and perfectly imperfect.
In terms of fashion, I love the word 'whimsical'. It's why I chose fashion. I think of fashion as realizing dreams and never having to grow up. The irony is that maturity and experience is necessary to appreciate that notion. I'm a very pragmatic person, and I believe that I am designing for a customer. I want to consider her lifestyle, and I think she is a young, urban, career woman who is professional in the workplace, but not boring. She wants to exude a sense of play and whimsy.
What are your interests outside of fashion?
I love baking. Before I arrived in San Francisco, I wanted to be a baker like my parents and sisters. I wanted to start a cake decorating company. I made a few cakes while working at the café, but was mostly decorating cookies and creating new treats. It was fun, but it became very repetitive and after six months I realized needed to do something else or my life could become stagnant. Besides baking, I love interior design, architecture and graphic design, leather shoes, 20th century art history, paper stocks, watching TV shows and visiting new places. I'd love to travel throughout the US during my time here. I would be happy living the rest of my life in America. I love the diversity and how, if you like something, there's bound to be more people who do too.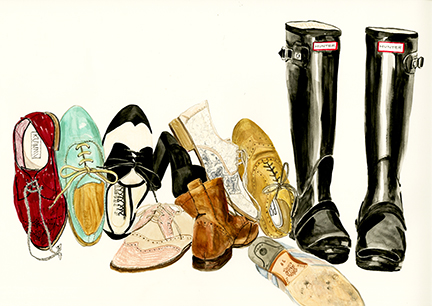 Illustration by Amy Yip
Who are some of your favorite designers and artists?
My favorite fine artists include René Magritte, Marcel Duchamp and Tom Friedman.  Illustrators I like include René Bouché, Egon Schiele and our very own Gladys Perint Palmer. It's great that she is a part of our school. Her work definitely has the element of whim that I admire. Egon Schiele is great at defining overlapping body parts, and René Bouché is really great at capturing the moment.
I would have to say that I didn't really come here with a list of my favorite fashion designers. I wanted my experience to involve a lot of learning and room for change. Fashion designers I like at the moment include Stella McCartney, Temperley London and Rebecca Taylor, Karen Walker, Chloe, Miu Miu, Isabel Marant and Rodarte. I would love to design functional and playful women's casual/work wear.
 What are your favorite materials to work with?
I love Indian ink. When I started last year, I would never have touched the stuff. I didn't know how to control the medium, and I think that's what scared me the most. My tutor drew most of her illustrations with ink, and I really admired her drawings. I decided I wanted to be confident with ink by the end of last semester, and I think I got there. After refining my skills with pencils and charcoal, it provided the necessary confidence to control Indian ink. I love using soft pastels, Tombow pens and watercolors to add color and texture. I think adding collage and patterned paper will be interesting. I just picked up some gold and silver pastels that look fun.
[justified_image_grid row_height=400 height_deviation=50 ids="22903,22905″]
Illustrations by Amy Yip
What do you dream of doing after school?
I don't think I could return home. I spend hours everyday enjoying my new life here. I feel so free, excited to learn, and excited for where the future could take me.
I'd love to gain some experience in the fashion industry here in the United States, and hopefully launch my own line. I feel really lucky to be here and wish I could tell aspiring students to study abroad. It is has been an invaluable learning experience – this country has so much to offer.
For more "Student Spotlights" click here.