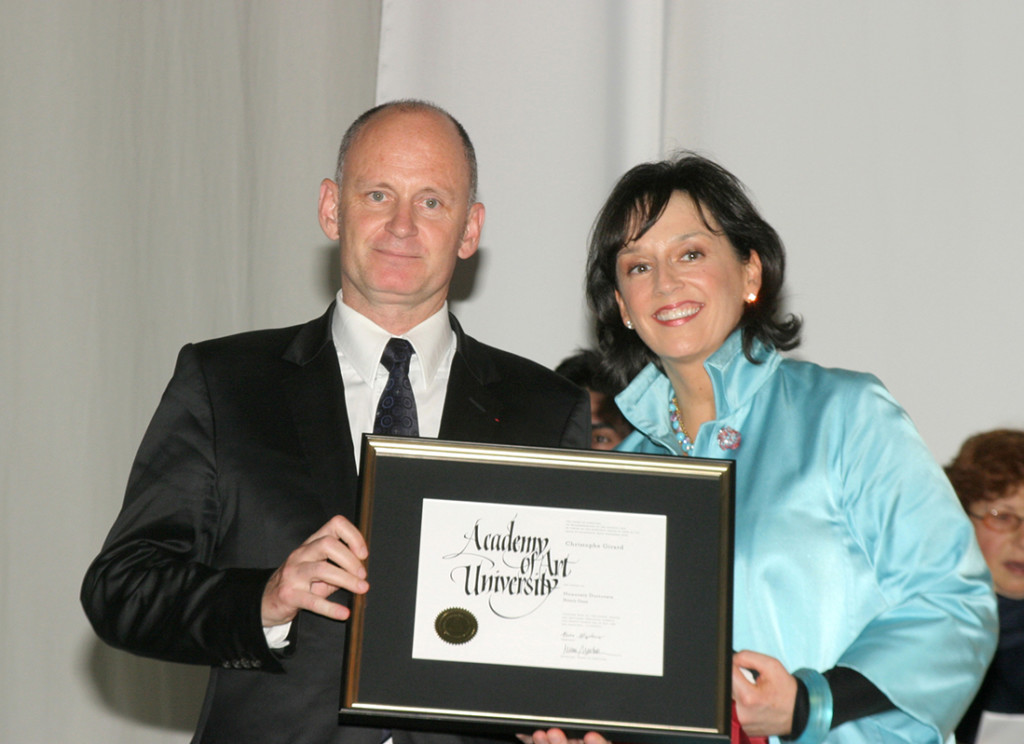 Christophe Girard with Dr. Elisa Stephens, President of the Academy of Art University, in 2006
Today, Fashion School Daily offers our congratulations to former Guest of Honor, Christophe Girard. The mayor of the 4th arrondissement of Paris, and strategy director at LVMH Fashion Group, was decorated as an officer of the Legion of Honor last week.
Selected as one of the University's "Men of Fashion" in 2006, Christophe Girard was honored during that year's Graduation Fashion Show and Awards Ceremony along with designer Alexander McQueen, fashion influencer Wilkes Bashford, and Robert L. Mettler (then Chairman and CEO of Macy's West). A former resident of the Bay Area, Christophe is now permanently based in Paris where, in addition to his leading role at one of the world's biggest fashion conglomerates, he is also an award-winning producer of documentaries, a tireless AIDS activist, and Greenpeace member.
Christophe joins the company of recent Legion of Honor office recipients including Harper's Bazaar editor-in-chief, Glenda Bailey, who was decorated with the award in October and Vogue Italia's Franca Sozzani who was knighted last March. 2012 Chevaliers included Salma Hayek-Pinault, designer Phillipe Venet, and Clarins group chairman Christian Courtin-Clarins.
Congratulations again to Christophe Girard on this tremendous honor.