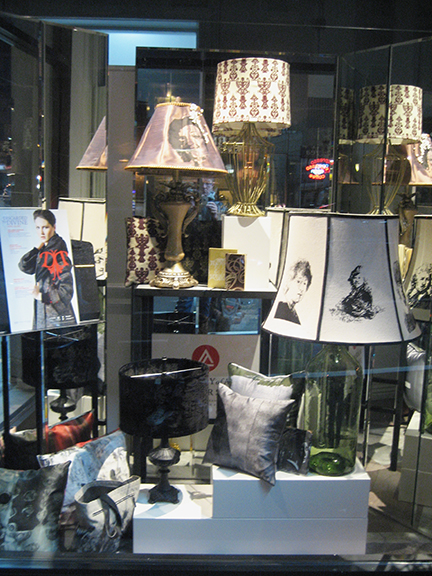 Happy Monday fashion students. For today's edition of Monday Morning Photo, we've featured the Fashion School's current window display, courtesy of  FSH 276. The Applied Textiles 2 students have re-designed selected lamps and pillows to create one of a kind projects for participation in this year's Discarded to Divine charity event. The event showcases the talents of professional and aspiring designers who transform discarded, donated clothing into couture creations and exquisite home decor. The items are then auctioned to benefit those overcoming poverty, homelessness and domestic violence.
Discarded to Divine was created in 2005, when the Help Desk Director at the St. Vincent de Paul Society, Sally Rosen, found herself facing a pile of unusable, donated clothing. She realized that the torn and stained discards were waiting to be transformed into divine creations and she began to imagine how these garments could be recycled and remade into pieces with a new purpose. She started inviting local designers to create wearable works of art and home decor from the discarded items, and Discarded to Divine was born.
These uniquely reclaimed works will be available to preview on Friday, April 12th at the de Young Museum. The following week, we encourage you to participate in the 8th annual Discarded to Divine Gallery & Auction event  to benefit the St. Vincent de Paul Society of San Francisco.
For more information about Discarded to Divine, click here.