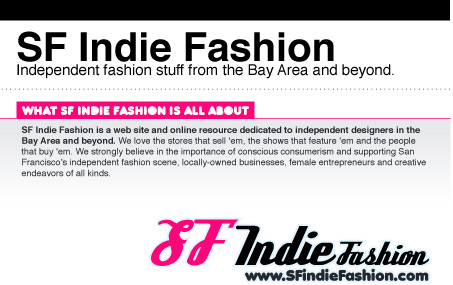 SF Indie Fashion is looking for a media-savvy, style-hungry fashion media intern. Selected intern will also contribute to their sister site, Digital Style Digest.
If you love San Francisco, fashion, up-and-coming designers, technology and online media – and preferably all of them at the same time – you might be just who they're looking for. SF Indie Fashion is on the hunt for one or two amazing interns who want to dive into the local fashion scene, conduct interviews and cover events, take photographs and hone their journalism skills all while supporting a site devoted to the local, independent fashion community.
Follow the jump for more info!
Successful candidates will:
Have previous journalism and writing experience
Be comfortable and professional reporting on events and conducting in-person, phone and email interviews in a professional, timely manner
Possess the time and ability to turn around a minimum of two assignments per week. Must be able to do this reliably.
Live in San Francisco and able to attend local fashion events each week, usually in the evenings and sometimes on weekends (being 21+ is a big help with this)
Offer additional media skills, including previous video, photography, graphic design and/or social media and experience
Have experience with or interest in learning wordpress
Come to us with an interest in the role of small, local businesses and independent designers to the larger San Francisco fashion community
Why you'd want to intern for SF Indie Fashion:
Hands-on experience reporting, writing and covering fashion events
The chance to work with a local fashion writer/editor who will help you improve and hone your writing, editing and media skills
A great deal of freedom to be creative
Media access to designers' studios, local fashion and shopping events, shows, sample sales, etc.
The chance to network with key players in the San Francisco fashion industry
The opportunity to develop a portfolio of clips and media samples you can use in the future
A chance to immerse yourself in the local fashion scene
The opportunity to improve blogging and social media skills
Past interns have gone on to internships at publications such as 7×7, Refinery29, Footwear News, Marie Claire and have had their work featured in media outlets such as 7×7.com and the San Francisco Chronicle.
The ideal intern will be able to attend fashion events and conduct interviews on an ongoing basis and turn them into interesting, well-written, insightful features for SF Indie Fashion. Journalism and writing instruction will be offered to intern during the course of the internship, but basic writing and journalism skills – not to mention decent grammar – are absolutely required.
Note: We may also be looking specifically for a video, photography or graphic design intern. If that's your skill set, please feel free to be in touch.
To apply, please send a resume, a work sample and an email outlining your interest in the internship to lsanders@sfindiefashion.com.