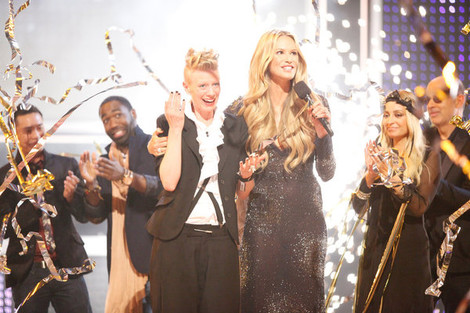 Last night, Kara Laricks, 2008 M.F.A. Fashion Design alumna, won the first season of NBC's Fashion Star! Kara, along with another alum – Ronnie Escalante, 2008 B.F.A. Fashion Design – and Nzimiro Oputa were the three finalists. Kara has dazzled judges and buyers throughout the competition, and though there were a few snags along the way, we can't say we're surprised she won. She has a strong signature aesthetic and remained true to her vision throughout the competition, while expanding it enough to give her collections range.
Follow the jump to read more!
Each finalist was tasked with creating a capsule collection for the three retailers, H & M, Macy's and Saks Fifth Avenue. The collections had to be tailored to the specific stores, and simultaneously maintain the designer's brand. Several of Kara's pieces were instant standouts, but there were also a few looks that buyers weren't so sure about – it was not a simple decision. In the end, Kara's strong design skills and unique point of view earned her the top spot. Each of her collections was bought by the respective retailers for a total of $6 million, and will be sold in stores today as well as online here.
We are so proud of Kara and wish her the best of luck as she moves forward with her career!