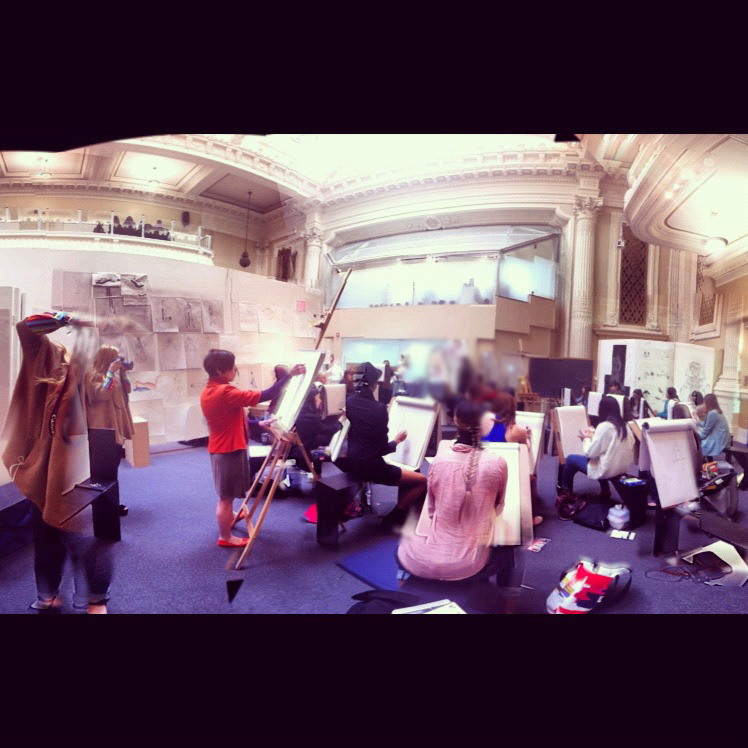 The morning of Thursday, May 3rd, our illustration instructor, Cecilia Aragon, told the class to put up our best work knowing Her Royal Highness Princess Reema Bandar Al-Saud might visit the class.
When I saw her enter the café while my class took a coffee break, my first reaction was excitement; uncertainty was just a breath behind.  Are we allowed to speak with her?  Would we be allowed to meet her?  Cecilia urged me to ask if she would let the class draw her. A short dialogue and some instruction later, I rejoined my classmates in the café where we actually met Princess Reema.
I asked how she preferred to be addressed.  To my mild surprise she allowed us to be on a first name basis —no "your royal highness," no title…I asked again just to be sure as uncertainty reared it's head again.  She left the impression of an easy-going individual, down to earth with a sense of humor.  After some small talk she invited us to watch Philip Treacy's millinery demonstration.  I returned to class to inform Cecilia when the break ended, but being a teacher, she had us continue drawing before a word was said.  During the lunch break, excitement trumped hunger and watching the demonstration took precedence.
Follow the jump to read more!
Forget lunch. How often do I get to hang out with royalty?
There was no "hanging out," obviously, but after the demonstration I found an opportunity to ask Princess Reema if she'd let my class draw her, provided there was time for it.  She graciously agreed. "I'd like to meet the students," she said, while checking her schedule, effectively choosing the class over her own lunch and gracing us with her presence.
I'd call it a once-in-a-lifetime experience.  She looked comfortable – if anything, she looked like she had a bit of fun while they were on-stage.  Observation: royalty doesn't lean, let alone slouch.  I don't remember what Princess Reema and her friend, Mona Hamdy, said before we started drawing, but there were some words and a jovial push from Her Highness.  It was great seeing she and Mona in a relaxed mood and laughing!  The talking stopped for about ten minutes as we drew.  When we finished, Princess Reema and Mona went around the room to see the results of our work.  A few students and Cecilia asked for pictures and Mona expressed appreciation and gave encouragement before leaving – thanking us for the time we put into our work and looking forward to seeing us out in the world.  More than that was said, and it was so much more uplifting, but I was so caught up in the moment that I didn't remember it all.  Maybe someone else might recall it word for word.  I would hope so.
When they left and class resumed, I was still erupting with excitement—barely containing a shout, punching the air, and clicking my heels.
Written By: Emmanuel Solomon