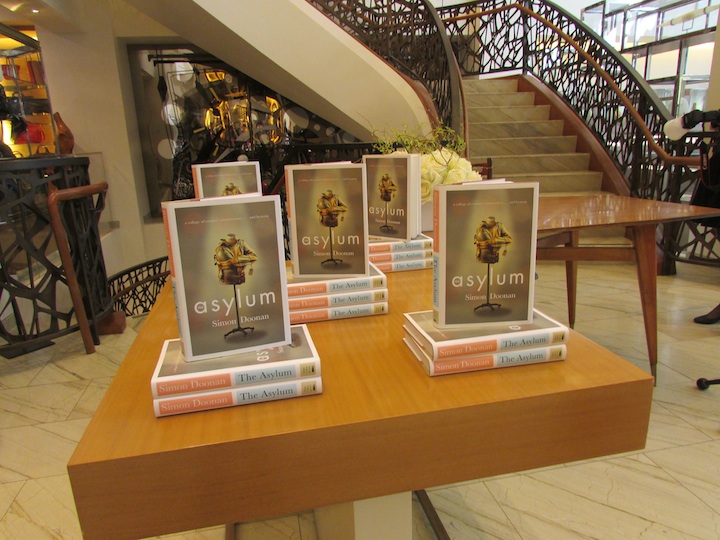 Copies of Simon Doonan's The Asylum on display at Barneys New York in Union Square.
Simon Doonan, author and Creative Ambassador of Barneys New York was in San Francisco on tour for his latest book, The Asylum: A Collage of Couture Reminiscences…and Hysteria, which debuted earlier this fall. A celebrated influencer in the fashion industry, Simon brought his lifetime of insight, and his autobiographical stories of "madness and insanity", to the Bay Area, hosting a book signing event at the Barneys located in Union Square.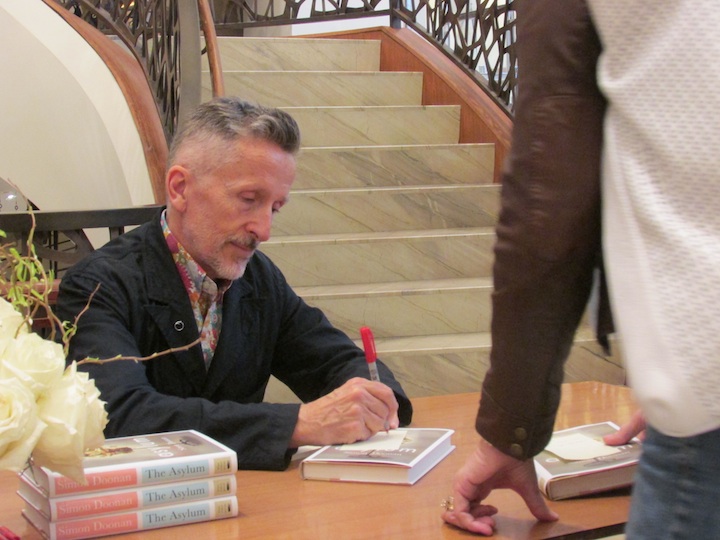 Simon Doonan signs copies of Asylum at Barneys New York in Union Square.
Simon descended from the winding marble staircase inside the store, where he then made his way to his fans. His petite stature, posh stride and perfectly polished look, were all the more pleasant in person. With his peppy personality and sweetly smug smile, Simon's enthusiasm and  genuine affect that he gets such a kick out of his impossibly stylish life, is contagious.
Stopping in front of the event's step and repeat (a massive poster of the cover of Asylum) Simon couldn't help but take silly pictures with his friends and fans. The soiree's hilarity was juxtaposed with beautifully arranged bouquets of hydrangeas, glasses of bubbly and bite size macaroons!
The afternoon's style set of fans formed a line to get their book signed from Simon. City style blogger, Krystal Bick, of This Time Tomorrow was spotted, contemplating what she wanted Simon to write in her copy, and  Kristen Philipkoski, editor of Racked San Francisco, escorted Simon to his signing table. Approaching the front of the line and face to face with the fashion maven, I asked Simon if he could write down the best piece of advice he could give to an aspiring writer, to which he replied, " Why would you want advice from me? I am late in the game!"
He then politely took my book and inscribed "Find your voice."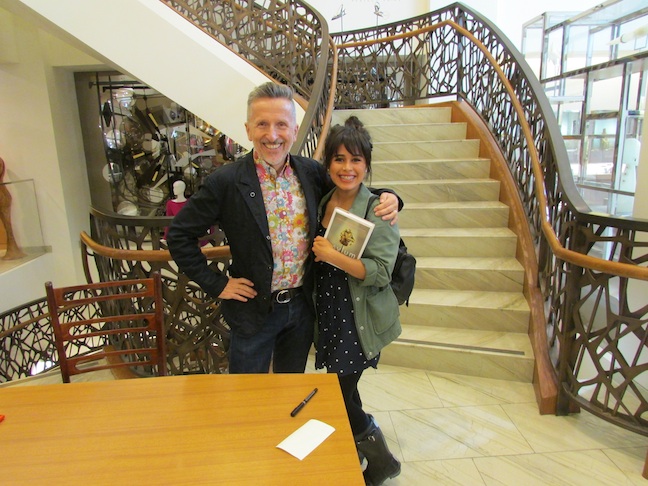 FSD Student Contributor, Jazelle Prado, poses with Simon Doonan, Barneys New York.
Simon Doonan's The Asylum: A Collage of Couture Reminiscences…and Hysteria is now available on Amazon and at Barnes & Nobles. To purchase, click here.
Article written and images provided by Jazelle Prado