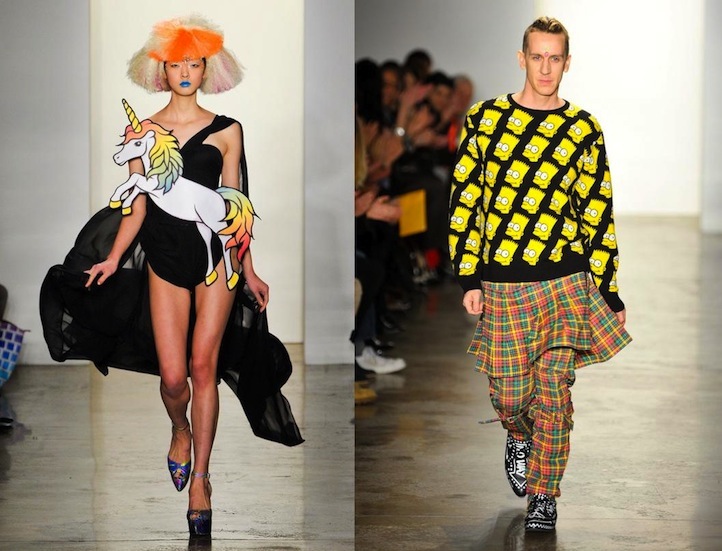 Jeremy Scott (right) and model wearing the designer's much buzzed about "Unicorn Dress" from his F/W 2012 collection. Image courtesy of Milk Studios.
Officially announced via Twitter, LA-based designer Jeremy Scott confirmed that he has accepted the role as the new creative director of Moschino. He replaces Rossella Jardini, who has headed up the label since 1994, since the death of house founder, Franco Moschino. Scott will make his runway debut at Moschino's Fall 2014 show in Milan next February. "For me, one of the key elements of Moschino is humor," said the designer in an interview with Style.com "It's one of the few houses that has humor, and it's the same thing for me…we share an obsession with poking fun at fashion."
Scott has helmed his namesake label for the last 16 years and, in 2004, was a Guest of Honor at the School of Fashion. "We invited Jeremy to be a Guest of Honor as he has an independent spirit and a determination to produce exactly what he wants to do as a designer," said Director of the School of Fashion, Simon Ungless, "You can always spot a Jeremy Scott design, and I always admire designers who stay true to themselves."
In the ultimate example of a fashion fairy tale, Scott spent his last year as a student interning for Moschino's press office in New York, "I was the intern, and now I'm running the company" joked the designer.
Scott indicated that he will continue to design his own line, as well as his collaboration with Adidas, in addition to his new role. The School of Fashion wishes his him nothing but success for this new opportunity!
To learn more about Jeremy Scott, click here.