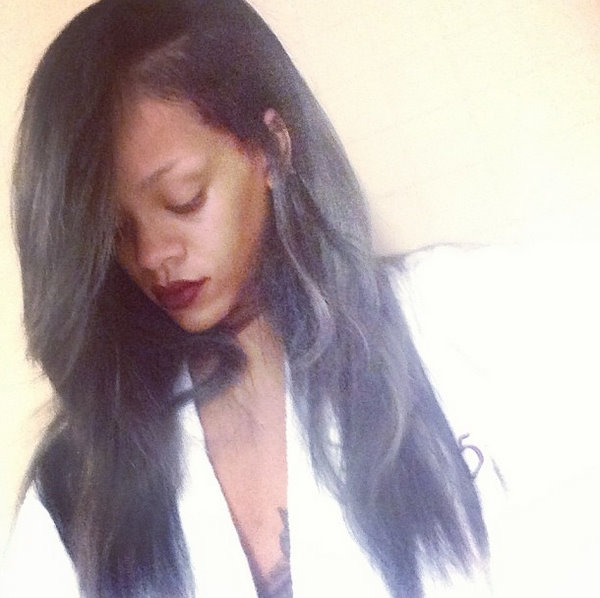 Rihanna is gorgeous in grey. Image courtesy of Rihanna/Instagram.
Obviously Will & Kate's baby boy kind of takes all in terms of what's trending this week. However a different head, one that won't eventually wear the British crown, also created major (beauty) buzz when recording artist, Rihanna, debuted a newly dyed coiffure featuring ombre shades of grey on Instagram. In just another example of how small our world is, MFA Fashion Merchandising student Whitney Montford happened to be having drinks with good friend, and the man behind Ri-Ri's mane, Yusef Williams last week. The celebrity stylist "pours it up" to FSD, below.
***
"Orgasm. I'll have one," he says delightfully, but with a certain degree that lets the server know he means business.
Lounging casually in the uber-swanky Starlight Room atop the Sir Francis Drake Hotel in San Francisco's bustling Union Square, Yusef Williams is completely relaxed but totally alert. The duality of his demeanor is both intriguing and unusual. This could be due to the level of familiarity between us, and how out-of-character an "interview" type of dialogue is as it relates to our history of friendship.
Leaning forward in one of the lounge's plush red chairs, Yusef looks as pure as milk with honey. His ensemble? A custom-made metallic creme silk suit, with padded and spiked shoulder-covering epaulets and matching cummerbund. Impatiently waiting for his drink his crossed legs, kicking with anticipation, throw a reflection from the glowing limited-edition Nike MAG sneakers he purchased at auction on eBay under a pseudonym. A mojito, and yes an orgasm, arrive at the table with the server's apologies, and the interview begins.
The obvious topic of choice is Rihanna, but for some reason he politely interrupts to venture an opinion about the George Zimmerman trial and verdict. "Listen," he says in a more hushed voice than before, "I can't begin to think of anything else right now. I'm so livid." A sip of the orgasmic concoction he ordered seems to calm his nerves. "Okay, let's talk Rihanna."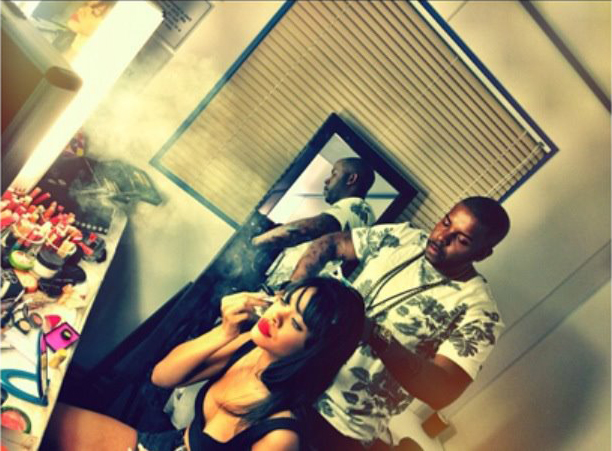 Yusef gets Rihanna stage ready. Image courtesy of Rihanna/Instagram.
Yusef, a native of New York, began his career in hairstyling at the age of 15, often perming and styling the hair of close friends and family. He immensely enjoyed not only the creative sensation of styling hair from concept to finished product, but the simple, visceral emotions evoked by just touching it. "I love the way hair feels," he says "I like to think of myself as a sculptor with a hand full of clay. That's what it is like. Like a magical substance in my hands that I can turn into anything."
His first big leap into celebrity hair, though he previously styled for Tyra Banks and a few label-represented singers, was at Paris Fashion Week. He became disillusioned soon, however, after a bad experience with a temperamental designer. "Karl Lagerfeld used to make me powder his hair. You know, like how slaveowners would make their slaves do. He literally treated me like a slave!" Despite the bad taste in his mouth, Yusef parlayed his connections and, with the referral of singer Jazmine Sullivan, he met Rihanna. Fatefully, it seems, the artist had found his muse and in him she found a trusted friend. "I love Rihanna. She inspires me so much and, because we are so close, she gives me creative freedom. I'm not one to bully her. [Creating a look] should always be a collaboration. After all, she's the one that has to walk around with it."
Responsible for the jet black pixie cut, dramatic fire-engine red color change, the to-the-waist braids, and every other style Rihanna has worn since 2009, Mr. Williams has seemingly set global beauty trends by styling the superstar. That level of accomplishment is worthy of a toast…and toast we did.
[justified_image_grid row_height=400 height_deviation=25 ids="25468,25470,25469,25471″]A few of Rihanna's signature styles, created by Yusef Williams.
Whitney Montford is a student in FSH 627, Writing, Researching & Reporting Features. To learn more about the Fashion Journalism degrees offered at the School of Fashion, click here.