A special edition of Picture this by GPP featuring the drawing used for the 2012 Graduation Fashion Show and Awards Ceremony.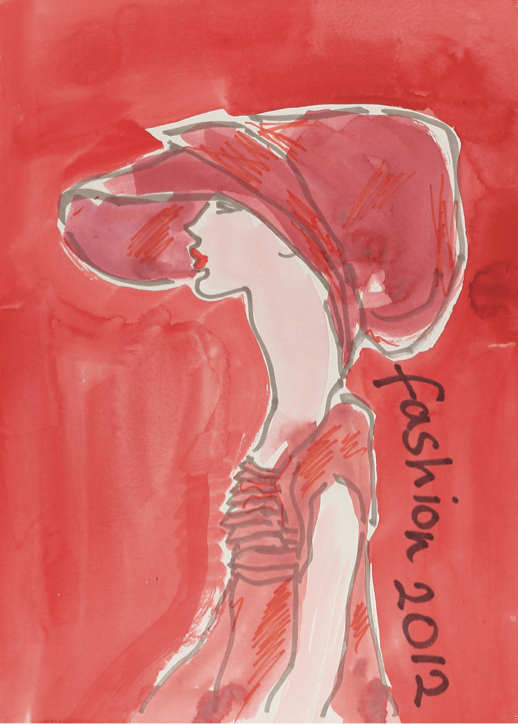 This is an illustration of Junya Watanabe's S/S 2001 hat and dress, drawn for the March 25, 2001 issue of U.K. Sunday Times Style.
Watanabe, under the patronage of Rei Kawakubo (Comme des Garçons) had a space in the back of her Paris showroom on the place Vendôme.
He was a quiet, gentle person always supremely polite.
Unlike the Sunday Times Style team that was noisy, aggressive and manipulative. The late Isabella Blow was our leader. Colin McDowell wrote about fashion. I drew.
We had a car that became a chariot of contention. Isabella wanted to see the newest, weirdest designers. Colin wanted to be seated in the front row at the most important shows. Frequently he fell in love with the driver, who took his side.
We had strict instructions (from the London office) that the limo was strictly for the team, no-one else. Naturally, Isabella invited French countesses and generally changed her outfit in the car in order to arrive at any show dressed in the designer's creation.
Frequently, Colin would announce in a loud voice, "Oh, Gladys knows Paris so well, she can take the Metro…"
One day, Isabella whispered, "I want you to draw me in a Junya Watanabe, but don't tell Colin." We met at the showroom. I did a drawing. While Isabella was chatting up Junya, I tried on a black gazar jacket.
Follow the jump to read more!
"Take that off!" snapped Isabella, "I'm buying it!" (She never bought anything, nor did she ever pay for a meal or a taxi, money was totally infra dig).
She wore the jacket to a Christian Dior Haute Couture collection at Versailles, accessorized with a black Venetian mask wrapped in yards of tulle. Later that evening, her Chanel handbag, a prototype, was stolen. It contained her passport, her keys and what money she had.
Next day, Colin commandeered the limo. Isabella, wearing a full length fishtailed dress covered entirely in mother-of-pearl paillettes, was obliged to take the Metro to Yves Saint Laurent.