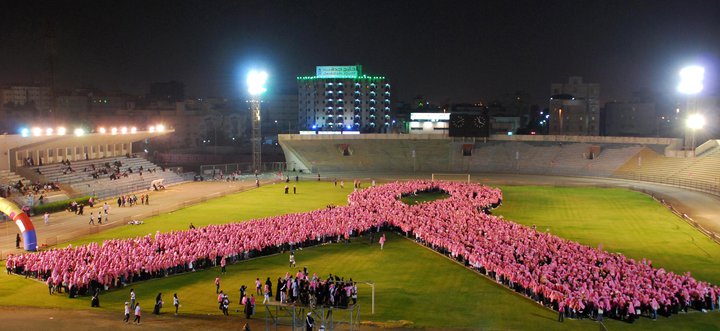 3,952 Saudi women gather to achieve the Guinness World Record for the largest human awareness
ribbon. Photo Courtesy of Renia Rezek.
Her Royal Highness Princess Reema Bandar Al-Saud was raised and educated in Washington, D.C. where she earned her bachelor's degree from George Washington University. In 2002, she returned to Saudi Arabia and partnered with well-known Women's Day Spa, Yibreen, chosen as one of the Top 20 Arabian Companies in 2007 and 2008. For her work with Yibreen, Princess Reema was named one of the Top 20 Arab Businesswomen in 2008.
She is now the president and chief executive of ALFA International and AL HAMA LLC, two leading luxury retail corporations in Saudi Arabia that own and operate Harvey Nichols Department Store in Riyadh, as well as manage the Donna Karan and DKNY brands. Her latest business venture is Bara Boux, an accessories collection whose aesthetic and functionality is based on the classic Bedouin values of time, space, and all-encompassing hospitality.
Follow the jump to read more!
In addition to being an accomplished businesswoman, Her Royal Highness Princess Reema is also an ardent advocate for breast cancer research. Together with the Zahra Breast Cancer Association, she led 3,952 Saudi women to achieve the Guinness World Record for the largest human awareness ribbon. And in just a few weeks, she will take part in "A Woman's Journey: Destination Mount Everest," where she will climb to the Mount Everest base camp. The goal of the campaign is to raise awareness of breast cancer prevention through adopting healthy lifestyle habits and staying physicallyactive, and they encourage women all over the world to walk 15 minutes a day between 7th – 21st of May in solidarity with the climbers.