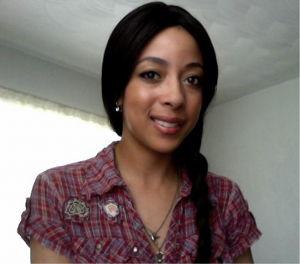 Name: Deanna Timberlake
Where Do You live? Virginia Beach, Virginia
Area of study: MFA Fashion Merchandising
Day job / occupation: Auto glass repair shop (get your chips fixed!)
What qualities do you most value in others?
Empathy and optimism
Name three of your favorite designers:
Karl Lagerfeld, Frida Giannini, and Rodarte
List a guilty pleasure:
Baked goods and ice cream!!
What is your present state of mind?
Total tunnel vision
What is your dream job?
Teaching
What is the most important thing that people should know about you?
I'm scarred and I've gone through the fire, so life keeps me humble.
When was the first time you recognized your interest in fashion?
I was 10 years old. I was a girl in a family full of very talented artists. I also had the gift and I wanted to be a designer.
Where have you found inspiration lately?
From all of the big risk takers. I'm following their lead.
What is your most valued possession?
A memento from my grandmother's funeral.
What music do you like to listen to?
Absolutely everything, but I go through what I call "genre phases" with my playlists. I'll listen to something for two months straight, then something else for the next month, etc. Right now, I'm in my deep house phase.
If you had an opportunity to travel back in time, who would you like to meet, and why?
My dad's parents. I have tons of questions and I need answers. Plus, I want to see my grandmother's 30s/40s closet!
For more On Online, click here.