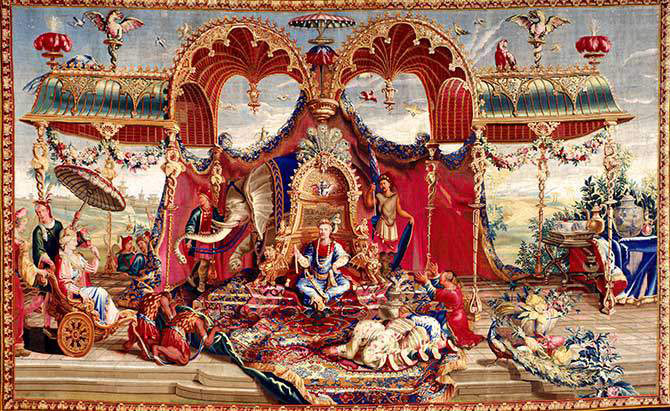 J. B. Blin de Fontenay, G. L. Vernansal, Baptiste Monnoyer, Phillipe Behagle Atelier (maker), The Audience of the Emperor (or The Chinese Prince's Audience), 1722–1723. France, Beauvais. Wool, silk; tapestry weave. Courtesy of the Fine Arts Museums of San Francisco, Roscoe and Margaret Oakes Collection. 59.49.1 
Hope you had a great weekend, fashion students! For today's "Monday Morning Photo" we wanted to call out an amazing exhibit that has been on display at the de Young Museum this summer. "From the Exotic to the Mystical: Textile Treasures from the Permanent Collection" draws from the Fine Arts Museums of San Francisco's extensive collection of textile arts, representing 15 centuries worth of pieces. Finely detailed English embroideries, playful Spanish laces, magnificent tapestries, and a set of elaborate French ecclesiastical vestments from the reign of Louis XIV are all available for viewing but only until August 4th!
This is the last weekend to see these true textile masterpieces, so make sure to stop by the de Young Museum, located in Golden Gate Park. For more information about the exhibit, click here.