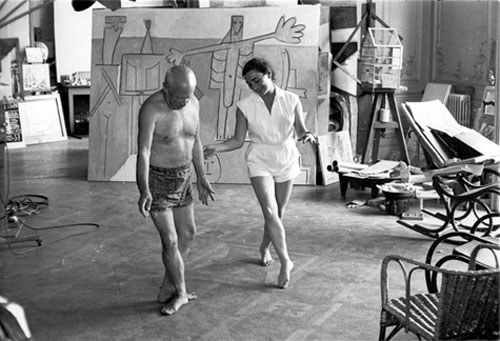 Picasso dancing with Jacqueline. Photo by David Douglas Duncan. 
David Douglas Duncan is a world renowned photographer, who began his career as a war correspondent for Life Magazine during the Korean War. But he is best remembered for his intimate portraits of Pablo Picasso, giving viewers a rare glimpse into the legendary artist's private world.
In the summer of 1957, Duncan showed up at Picasso's home in Cannes, though the two had never met. Duncan did not even know that much about Picasso, but went on the suggestion of his friend, fellow photographer Robert Capa. The artist's second wife, Jacqueline Roque, greeted Duncan at the gate, and led him inside. Moments later he was taking his first photos of Picasso, as he bathed in the tub. Duncan and Picasso went on to form a life-long friendship that was immortalized in their work. This is one of our favorite photos by Duncan, as it captures a playful, intimate moment between Picasso and Jacqueline.
We hope our Monday Morning Photo inspires you all week long!