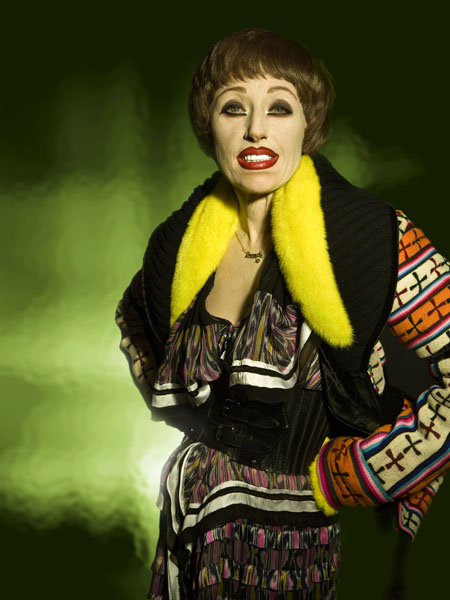 Cindy Sherman – Untitled #458.
For the first time on the West Coast, the San Francisco Museum of Modern Art will showcase a retrospective of the work of photographer Cindy Sherman. For over the last thirty years, Sherman has taking self-portraits dressed as a wide variety of personas. Crossing ethnic boundaries, breaking gender constraints and portraying a wide variety of cultural identities, Sherman has proven herself to be master of disguises all for the sake of her art.
Sherman works alone in her studio filling a range of roles from model, stylist, hairdresser, makeup artist and photographer. Up until this year, the artist has never used digital retouching programs to alter the state of her appearance. In over the 150 photographs included in the exhibit, all effects changing Sherman's appearance where achieved through makeup, lighting or the use of prosthetics.
Follow the jump to read more!
However there is one piece in the exhibit that was created through digital compositing. When guests embark the elevator leading to the fourth floor, an enormous mural welcomes them into the exhibit. The mural was custom designed for the SF MoMA by Sherman and is her first venture into site-specific instillations. An eclectic group of costumed figures tower over the viewer in typical Sherman style, though this time the artist made subtle changes to her facial features via Photoshop.
The mural is playful, and reciprocates the tone set by the exhibit. Through her photography, Sherman creates a world of fantasy that merges with themes from everyday life to provide social commentary on many aspects of our present day society. From fashion to politics, Sherman discusses a wide range of themes in a thoughtful manner through her thought provoking photographs. Mark your calenders: the exhibit will run from July 14th to October 8th and should certainly not be missed.
[imagebrowser id=24]
Written by Alannah MacIntyre