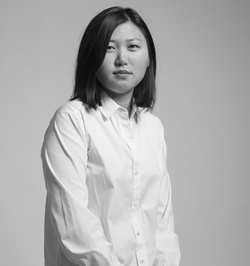 Jisun Lee hails from Seoul, South Korea. She earned a B.F.A. in English Language and Literature from Chung Ang University before coming to Academy for her M.F.A. in Fashion and Textile Design. For her textile design work, Lee was honored as an Emerging Talent in Stylesight's Spring/Summer 2013 Prints and Graphics competition.
For Spring 2013, Lee collaborated with Liza Quiñones, BFA Textile Design. Lee looked to 1920s men's suits for inspiration. She reinterpreted the silhouettes for women's wear, maintaining an oversized look, and experimented with collar and lapel structures.
Follow the jump to read our interview with Jisun!
When did you first realize you wanted to be a designer?
I have always been interested in clothing, but I thought a fashion designer was someone special, who is born with talents. I decided to become a designer after having my first job and realizing that you don't come into the world twice. If you are not born with it, teach yourself, earn it and be whatever you want to be.
What was the first article of clothing you ever designed?
The very first thing that I designed and made was a very simple skirt for myself. It had a center back invisible zipper and four darts (two in the front and two in the back). There wasn't much design involved, but I had a hard time finding the right length and angle of the darts and the right fabric.
What other designers do you admire and why?
I admire designers with vision and passion. In the beginning, I admired Yves Saint Laurent, Coco Chanel and Cristóbal Balenciaga for their amazing talent and frontier spirits. More recently, I have come to admire current designers including Phoebe Philo, Raf Simons and Dries Van Noten for their great taste and vision.
What is your present state of mind?
I am very nervous, excited, exhausted and pumped at the same time. As much as I love the whole process of designing and making clothes, I can't wait to see them on the runway and move on to my next project.
What has been the hardest part of designing and creating your own collection?
I am asking myself, "What wasn't hard?". The whole process was hard from the beginning, especially since I knew I was designing for the "final show". I wanted the collection to be something special that would present my vision as a designer to the world of fashion. The hardest part of all, though, was choosing colors and fabrics for the collection. I had to change the whole color story for the collection four times.
Where do you find inspiration?
I am mostly inspired by photography. I love looking at pictures of people either taken professionally or personally. Vintage photos from late 1800's to 1930's are my favorites.
What do you love most about being a designer?
I feel connected to the world when I am inspired by it and when I am able to create and produce something for it. I love the whole process of making garments – from finding inspiration to the final hand sewing of hemlines.
What is the most important thing people should know about you?
Classic and Unique. Those are two words that I would like to describe myself as a designer. I am not interested in fashion. I just want to make classic and unique clothes that can stand the test of time.
For more on the Academy of Art University Spring '13 Fashion Show, click here.