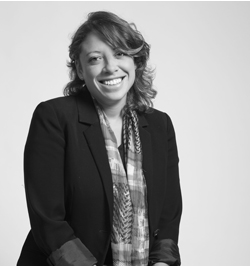 Liza Quiñones was born in the Bronx and grew up in Valley Stream, New York where she attended Valley Stream Central High School. She earned a B.F.A. in Textile Design from Academy of Art University, and has had her work featured at the St. Vincent De Paul Society's annual fundraiser Discarded to Divine.
Quiñones designed textiles for Jisun Lee's Spring 2013 collection. She wanted to create something that was organic and natural, yet also had a geometric element. She created the prints by scraping patterns into a smooth layer of tempura paint, and transferring those patterns to tracing paper. The printed fabrics are a wonderful addition to the collection.
Follow the jump to read our interview with Liza!
When did you first realize you wanted to be a textile designer?
I was originally a fashion design major at the Academy of Art University, but knew, after my first design project in level 1 textile design, that I had found something that fit me perfectly.
What was the first article of clothing you ever designed?
An apron, that I loved, and still have hanging in my Kitchen.
What other designers do you admire and why?
Jennifer Jennings of Serial Cultura, I interned for her and admire her hard work and design aesthetic.
What is your present state of mind?
Accomplished…for now
What has been the hardest part of designing and creating your own collection?
Its hard work yet fulfilling. Pushing on, having confidence in myself and my designs and learning to take criticism constructively have been the hardest yet most important things I've learned in this process.
Where do you find inspiration?
The natural repetitive qualities in nature. Travel refreshes my mind.
What do you love most about being a designer?
The flow of things. Always moving forward with creativity and ideas.
What is the most important thing people should know about you?
I have a drive to find and become the best version of myself.
For more on the Academy of Art University Spring '13 Fashion Show, click here.