By Brittany Furber, BA Fashion Journalism
Academy of Art University MFA Fashion Design alumna Ziyi "Zoe" Yin is a designer who creates minimalistic unisex designs emphasizing cut and shape, both of which are meticulously planned and articulated with architectural precision. These characteristics took shape during her time at the Academy and were seen in her graduate collection and designs for the CFDA Geoffrey Beene Scholarship Competition in 2020. These and other tendencies are present within her debut collection for her brand ZHIRóU, which launches later this year. The result is a unisex brand that blends minimalism and utilitarianism with pops of color and low-key glam. The line also brings together multiple inspiration points and contrasting ideas.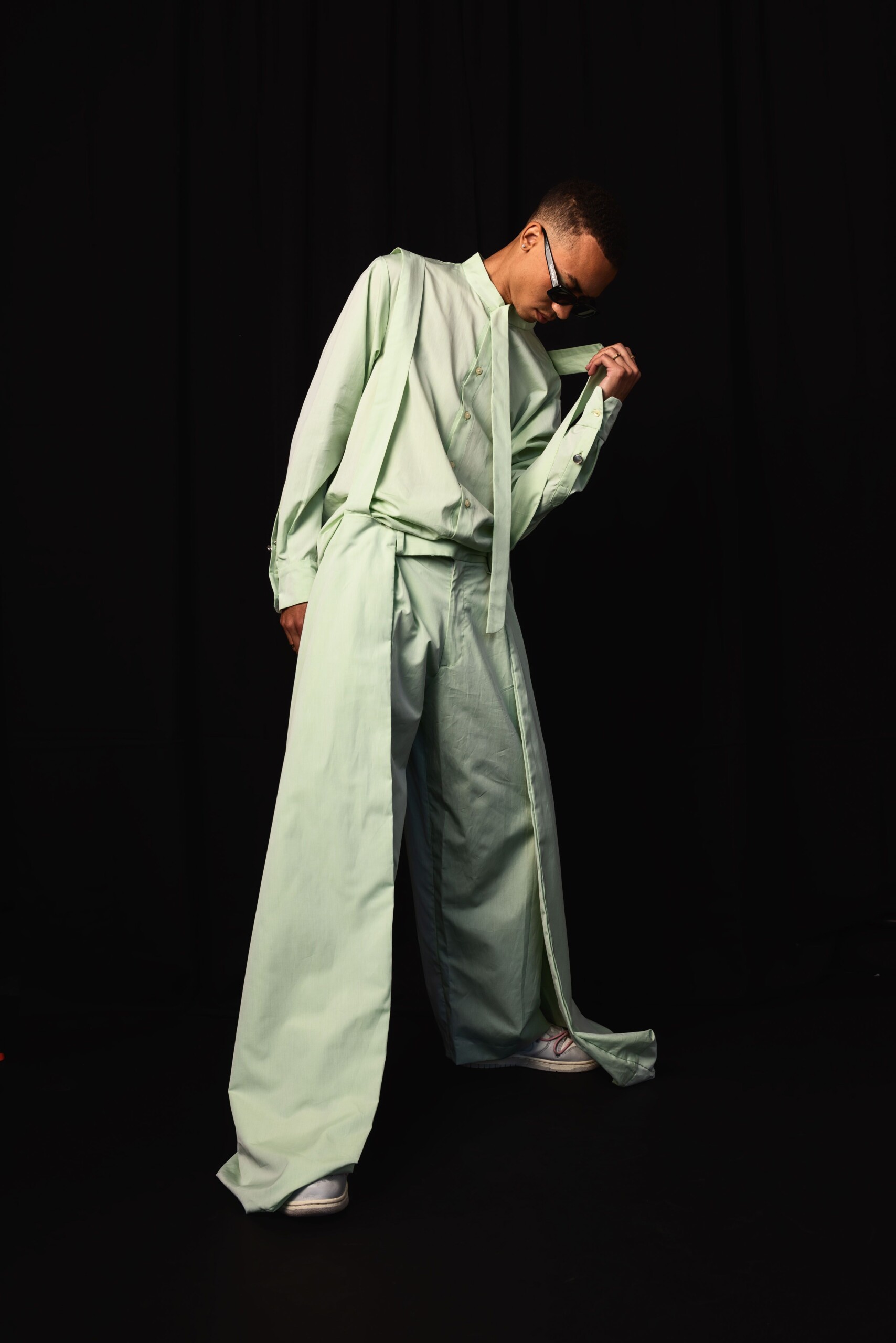 Since graduating, between her time at her various jobs, which included designing for Zinare Bride and serving as a contemporary style advisor for Saks Fifth Avenue, she began to develop the vision for her brand and first collection. The premiere of ZHIRóU has been a long time in the making due to the circumstances that affected the plans of Yin and other designers. The pandemic hit when many were ready to launch their first collections. However, instead of letting these obstacles deter her, she used this time for professional growth, finding inspiration, and refining and revising her vision.
At present, Yin relays the concept behind both by stating, "A key aspect of my collection and brand is relaying the idea that even though we have different skin colors and ethnic backgrounds, we share a love for similar aesthetics and an appreciation for all cultures!" She feels that circumstances surrounding Covid-19 resulted in more inclusion, and she reflects that with her brand and its team. Her group consists of individuals from multiple countries and throughout the US. In the future, she plans to partake in collaborative projects with fellow artists. Yin concludes that despite the unique experiences of everyone, "…we all share the same appreciation for art and fashion… (and we have) created a new community with a shared culture."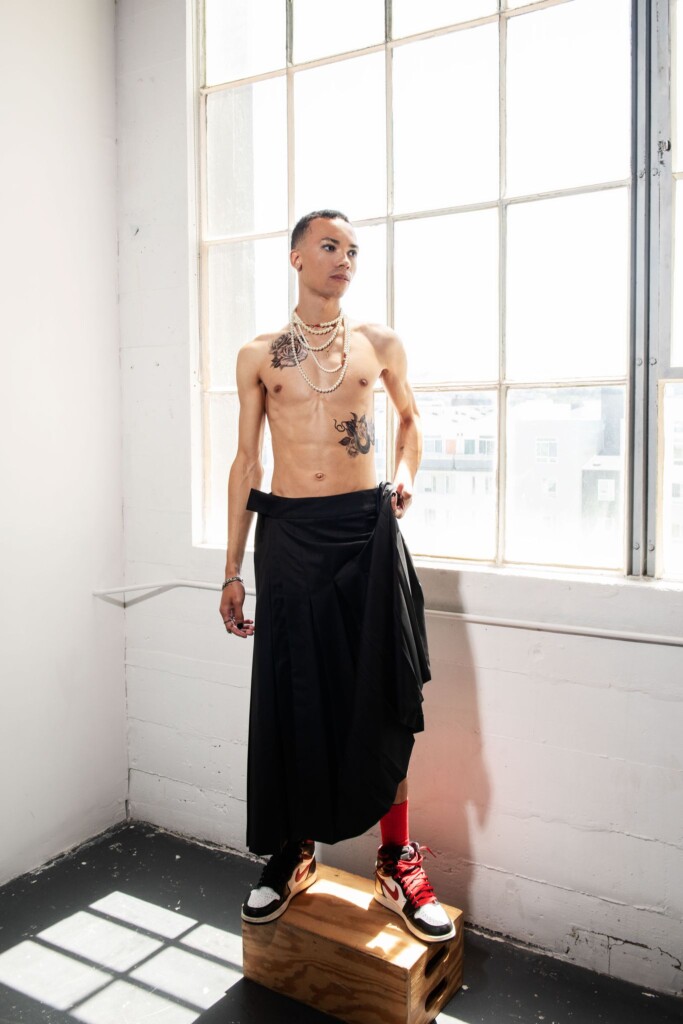 Fittingly, the symbolism that Yin incorporates into the brand's logo, as she details, ties into this unity. Yin explains, "…the peacock is a sacred symbol that represents peace, love, and integrity…" and it "conveys the idea of love and acceptance—crucial aspects of the brand."
Yin's first collection for her brand ZHIRóU will be released before the year concludes and available for purchase through the brand's Instagram. ZHIRóU's aesthetic references celebrate the coming together of individuals from various backgrounds by combining concepts, styles, and inspirations from Eastern and Western cultures. Yin states, "The inspiration behind the designs of my collection comes from Chinese tunic suits and 90s American television." She also notes that it possesses influences from Scottish kilts. The styles and concepts that influence her work, as she notes, include minimalism, deconstruction, feminism, gender fluidity, and the avant-garde. Yin also shares that her collection and brand also pull "inspiration from 1946-1956, which represents femininity and conformity. I want to keep men's tailoring techniques and create more feminine and comfortable styles for" all genders. Overall, ZHIRóU pulls references from multiple cultures, genders, periods, and aspects of lifestyle.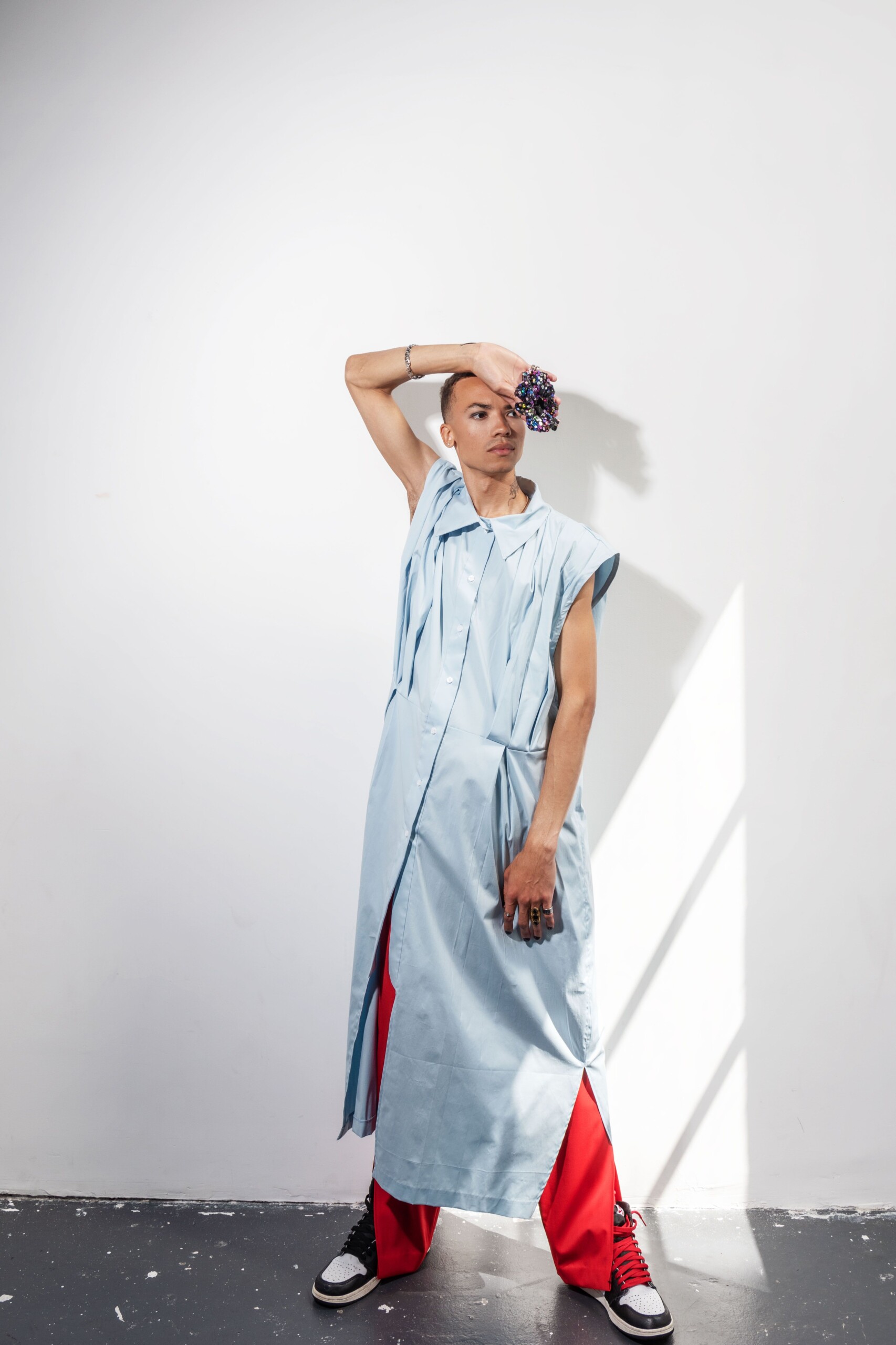 Yin is also known for adding pastel, bolder hues, and surface ornamentation into otherwise minimalist and, at times, utilitarian looks. The resulting looks include a pleated sleeveless shirtdress in powder blue, a sequin cap sleeve dress, a trench coat with a floral lining, and garments that feature added belts or scarf-like attachments. The looks incorporate some of her signature details which she explains include, "split and tie backs," as well as decorative patterned and printed linings. She plans to use the linings of her garments as a canvas for collaborations with artists in the future.
While unprecedented obstacles might have delayed the premiere of her collection, it turned out to be a veiled blessing. The extra time allowed Yin to develop a unique approach to design. The resulting collection is an eclectic take on minimalism. The collection brings together multiple cultures, genders, styles, and inspirational reference points. The result is the inclusive vision Yin has for her brand as a whole.