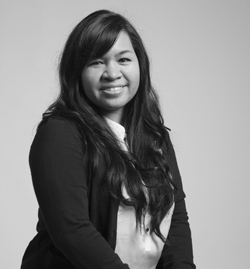 Stephina Touch was raised in Bakersfield, California and attended California State University Bakersfield, earning a B.A. in Business Management. While earning her M.F.A. in Fashion Design at Academy of Art University, she worked as intern at gr.dano, creating patterns and producing samples as well as finished garments.
Touch looked to traditional Asian architecture when designing her Spring 2013 collection, gleaning inspiration from the clean lines and tiled roofs. The all-white collection features angular silhouettes and structured pleats constructed from silk satin suiting and silk organza.
Follow the jump to read our interview with Stephina!
When did you first realize you wanted to be a designer?
I knew for sure when I was 15.  My family was on vacation in Cambodia and I was just so inspired by the culture and the clothing. I wanted to be able to blend the traditions with modern elements.
What was the first article of clothing you ever designed?
I made my own winter formal dress. It was a white satin dress with ice blue trim, bow, and hand beading. It was somewhat ill-fitting and a bit of a mess, but I was so proud of what I had accomplished.
What other designers do you admire and why?
Honestly, I really admire the designers working on their senior collections with me at the moment. All the hard work they put into their pieces is inspiring and I just love how beautiful everyone's collection has turned out.
What is your present state of mind?
It's a little cluttered, but being organized gradually.
What has been the hardest part of designing and creating your own collection?
The constant changes.
Where do you find inspiration?
I find most my inspiration from architecture because I love structure and shape.
What do you love most about being a designer?
I love the entire process I have to go through to get to my finished look, but the end result makes me light up. Knowing that I made something that looks beautiful.
What is the most important thing people should know about you?
That I am full of surprises. There is never just one thing to know, there are so many things that make me who I am.
For more on the Academy of Art University Spring 2013 Fashion Show, click here.