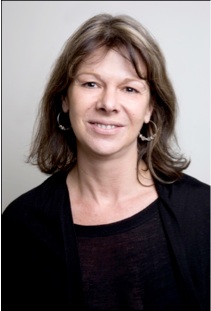 On Thursday, May 5th, 10:30 AM at Morgan Auditorium, Laure du Pavillon will speak about craftsmanship, fashion luxury and renowned embroidery atelier L'Ecole Lesage.
Written by Gladys Perint Palmer:
I have known Laure du Pavillon for many years, as the power behind the Christian Lacroix shows. She began her career at Nina Ricci before joining the House of Jean Patou where she worked alongside the young and still "unknown" designer, Christian Lacroix who single handedly revived the dying art of Haute Couture and put women into Pouffs. Laure stepped into the role of PR Director for Christian Lacroix, a position she held for 22 years, organizing Lacroix's Paris shows four times a year and managing the image of the brand internationally. It was Laure who decided who would be invited and where they would sit.
After some confusion with my seating one season, I paid a visit to Laure in her office at Faubourg St. Honoré and explained that I don't mind where I sit as long as I can see the shoes and so a seat on the aisle on a raised row facing towards the end where models emerge would be a most helpful! After that, I never had a problem. I had perfect seats. Let me add, I tried to explain this concept to many people, even learned the phrase Le Premier Rang Surélevé.
On occasion our exchange students studying in Paris turned up at the gates to crash the show. Laure always let them in. One of them, Christine Ligan, was hired by Lacroix and her textile design was on the cover of WWD. Sadly, M. Lacroix's last show was on July 7, 2009 at Les Arts Décoratifs; and there was not a dry eye in the show.
Follow the jump to read more.

In 2010, Laure du Pavillon opened her own agency Cœur d'entreprise with two main objectives: transmission of know-how, and linking philanthropy between fashion companies and social charity associations.
We are looking forward to Laure's talk about the embroideries of Lesage, her experiences at the house of Christian Lacroix, and the company she founded after Lacroix.
Laure even took some time to answer questions for Fashion School Daily.
Have you ever been to San Francisco before?
I have only been once for a very short time. I came for a trunk show for Christian Lacroix.

What comes to your mind when you think of San Francisco?
I would say San Francisco is the most European of all American cities, a beautiful one to come and visit.
Tell us a bit about your upcoming presentation to the students.
I am happy to have the opportunity to share and have them discover our incredible French masters — without them, Haute Couture and fashion luxury would not exist.

What do you hope the students will learn or better understand from the topics you are presenting?
I hope they will more understand why Paris is the capital of Haute Couture and how fashion and craftsmanship are two inseparable stories.
Working with Christian Lacroix must have been an amazing experience. Do you have a favorite story that you wish to share?
It is difficult to find only one. It had been an amazing chance in my professional life being close to such a talented designer and understanding really what creativity is. I would say that I have never been blazed, collection after collection, the whole team was totally involved. There were intense and unforgettable moments. I would add that we went together to San Francisco and he enjoyed your city as well.
For more information on our graduation fashion show and events, click here.