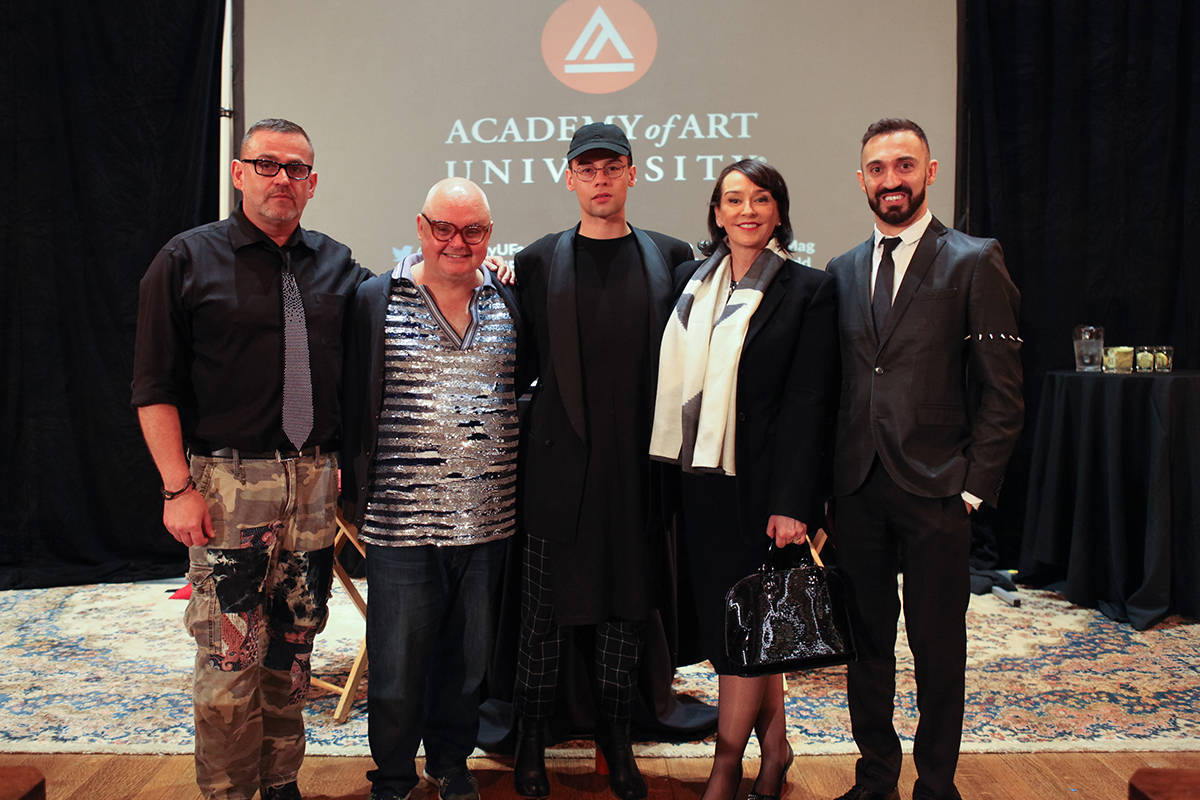 On Wednesday morning, Academy of Art University hosted a panel discussion with fashion-multimedia industry leaders, Mickey Boardman (Editorial Director, Paper magazine) and Lars Petersen (Digital Director, Visionaire), at St Brigid's Church in San Francisco.
Stephan Rabimov, Director of Fashion Journalism & Social Media Center at Academy of Art University, moderated the hour-long talk. It flowed like a conversation between friends with talk of past, present, and future. There were mentions of the Kardashian-Jenner clan, other pop culture references, and the latest in fashion (media).
Introduced by Simon Ungless, Executive Director of the School of Fashion, Boardman and Petersen discussed the shifting landscape of fashion media and the critical factors facing the fashion journalism industry. In the next hour, what followed was an engaging discussion fueled by Rabimov's unapologetic questions on the state of fashion media today, and how to enjoy working in the industry despite facing its many challenges.
Rabimov opened the discussion on how print can stay alive. Boardman's response was a resounding and confident: "Print will never die," to which Petersen added, "the physical interaction and experience with a magazine is what makes it stick in your memory." Print isn't dead, but it is not at all what's fueling the fashion media business. Much of it now lives on the Internet; #everything
Paper magazine originally featured lesser-known creatives on its monthly covers, but fast-forward to 30 years later and Paper has reworked its approach to print in the digital age. At six issues per year, celebrities and social media starlets on the cover have become the new norm. It was wise to make this strategic business move because celebrities are the ones moving the most content. Having millions of followers on social media drives web traffic that can help incentivize future covers and featured profiles.
"Social media followers has become the new currency," said Boardman.
On the other hand, Petersen's Visionaire "does not do cover stories." Instead, they look at the printed page in a whole new way: the overall concept/theme is the backbone of each issue. The publication prides itself on having developed a network of artists with distinct perspectives and abilities, through which it is able to tell stories that balance photos, videos and words.
The discussion continued with witty opinions and anecdotes, and touched upon the importance of self-care in an increasingly stressful professional environment.
"When you work in fashion, it's a lifestyle, not a job," Boardman stressed. This made for an ideal segue into the last segment, where the pundits shared their valuable insights and tips to succeed in an ever-evolving industry.
It must also be noted, that the stylistic wardrobe choices of the two guests instantly clicked with the audience, comprised of Academy personnel and students from styling, design, merchandising and journalism programs, as well as other schools and departments. Boardman was dressed in a grey cardigan worn over a staple sequined tee, with blue denims and sneakers, and Petersen, in a crisp black sports coat paired with black checkered culottes and shoes with metallic orange platform heels.
In closing, Rabimov summarized Boardman and Petersen's expert advice into one magic formula: content that is "fabulous + shareable = a successful story." Take note, journalists, or as Boardman and Petersen would say, "content producers."
Written by Taisiya Vivien Moon, Namrata Loka, and Tyler Drinnen, M.A. Fashion Journalism students.