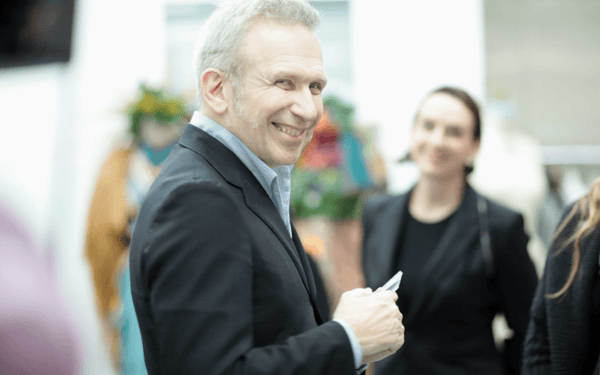 Photo Courtesy of Caro Ramirez.
Yesterday, Jean Paul Gaultier visited the School of Fashion, creating what can only be described as a fashion frenzy. Students started filling up the building well before the 2:00 PM call time, all trying to stake out the best spots for his arrival. And when he did arrive, quite promptly actually – especially for fashion standards – students could not have been more excited. "It's like we have royalty here," Dr. Stephens said at one point, and in a way we kind of did – fashion royalty at least.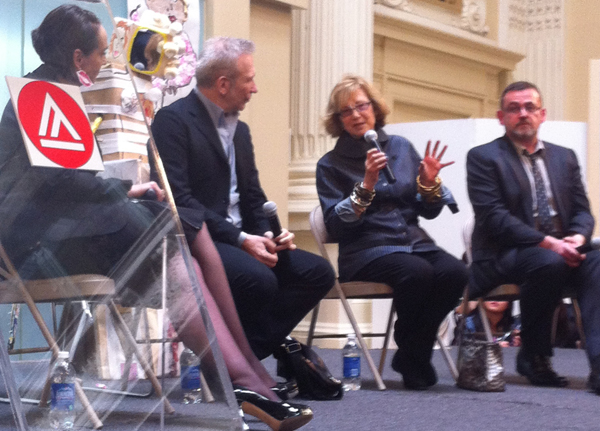 Gladys Perint Palmer talks about the magic of fashion with Jean Paul Gaultier. Photo Courtesy of FSD.
As he entered the atrium, students cheered wildly and everyone was snapping away on their smartphones – suffice it to say that the Twitterverse (and Instagram) lit up with JPG tweets and pics from the hundreds of students who were gathered. During the brief presentation, School of Fashion Executive Director Gladys Perint Palmer asked him to reflect on true creativity in fashion – how to harness it and make sure it survives. His reply came from the heart, "The most important thing in life is to have love – it has to be your passion." He spoke of the need for originality as well: "When you do something different – people are surprised and they appreciate it. There is no point in doing something someone else has done." He also talked about his grandmother, who sparked his interest in fashion at a young age and was a constant inspiration: "She taught me that you could say something through your dress, your hair and make-up. And that is what I try to do – to speak through the clothes." Academy of Art University President, Dr. Elisa Stephens, presented Monsieur Gaultier with an Honorary Doctorate, which elicited a huge smile from the designer, "I never went to art school – I'm very happy. This is a big, big, big compliment."
Follow the jump to read more!
He then embarked on a tour of the School, beginning in the knitwear lab. He was particularly taken with the work of Xiang Zhang and Jeanette Au, who both recently debuted their collections at Mercedes-Benz Fashion Week in New York. "Oh la la," he exclaimed as he walked up to Jeanette's knitwear pieces – quite a compliment for the young designer.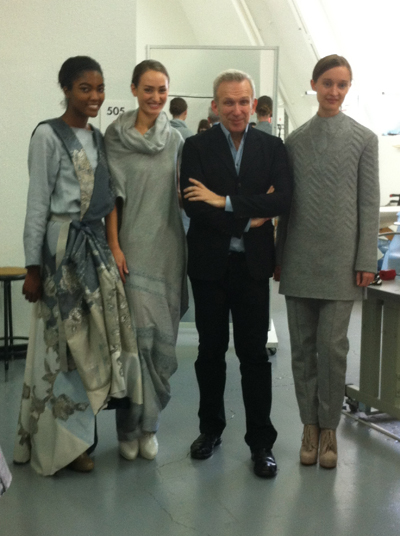 JPG with models in looks by Massayuki Ito, Joe Ki Chung, and Zhangchi Wang. Photo Courtesy of FSD.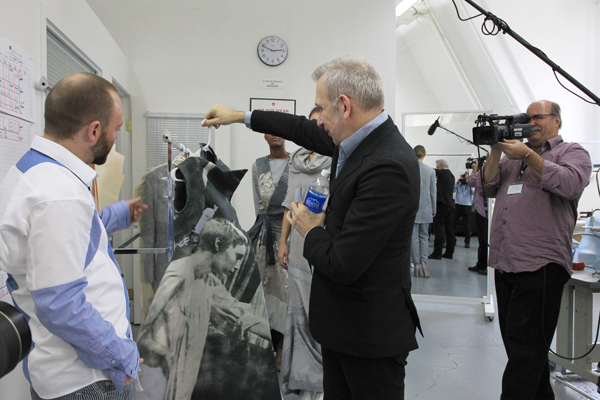 JPG admires a print designed by Mina Fadaie. Photo Courtesy of Bob Toy.
On the fifth floor, models were dressed in looks desgined by Rob Curry's B.F.A. fashion design students Massayuki Ito, Joe Ki Chung, and Zhangchi Wang. He was very impressed with the level of work from the students, and loved the Rosemary's baby print by textile design student Mina Fadaie. Then it was off to visit the textiles lab where students were hard at work printing their latest creations.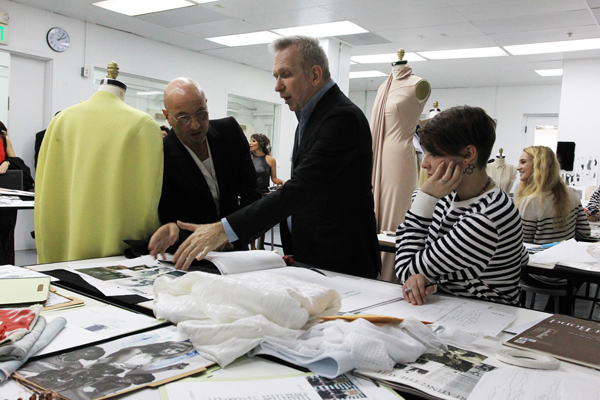 JPG looks over Marisela Gonzales' work. Photo Courtesy of Bob Toy.
On the second floor, JPG stopped by Michael Rosen's Fashion Design 6 class. The students, all dressed in Gaultier's signature Breton stripe, presented their work to the designer and he stopped to chat with a few of them. Across the hall, students in Flore Morton's editorial styling class had set up a Jean Paul Gaultier inspired shoot – complete with tribal accessories and androgynous models. JPG and Flore had worked together at Hermès, and spent a few moments catching up in their native French. He told her how impressed he was with the students and complimented them on their hard work. He absolutely loved one of the shoots styled by student Noah Shaw, commenting on the wonderful combination of textures – wovens, raffia, and metals – that Noah had chosen.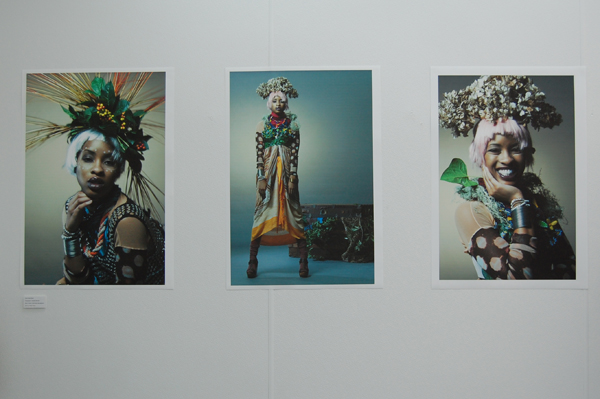 The editorial styled by Noah Shaw. Model – Shai'la at Exalt Model Management, Make Up – Kaitlyn Vitug, Photos – Caro Ramirez.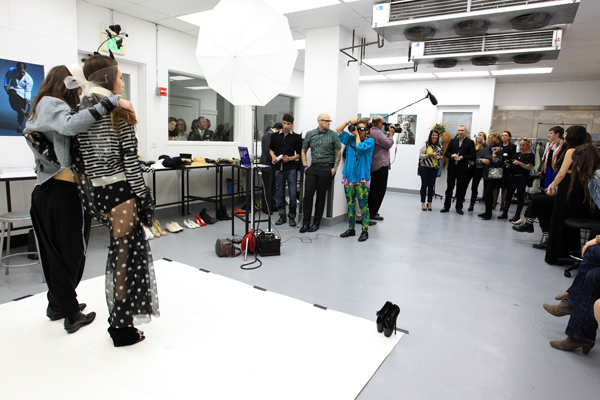 The Gaultier-inspired photo shoot. Photo Courtesy of Bob Toy.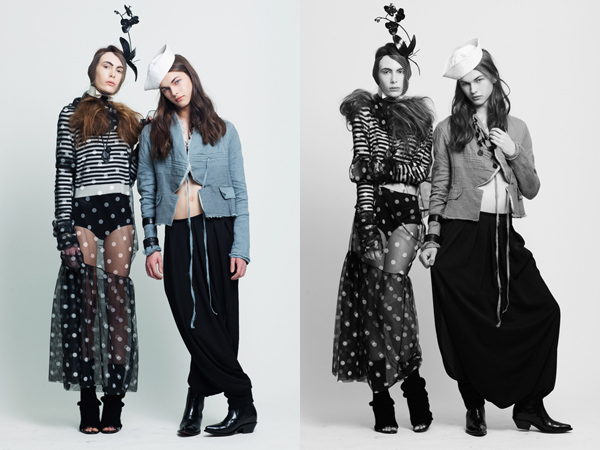 The finished product – see below for credits. Photos Courtesy of Caro Ramirez.
At every step of the tour, students lined the hallways, hoping to catch a glimpse of the designer – a few lucky ones were even able to snag autographs and snap photos with the man of the hour. And Jean Paul Gaultier – French gentleman that he is – always obliged, smiling throughout. His visit to the School of Fashion left our students inspired and excited, reminding them: "The Most Important Thing Is Passion, Love, Life, Art, Fashion."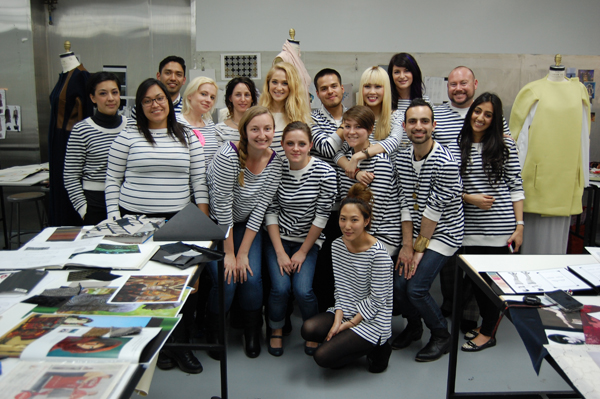 Michael Rosen's Fashion Design 6 class – all in Breton stripes. Photo Courtesy of FSD.
Photo Shoot Credits:
Stylists – Flore Morton (Instructor), Kate Henderson, Phyllis Smith, Jessica Mongeau, Shannon Crittendon
Models – Bryce Jamison and Logan Link from JE Model Management
Hair and Make-Up: Preston Nesbit, Aubri Balk Management
Photographer – Caro Ramirez