The push for diversity and inclusivity is becoming more widely practiced, evident and expected in the fashion world. As progress is being made, some members of the industry find themselves on the very frontline. Rinat Brodach, an Israeli-American designer, graduated from the Academy of Art University nearly 10 years ago. During her thesis collection, Brodach garnered recognition leading to a year-long exchange at The Chambre Syndicale de la Couture Parisienne in France.
Since 2014, Brodach has been issuing volumes of clothes, most recently described on the company website as 'gender-free', from her studio in New York City. While speaking of her latest collection, she gave a statement that encapsulates her personality and outlook, as well as her clothing: "As much as they [the body] are covered, there is something very sexy about it. They [the garments] draw you in to what is beneath the clothing. It says a lot about you as a person when you choose to wear one of my garments. It's about being you—real and raw—and wanting to express all of it."
Brodach is pushing the boundaries through androgynous and tactile designs that are meant to accentuate the individual body beneath the garment, while luring the outside in. In our interview with Rinat, this alumna shares how the Academy prepared her to be a designer, demonstrates how the push for diversity and inclusivity in the fashion world reflects in her collections, and offers some candid advice to the next generation of fashion students.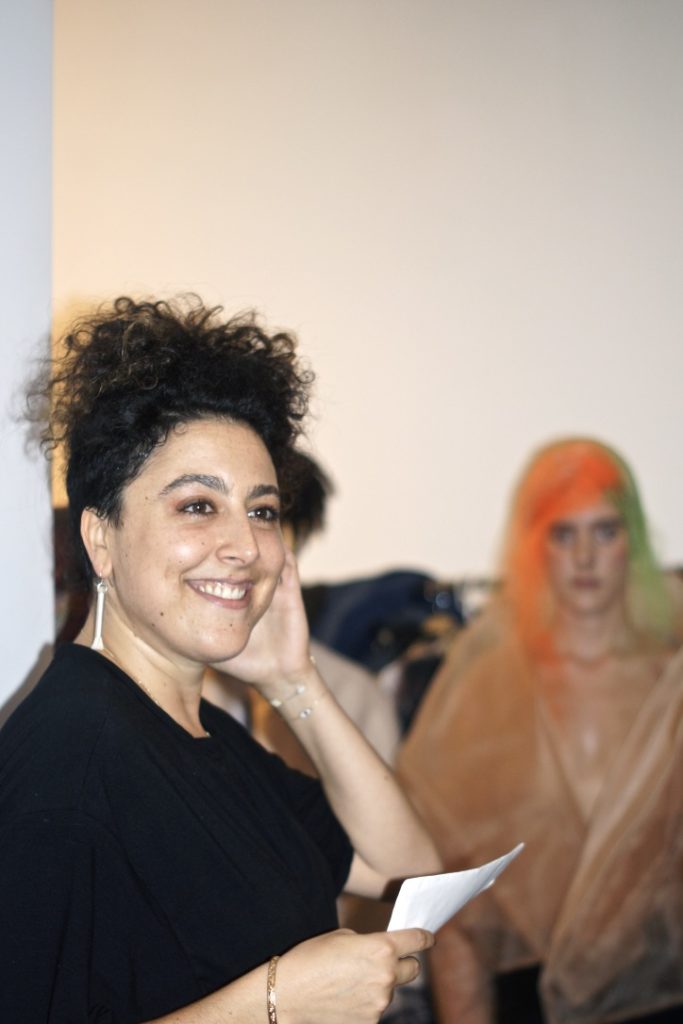 Fashion School Daily: What is your fondest memory from your time at the Academy?
Rinat Brodach: I think there are a few, but if I could choose one, it was my whole experience with Simon Ungless and Rob Curry. From summer school to the end of senior year.
FSD: How did the Academy prepare you for your future as a designer?
RB: The Academy did a really good job putting emphasis on the process. They get it. They taught me how to be prepared, how important the sketchbook is, and how creating your own personal process is so important. I can't start a collection without a title, or collaging, or writing words—or releasing it out of me. Every collection is very personal to me. I'll go into dark places and bring out the light. They really engraved in me the high-endness. They showed me the hard way and not the easy way. When I moved to Paris, I felt very prepared to work at the atelier. In a way, if you were late to class, you were late for work. It was school, but they treated it like you were coming to work.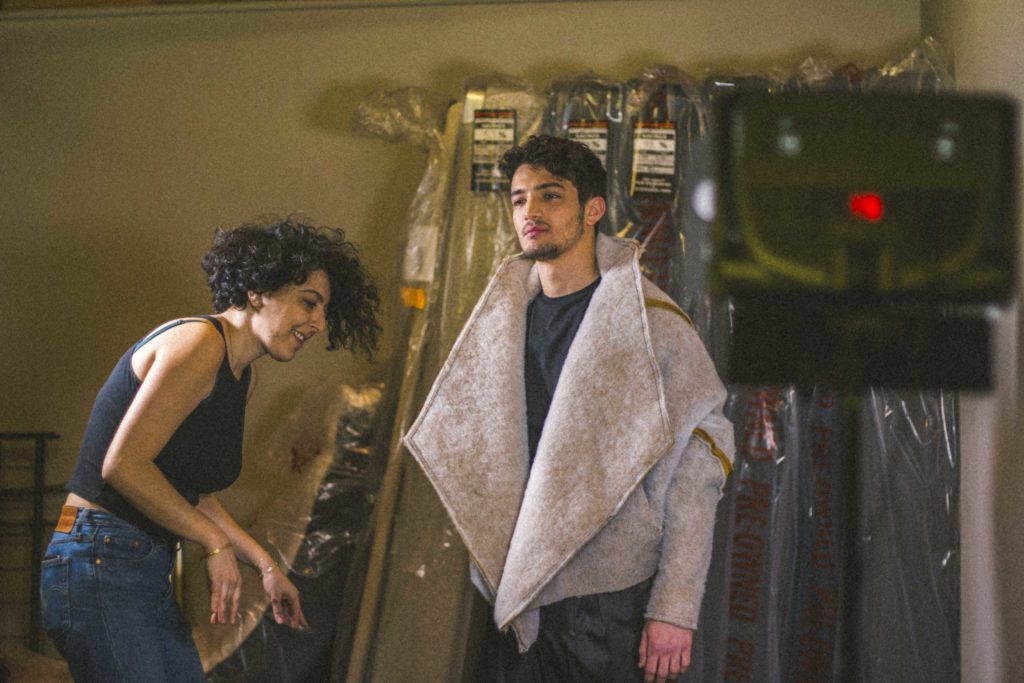 FSD: How did the Paris Exchange program change your outlook on design?
RB: Before the Paris Exchange, I was thinking about it and manifesting it. With Simon Ungless coming from [the] McQueen background and Rob Curry coming from Vivienne Westwood, it is high-end fashion. It helped me get to enrich my style. So, when I moved to Paris, I was already on that wavelength of aesthetics, equipped to compare shows: here, they really elaborate and fuck with the viewer and give the viewer a feeling; and there it's just a show, there's no meaning. They [Paris] really enhance the artistry and art within you through the clothes. In Paris, I felt at home in that sense.
FSD: From graduation to now, what has been your proudest moment?
RB: The past few months. I've done New York Fashion Week, had great sponsors, and worked with wonderful people. Almost two years ago, I had a sponsor leave and that was really hard on me. I literally do things ABC. I felt that, without this funding of money, I am not going to be able to do what I am meant to do in life. And, I really proved to myself that that's not true. I downsized. I went out there. You get to think more creatively. You get to be who you really are. I proved to myself that I'm capable of anything and money is not a factor that can stop me. It's about the work and not all the other bullshit surrounding it. This is what I do, not who I am. These are my proudest moments: the personal ones.
FSD: How has your design aesthetic changed over the years, following graduation?
RB: It's funny that you bring this up. When I did my thesis collection, the title was called Androgynous Night. This past September, my brand changed to being a gender-free brand. I started off doing a womenswear brand. After a while, with different people in my community wearing my garments and seeing the different interpretations on each individual, I accepted that sex has nothing to do with what we wear. It sprung on me that I've been doing this dialogue between male energy and female energy ever since the beginning [when Simon suggested that Rinat bought The Portrait of Dorian Grey for her thesis collection]. They [previous collections] have been inspired by men, menswear, and the contrast. I have always had this ongoing dialogue between the different aesthetics. I have been more focused on items that have been good to me—like bestsellers. Also, I have been doing smaller collections and narrowing it down on the aesthetics, quality, and different fabrications. I'm still exploring, but in a more minimalistic way.

FSD: What do you draw inspiration from when designing?
RB: I draw inspiration from my personal life and things that I'm going through: from my time at the Academy, parties that I went to in school, and even my mom's battle with cancer. I want the viewer to feel what I'm feeling.
FSD: Why did you name your current collection "Warmth"?
RB: Since April, I have been going on this personal transformation. I want more for myself. I think warmth is something people long for: from the physical warmth in the winter, to longing for love, to longing to be appreciated, to being loved, and to having that significant other. Also, the warmth of carrying who you are with you. With this gender-free transformation, we have changed things within my brand. Part of my mission is to spread the happiness, joy and curiosity among people.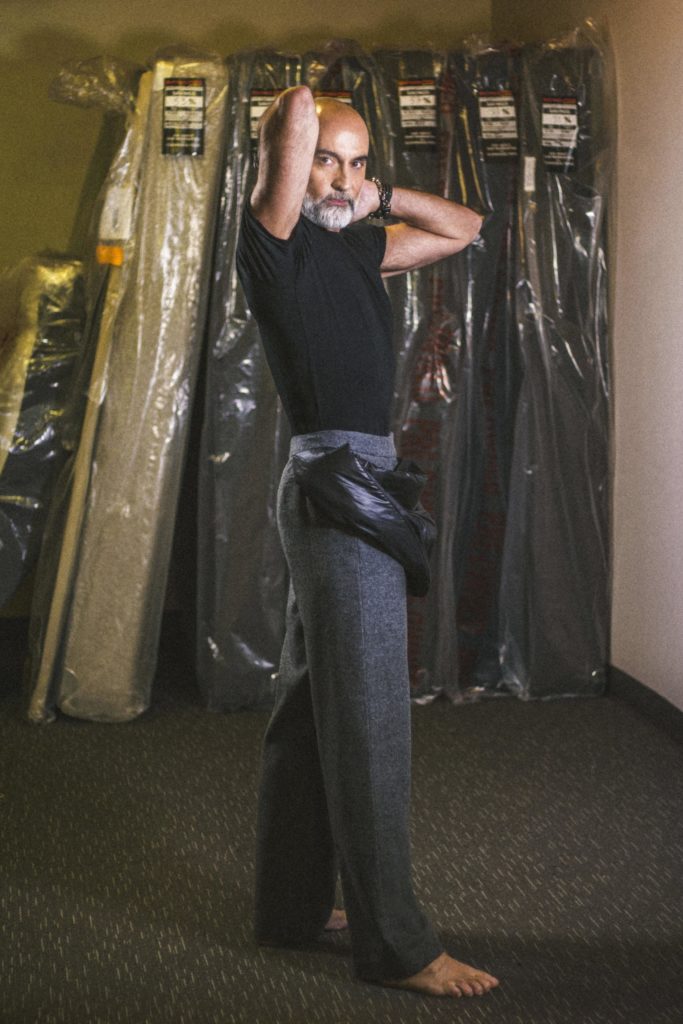 FSD: Tell me a little about the process. What materials did you use? Where were the garment images shot?
RB: With the Warmth collection, I was also inspired by the bed. There are blankets and sleeping bags. So, I started buying all of these nylon materials and techwear fabrics, and I was stuffing them. One of them is wool. Many are the same pattern, but stuffed differently with varying materials. It gives you a different effect—it's literally like wearing a blanket, but chic.
This [the location discovery] is also part of my creative process. It goes back to the inspiration surrounding warmth and the bed. We shot in a mattress store—so it was mattresses and plastics behind the models. We had other options to do it behind beds, but I wanted to keep it all cohesive with the background. Also, I wanted them [the models] to be barefoot because it went with being who you are and being real.
FSD: What does inclusivity in the fashion industry look like to you?
RB: I don't really view it that way. I've never thought about it that way. I used to always hire models from agencies, but I would always get comments. After losing my funding and thinking about it, my first show was in a basement. It was called Concrete/Raw. It was more of an art installation I presented, but I put an ad on Craigslist and said it was for trade. Because in the end of the day, who buys my clothes? Real people. So why not showcase real people in my clothes in different shapes and sizes? I'm all about diversity and showing that my clothes can fit anyone.
Why do we have to wait for a big designer or name to showcase this? I think in the recent years, we see more brown and more Asian. But I think there is still more to be done. Margiela and Benetton were the pioneers of showing diversity. They showed it [fashion] could be for anybody. It didn't have to be that a "big house brand" could only be worn by the rich and the models—it should be for everybody.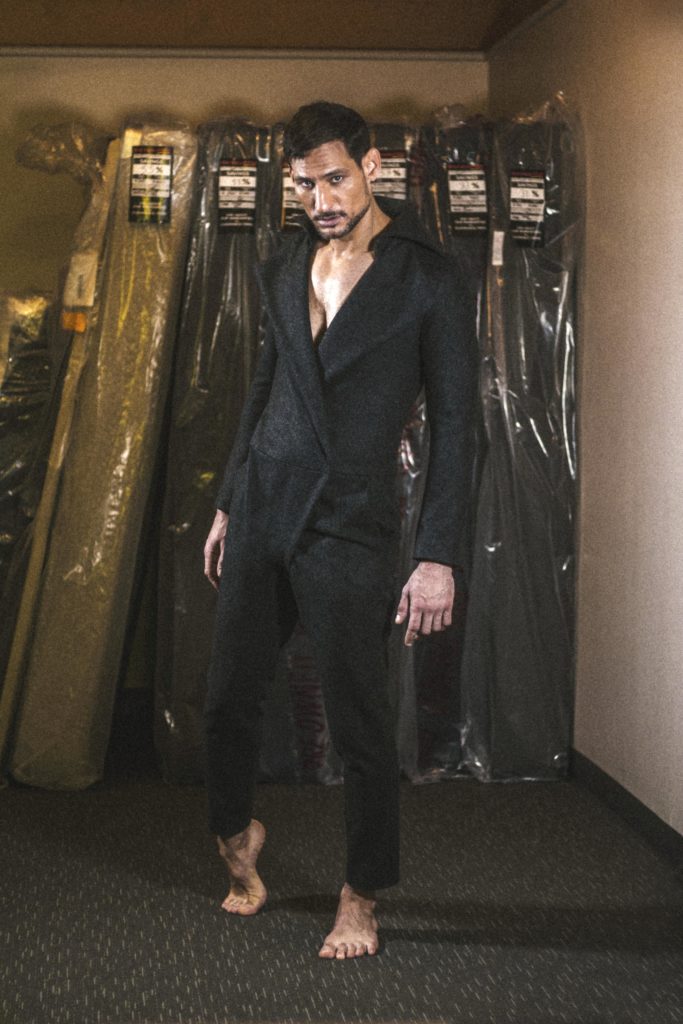 FSD: You are big on giving back. Tell me a bit about the current collaboration you are doing.
RB: They are called Custom Collaborative. They help women who just immigrated to the country and live below the poverty level. We give them a 14-week course: teaching them how to make their own patterns, sewing, and building a business plan. These women come from very hard backgrounds and its puts everything you do into perspective. It gives me a lot of joy to share with them. It's put everything into perspective—that we are all people and deserve a chance in life. You have to give back. You can't just take. To see the effect I can have on these women is very humbling.
FSD: What advice would you give future Fashion graduates from the Academy?
RB: Work hard. Be serious. Have passion. Have faith. Believe in yourself.  You need to work hard and have tough skin because I've been rejected so many times—and I know more is to come. I'm positive and believe in myself.  I thank God everyday for waking up and everything that I have. I believe He has positioned me in the place I need to be to go forward. When a lot of people doubted me, I proved to myself that I'm capable of doing anything I want.
To learn more about Rinat Broach, check out her website or follow her on Instagram.
By Jordan Stone, MA Fashion Journalism