Last month Madame Figaro, a French magazine supplement to the Saturday edition of the daily newspaper Le Figaro, published a large profile feature on Sarah Burton, Creative Director of Alexander McQueen, recalling the early days of her career and tracing timeline of her main achievements.
Laurence Benaim, renown fashion critic and designers' biographer, interviewed Simon Ungless, the Executive Director of the School of Fashion, to bring back his memories on Sarah Burton's collaboration with Lee Alexander McQueen when he introduced her to the late designer. "Simon Ungless has, it seems, forged a vocation", writes Laurence about Sarah's years of training. "For him, the future of fashion passes, first and foremost, by the "redifinition of tradition"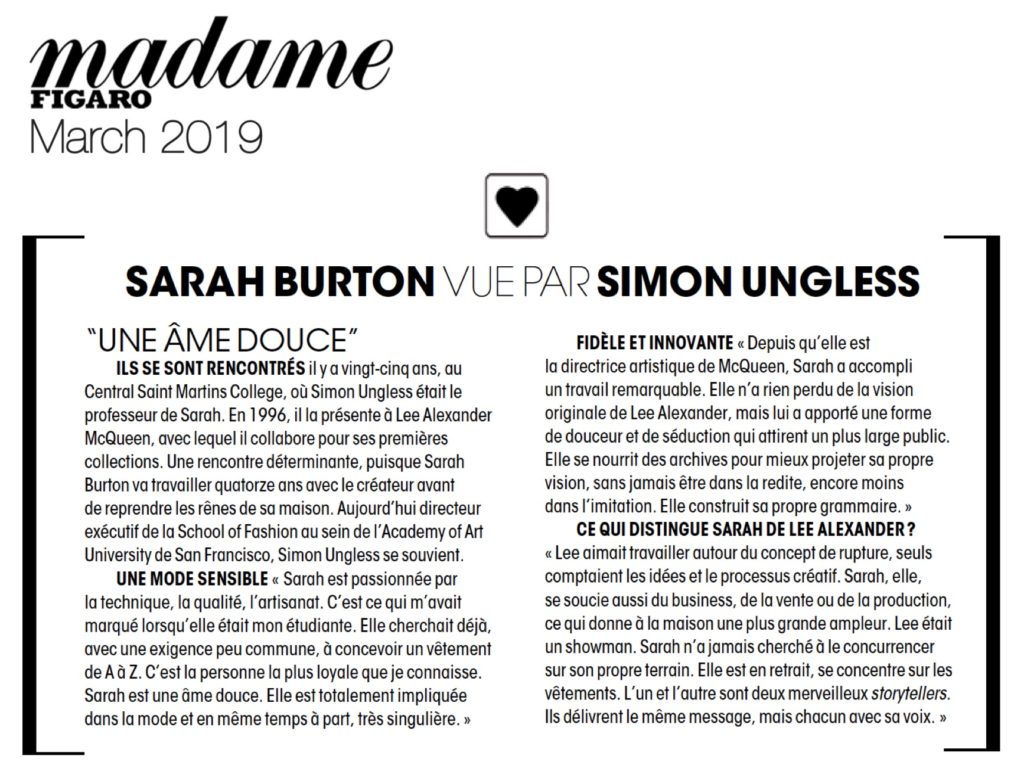 SARAH BURTON SEEN BY SIMON UNGLESS
"A SWEET SOUL"
THEY MET 25 years ago, at the Central Saint Martins College, where Simon Ungless was Sarah's teacher. In 1996, he introduced her to Lee Alexander McQueen, with whom he collaborated for his first collections. A crucial meeting, since Sarah Burton will work fourteen years with the creator before taking over the reins of his house. Today Executive Director of the School of Fashion at the Academy of Art University in San Francisco, Simon Ungless shares his memories:
A SENSITIVE FASHION
"Sarah is passionate about technique, quality, craftsmanship. That's what had marked me when she was my student. She was already determined, with an unusual exigence, to design a garment from A to Z. She is the most loyal person I know. Sarah is a sweet soul. She is totally involved in fashion and at the same time apart, very special and unique. "
FAITHFUL AND INNOVATIVE
"Since she became McQueen's Artistic Director, Sarah has accomplished a remarkable job. She lost nothing of the original vision of Lee Alexander, but brought in a form of softness and seduction that attract a wider audience.
She is inspired by his archives to better project her own vision, without ever being repetitive, and even less imitate. She builds her own grammar. "
WHAT DISTINGUISHES SARAH FROM LEE ALEXANDER?
"Lee liked to work around the concept of rupture, only the ideas and the creative process counted. While Sarah also cares about business, sales or production, which gives the house a greater breadth. Lee was a showman. Sarah never tried to compete with him on his own land. She is withdrawn and focuses on clothing. One and the other are two wonderful storytellers. They deliver the same message, but each one with their own voice. "
The article was posted on Madame.LeFigaro.fr two days before Alexander McQueen Fall / Winter 2019 fashion show at Paris Fashion Week.
Le Figaro (French pronunciation: ​[lə fiɡaʁo]) is a French daily morning newspaper founded in 1826 and published in Paris. Le Figaro is the oldest national daily in France and is one of the French newspapers of record. Madame Figaro is a French magazine supplement to the Saturday edition of the daily newspaper Le Figaro, focusing on and catering to women. (Source: Wikipedia)