We gave you a brief introduction to our the School of Fashion's new Drawing Coordinator, Jim Yang, and now you have a chance to hear from the man himself. Jim began his career working in 3D animation and computer graphics, but his interests shifted toward more traditional mediums.
He enrolled in the Academy of Art University's illustration program, exploring the worlds of drawing and painting with a wide variety of mediums. During his final year as a student, his works were selected and published in Aphrodisia, a juried competition, in 2005 and 2006. He worked as an online instructor for the School of Fashion, and also taught some classes in the School of Illustration before joining our team at the School of Fashion full-time.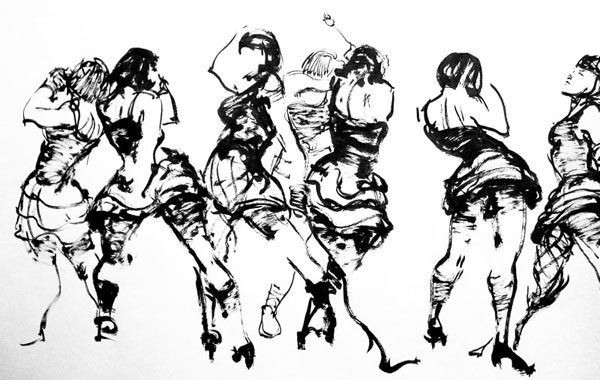 Illustration by Jim Yang. 
Follow the jump for our interview with Jim!
What are your favorite materials to draw with and why?
Although I draw with everything, ranging from silicon BBQ brush to Crayola markers, compress charcoal stick is definitely my favorite material to work with (any brand). It is widely available in any part of the world and very versatile in terms of the range of the markings one can create with it.
Another reason compress charcoal is my favorite is that it teaches one all the basics skills and habits in handling material properly. Once learned, the same skill set can be applied when using any other tools (brush, charcoal pencil, color pencil, pastel, palette knife…etc.). To me, it is kind of like the chef's knife in my art supply box. In short – if I get stuck on an island, that is the one thing I would want to have. Assuming there are plenty of coconuts to eat when I am hungry…
Who are some of your favorite artists and illustrators and why?
There is a wide range of artists that I like and constantly look at, regardless of whether their style or approach is similar to mine or not. Very often they have both wonderful design and draftsmanship. I think it is important to be exposed to things that we like and dislike in order to get the full picture. Sometimes these preferences change, and being exposed to different things allows one to be aware of these changes (like how I would never eat the bright colored candies that I loved as a kid). The key is to keep an open mind, because inspiration can come from anywhere.
Some of my favorite artist are…(in no particular order): Illustrators – J. C. Leyendecker, Dean Cornwell, Gary Kelley, Kazu Sano, Drew Struzan, Bob Peak, Robert Fawcett; Fashion Illustrators – Gladys Perint Palmer (of course!), David Downton, Rene Gruau, Antonio Lopez, Kenneth Paul Block, Eric Stemp, Carl Ericson; and painters – John Singer Sargent, Anders Zorn, Joaquin Sorolla, Nicolai Fechin (spelled Feshin sometimes), Giovanni Boldini, Vincent van Gogh, and Edgar Degas.
The list goes on forever, but here is just a glimpse of the few that I constantly go back to.
What are your thoughts for the drawing classes – any changes?
Drawing class, besides learning to draw as a skill by itself, is really about learning to see and appreciate the beauty around us.
I have always told my students, most people see thing as if they are on a highway. Although people do look at the road signs and get the information about the exits, in most cases people do not get enough visual information about the actual appearance of the road sign. Things such as the font used on the sign, the spacing of the text, thickness of the border, the overall shape of the paragraphs…etc. These are the pieces of information we need to draw, paint, or create any type of visual art.
By drawing and observing at the same time, it really makes one become much more aware of the surroundings (visually speaking) and retain these thoughts and inspirations when needed (such as recalling them in designing a garment).
What advice would you give to students just starting out (in drawing)?
My advice would be to keep an open mind and to not be afraid of mistakes. We improve by learning both what to do and what to avoid. Also, try to be patient as your skill develops. Rome was not built in one day and neither are good drawing skills. Remember that the drawings are never as good as one wishes and never as bad as one thinks. One great thing to do is to repeatedly look back at one's own drawing and ask "What is working? What is not?" Then try to keep what is working while changing/correcting what may not been working so well.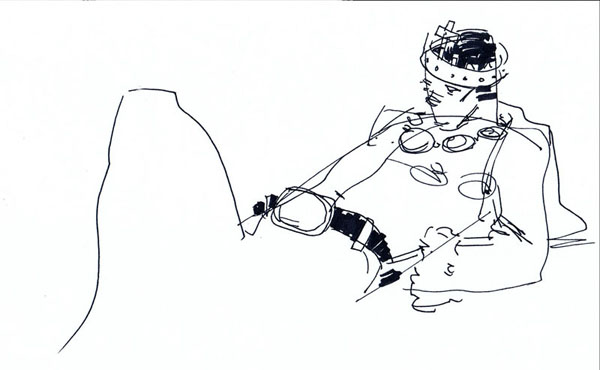 Illustration by Jim Yang.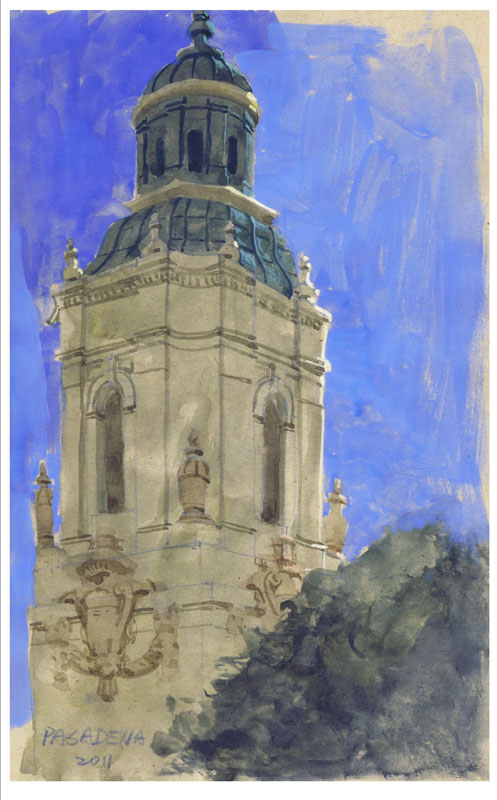 Painting by Jim Yang. 
For more editions of Instruct/Influence, click here.