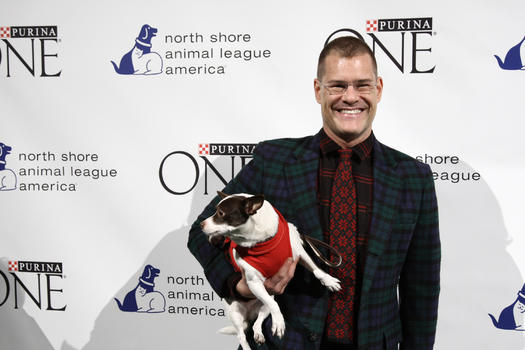 Keanan Duffty talks with John Bartlett who, apart from being a genuinely lovely guy, is an extremely talented designer and dedicated supporter of the North Shore Animal League. Bartlett launched his label in 1992, and his success earned him two Council of Fashion Designer of America awards as well as a Perry Ellis Men's Wear award.  He then expanded into womenswear in 1997; his collection used luxurious Italian fabrics and echoed other American designers like Halston and Bill Blass with the use of clinging jersey dresses and sharp tailored jackets.
Keanan Duffty:  You recently announced that you've become vegan and will no longer use leather in your collections. Would you agree that it is relatively easy for all designers to find credible, aesthetically pleasing alternatives to leather and fur and more of us should follow in the footsteps of designers like yourself and Stella McCartney?
John Bartlett: I feel that the fashion community is caught up in the illusion of "luxury" and many designers feel the need to use fur and leather to speak to a more expensive customer. If you look at Stella's work, the quality is incredible and she is able to create high fashion without contributing to the suffering of animals. I chose to become vegan after the incredibly upsetting return of fur on many runways. I could not understand the disconnect and why people who say they love animals work in fur especially.
I started to speak out against the fur industry and wanted to be very clear about my stance, so I discontinued using leather. I am not completely convinced about fake fur as it promotes the look of fur and may send the wrong message. I do think that faux leather shoes and belts are important especially for professional men and women who may not be able to wear canvas gym shoes to work.
My feeling is that it is time for the fashion community to recognize their responsibility on a global level. Fur and leather manufacturing is very damaging to the environment and I applaud anyone in fashion who is seeking alternatives that better serve the animals, the earth and our industry's progress.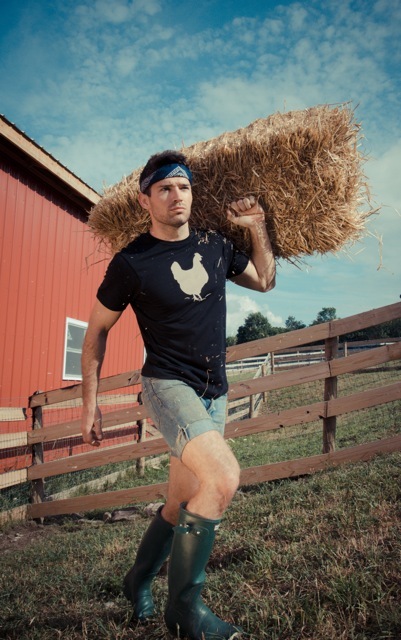 KD:  You are a big supporter of the North Shore Animal League. How did you get involved?
JB: When I turned 40, I visited the North Shore Animal League looking for a rescue dog and I met my sweet boy Tiny Tim, who was a tripod. He had lost his leg in a car accident and rescued from another shelter where euthanasia is common and brought to North Shore. His leg was amputated on Christmas Eve, and therefore he earned the name Tiny Tim after the Dickens character.
When I opened my store, Tim became my unofficial logo and now I have launched a complete online collection with his image to help raise money for rescue dogs everywhere. I have done several adoption events at my store with North Shore and I am now starting a Tiny Tim rescue fund to help raise money for independent rescue groups who are pulling from the high risk municipal shelters.
In 2000, John Bartlett dropped out of the fashion business for a short time, making a comeback in 2003 with a small collection of menswear, which he showed at the Harvard Club. Bartlett opened his first store in New York's West Village in 2007 and in 2008 he was appointed Liz Claiborne's Creative Director for their men's sportswear line. Bartlett continues to grow his signature menswear line and recently entered the e-commerce arena.
KD: Online media and e-commerce have changed the way we receive information and shop. What in your opinion are the pros and cons of the online world?
JB: I launched my own online store, as I mentioned above, and I am blown away at the ease with which I can maintain it. I do feel that many people are drawn to the web and prefer shopping from home. I am excited by the future of online shopping as well as the future of social media and its effect on internet shopping and communication.
KD: You often say that at Harvard you studied night clubbing. Can you share a fun 1980s club story?
JB: Gosh, I don't have any particular story per se…while most of my fellow students were studying I gathered a great deal of my education from being out in the nightclub world. As a sociology major I realize now that the combination of my sociology background and being out in Boston at the clubs was a great preparation for a career in fashion. One of my favorite clubs was called SPIT, and on Tuesday night it was a very cool mixed crowd new wave night. I liked to wear a mailbag as a skirt and lots of brooches and Salvation Army clothes…such a blast.
http://www.johnbartlettny.com/
Interview conducted by Keanan Duffty