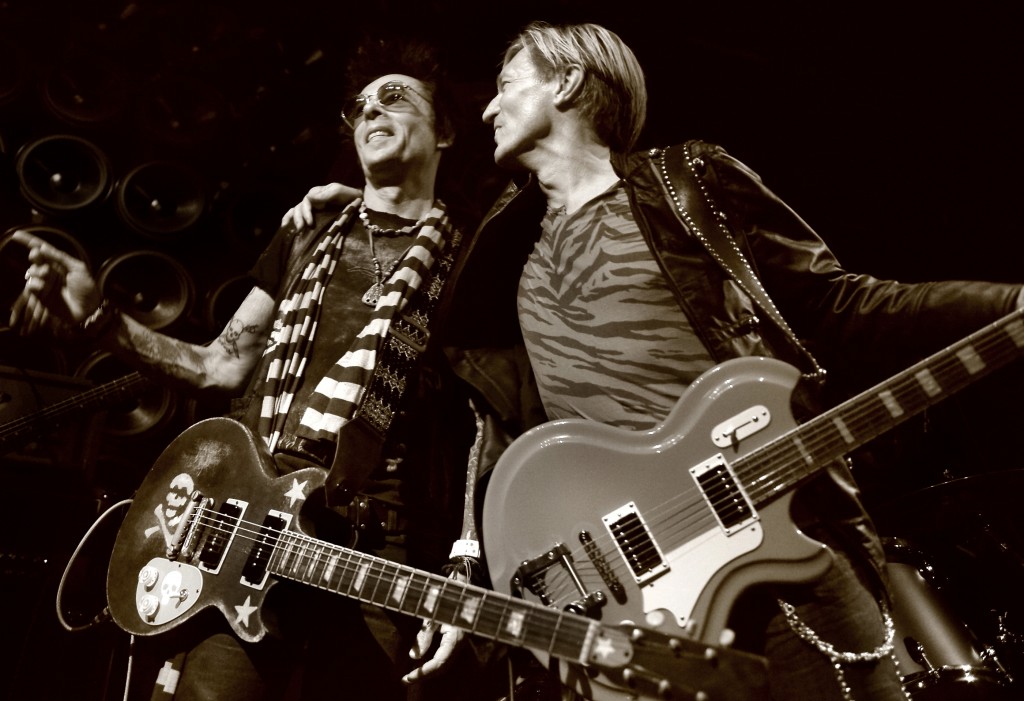 David Bowie guitarist, Earl Slick (left), and Academy of Art University's Keanan Duffty performing with Slinky Vagabond. Photo courtesy of Keanan Duffty.
Last week, Fashion School Daily sat down with the Academy of Art University's Keanan Duffty to discuss the release of his latest album, Killers in Glitter, with punk rock band Slinky Vagabond. Today, Keanan turns the mic on Slinky Vagabond's Earl Slick. The band's guitarist is featured on David Bowie's latest album "The Next Day" which debuted in the US today. Bowie's first album of new material in over a decade, "The Next Day" has already been met with rave reviews described as a solid collection of modern material building on the rocker's legacy. Read on for Slick's interview to learn more about Killers in Glitter, the guitarist's almost forty year history with David Bowie, and how a car crash ignited their collaboration on the rock icon's latest album.
KD: On the 'Killers in Glitter' album there are five Slinky Vagabond tracks. Of those tracks, which one is your favorite?
ES:  Oh God! To listen to…I really like them all.  There are two ways to look at it: listening and playing them live.  Playing the songs live I like 'Dead Rock Star' a lot and also 'Glitterbug.'
 KD: They are the rockers!
ES: Yeah! It's funny like that. Some songs I like to listen to and others I like to play live.
KD: You've worked with many rock & roll icons (David Bowie, John Lennon, Yoko Ono, Robert Smith from The Cure and David Coverdale) and you're a rock legend yourself. Any particular favorite memories?
ES: We'll start with David Bowie and John Lennon.  I spent three or four months with John at the end of his life, and with Bowie I have known him longer than I've known anyone in this business. Almost forty years.
Then there's Dr. John, Ian Hunter of Mott the Hoople, Robert Smith from The Cure…I did a show in the UK in 1986. I had a band with the former Stray Cats Lee and Slim Jim Phantom. We did a tribute show with Carl Perkins and Eric Clapton, Ringo Starr, George Harrison, Dave Edmunds, and Roseanna Cash. We rehearsed for three days in North London and really got to hang out with everybody. I remember being at the rehearsal studio. I would look around at the drummer…and it's Ringo. I'd look to my left and it's George Harrison. To my right is Eric Clapton. I would just get this feeling "How the hell did I get here?" which is the gift you get when you are doing what you love to do.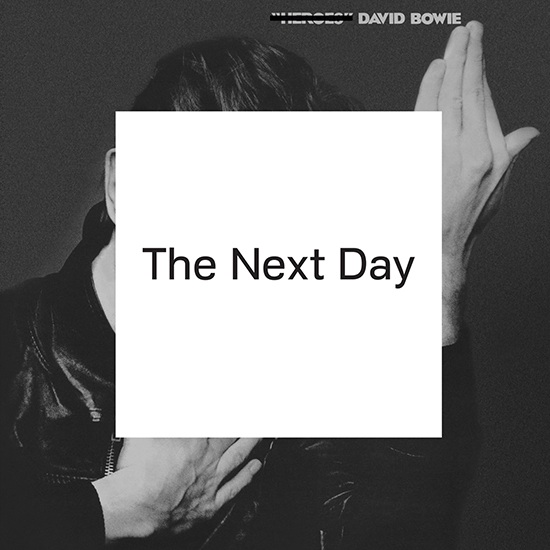 Photo courtesy of Columbia Records.
KD: I have got to ask you about the new Bowie album, "The Next Day." What was it like going back into the studio with David after a decade off?
ES: The weirdest thing was the way it came about. Bowie had been so quiet for so long. I had been in contact with him on occasion for birthdays, and I didn't know he was making a new record. [I found out because] it coincided with me being in a car accident with a doctor friend of mine. We set his car on fire in the middle of the afternoon in New Jersey. This really cool car exploded, the cops and journalists arrived, and they recognized me. It made the news, and less than 24 hours later I got an e-mail from David saying "Are you OK? I heard about the car and I hope you're alright." Then I get another e-mail saying, "Are you busy?"
This was in May for the following July to go into the studio. This is the way it always is with David, bizarre! I wasn't shocked about it all.
KD: Much less shocking than blowing up a car.
ES: Yes!
KD: Do you have any good advice for our students?
ES: Set light to a car as often as you can!
Work your art on the street. Don't worry about who is going to buy it. Immerse yourself in the art. Forget the money, forget about  fame. If you're a guitar player, just play it all the time. The worst thing that can happen is you'll have a good time. The best thing that can happen is that you'll make a living at it. It's a lifestyle. You live to paint, you live for clothes, you live for film.
A few of you will make it. You will need your talent as an artist, and you will need thick skin. You're going to have to live it, breathe it, and put in the hours. That's what will bring you to the point of getting your talent noticed.  Anybody can do Pro Tools now. Anyone can have access to CGI and Final Cut. All that makes you is a good technician. It doesn't make you a good artist.
David Bowie's The Next Day is now available on iTunes.