Wednesday, November 19th, Cafe Dior set the stage for an informative seminar on Global Brands Group's Summer internship Program. Jill Eskenazi, the Staffing Director, led the presentation and told attending students all about Global Brands Group and the opportunities available to them.
Global Brands Group is one of the largest brands and licensing companies in the worlds. They develop, market and design products for some of the most well-known companies in the world including Frye, Juicy Couture, Calvin Klein, Coach and Sean John. Jill Eskenzai spoke to a packed house about what exactly the internship would mean for students.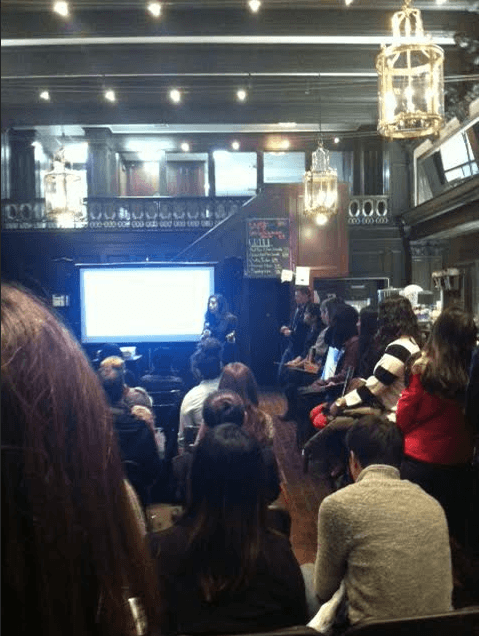 The internship is based in New York City and runs for 10 weeks in the Summer, June through August. This is a paid internship that requires a 40 hour a week commitment along with a special project component. This project is just one of the many things that sets it from other internship opportunities. Working with Global Brands Company will provide students with real life experience and allow them the opportunity to create meaningful relationships with people in the industry.
This is not your typical internship filled with coffee runs, but it is a lot of work. However, the hard work seems to pay off, Global Brands Group hires about 40% of their interns. They develop their talent from the ground up and provide mentors for their interns throughout the 10 weeks. The project that students will work on during their internship pairs them with one another and has them competing for a cash prize. Even without the cash, this project is a clear win for students because it provides them with real life experience that they would not be able to get anywhere else.
If this opportunity seems like something you would be interested in, Global Brands Group is beginning the process of finding their Summer team. Get more information on Global Brands Group and check out their current job openings. The decisions are usually made around March. Last Summer there were 40 students from 26 different schools so the selection process is competitive but if the opportunity seems appealing, it is a not to be missed opportunity.
By Tess Collins