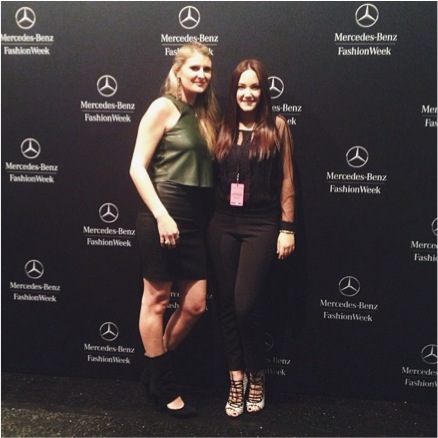 Ever wonder what it's like to intern within a Public Relations Office? This semester's PR gals dish about their internship in Academy of Art University School of Fashion Public Relations and Special Events office.
PR/special events intern Sarah Lemp and editorial intern Ashley Castanos sat down to chat with one another about their current fashion obsessions, experiences interning, and where they plan to go next in the fashion industry.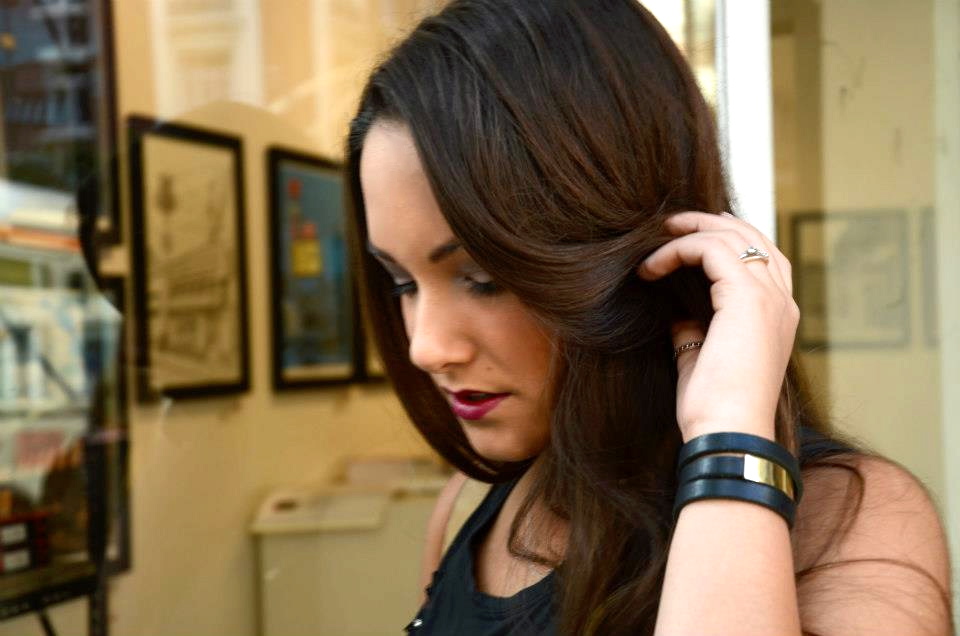 Sarah Lemp is a BFA Fashion Merchandising student who will be graduating in Fall of 2015. She is originally from Castro Valley, California where she grew up playing competitive tennis. The natural born athlete was well known  for her tennis skills as a four-year varsity letter winner at Castro Valley High-school. She played the No. 1. singles position as well as earned All-League which led her to a position on the Academy of Art University Tennis Team. Though her love of sports were what originally motivated her, she recently left the team to began living a fashion focused lifestyle 24/7 . She has interests in merchandising, PR, and journalism. From where we stand her future is bright!
Ashley Castanos: How has it been transitioning from being a highly competitive tennis player to a full-time fashion extraordinaire?
Sarah Lemp: It's been a shock but it's also exciting, it's a new start for me. I've had to switch my passion for sports and put my energy elsewhere.  I still miss the game, but at the same time I'm so focused on all the fashion projects I'm working on right now, and I feel like I've found my place in the industry. I've always been interested in fashion and I love what I'm doing right now; it fuels me creatively.
AC: It seems you've truly come into your own: as a Junior in the fashion program you were able to land a spot as a winner of the YMA Fashion Scholarship Fund (FSF) for your case study. What was it like attending the award show in NYC?
SL: It was such an inspiring experience–going to New York for my first time under those circumstances was surreal. To be recognized for your hard work, as well as celebrate fellow students' accomplishments, was something I will never forget. I am very grateful to programs like the YMA FSF that help students excel in this industry.
AC: What do you want to accomplish before you graduate?
SL: I want to further my interest in fashion journalism by landing an internship with a  local San Francisco fashion publication. Eventually, next summer, I want to intern in New York for either Nylon, Harpers Bazaar, or Refinery29. I'm really going to go for it!
AC: What has been the most exciting part about your internship with the PR department so far?
SL: I would definitely have to say going to New York. Being able to facilitate press and coverage for the AAU designers at a Mercedes-Benz Fashion Week runway show was an incredible experience. There was such a positive energy backstage–it was truly contagious. I've also really enjoyed contributing to Fashion School Daily. I love writing.
AC: It's your first semester on the board of the Academy's fashion club: Beyond The Front Row (BTFR). What has that been like?
SL: I'm in charge of the volunteers as well as coordinating the BTFR events, and helping with this year's graduation fashion show coming up in May. I love my fellow board members, we're constantly doing something new. It's fun to collaborate on projects and be able to see all of our plans follow through.
AC: Style wise, who inspires you?
SL: Miroslava Duma– she's a risk taker when it comes to fashion, as well as Alexa Chung–she has effortless, bohemian-chic style.
AC: What fashion item are you coveting right now?
SL: A pair of Frēda Salvador shoes! The Freda Commet black leather boots with a removable silver chain are just beautiful. I've always wanted a pair of their shoes, it's going to happen.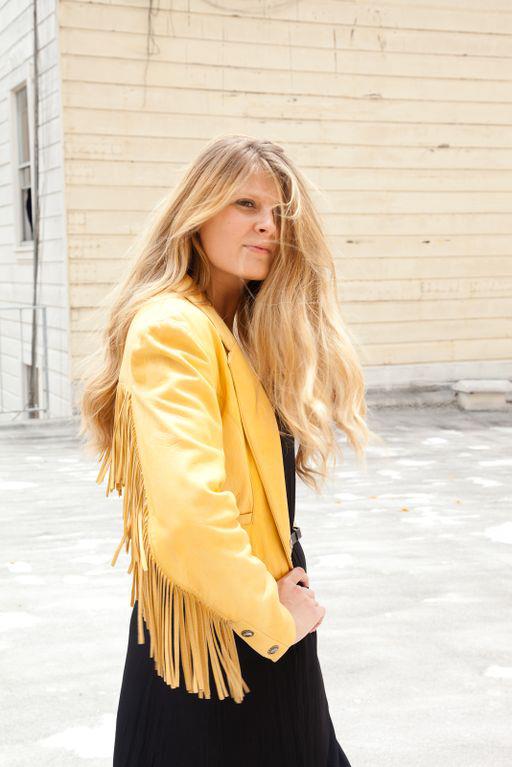 Ashley Castanos is a MFA Fashion Journalism student who will be graduating this Summer 2014. Born and raised in Fresno, California, she likes to think of herself as a San Francisco local–being that she's spent the last eight years of her life in the Bay. She studied fashion at San Francisco State University and received her Bachelors degree in Apparel Design and Fashion Merchandising. During her time at the Academy she has taken on several roles and mastered the art of balancing many tasks. She has interned as a writer for the local SF fashion blog, Stylenik, and has been published on 7x7SF, ModeConnect, TheChicSpy and has covered runway shows and presentations during Mercedes-Benz Fashion Week. She also has maintained a part-time career in the bohemian bridal business.
Sarah Lemp: Let's get straight to it, who would you want sitting beside you front row at a fashion show?
Ashley Castanos: Mary-Kate Olsen and Alison Mosshart, the singer from The Kills. Without a doubt.
SL: How would you describe your style aesthetic? 
AC: I would describe my style as "laid back Cali, with an edgy classic New York style". I love mixing in vintage/thrift pieces with my leather All-Saints jacket or Rag&Bone skinnies. Everyday I try to push myself to wear something I am a bit afraid of. I have found that a piece that stands out always receives the most compliments. White 1970s inspired flowy blouses are an obsession of mine. My closet consists of so many, I need to stop buying them.
SL: Which fashion item you are coveting right now?
AC: A velvet fringe kimono jacket from SugarHigh LoveStoned. It is perfection.
SL: Your graduation is quickly approaching – what are you plans post-grad from the Academy of Art University?
AC: I am going to move to New York City after graduation. My sister and I will be opening a small showroom in NYC for our boho-inspired wedding dress collection, Daughters of Simone. [Ashley's sister is the founder and designer of their vintage-inspired bridal company.]  I'll most likely also be looking for a part-time writing gig to pay my rent.
SL: You've written for many prominent fashion publications during your time here in San Francisco. Which publication would you want to write for once in New York? 
AC: It's been really cool to be a part of the fashion community here is San Francisco. After a couple of internships and fashion parties you learn how small the fashion community in the Bay is, and I like it that way.  I still have a lot to learn, but am very thankful for the opportunities provided during my time at AAU. If I had my pick of the litter ,W magazine would be my top choice. There's something raw, innovative and inspiring about their content. I am also really drawn to New York Magazines 'The Cut,' as well as Interview Magazine.
SL: How has it been managing your busy schedule around writing for publications, interning at AAU's PR Office, collaborating on your brand, Daughters of Simone, all while finishing your thesis? 
AC: I get stressed out just thinking about it. Honestly though, it's been good for me, I've really learned how to push myself in the process. I only wish there were more of me to be at five places at once. Having all of these outlets has allowed me to learn about multiple areas, skills, and gain expertise. Whenever I would start a new project, semester, internship etc. I would get really excited about it and put most of my time and effort into it, but then I would have to take a step back, check in with myself and prioritize my tasks as well as organize my time. Its a constant game of balance, trying to make sure I put my best foot forward in every aspect of my commitments.
SL: What has been the most rewarding aspect of your internship within the PR Department thus far?
AC: It was a really great experience to get to know the Academy of Art University designers. I was able to visit the studio in New York and see them in their element–it was very inspiring. Interviewing the individual designers and witnessing their process from start to finish was very rewarding. Having the freedom to write about young entrepreneurs and to celebrate them on Fashion School Daily is a great opportunity that I will never forget.
Interested in an internship in the School of Fashion PR Office? We have two internship opportunities for Summer 2014! Interns have the chance to hone their writing skills by penning posts for FashionSchoolDaily, contributing articles to Bay Area publications and drafting content for social media channels. Additional tasks include helping to maintain press archives and assisting with fashion events.
Interested students with at least 90 units completed by the end of Spring 2014 should email their resume and 2-3 writing samples to fashionschooldaily@academyart.edu.