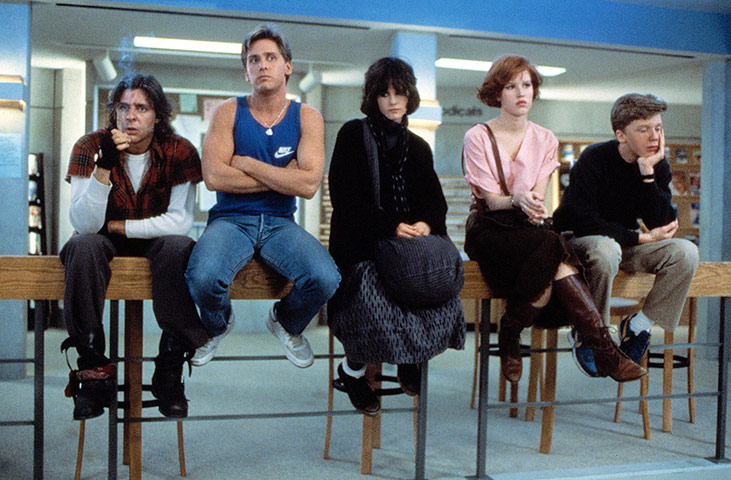 For this week's post-Thanksgiving maladies, I'm prescribing 90 minutes of Brat Pack movie, courtesy of director, John Hughes. It was a toss up between "Sixteen Candles"(1984), "Pretty in Pink"(1986) and this: five teenagers in detention on Saturday. The jock, the nerd, the princess, the freak, and the angry guy, otherwise known as "The Breakfast Club" (1985).
From the early eighties onwards, Molly Ringwald, as the "princess" (or "Ringworm", as I affectionately call her) was the reigning teen-queen of the movies along with Rob Lowe, Emilio Estevez, Anthony Michael Hall et al.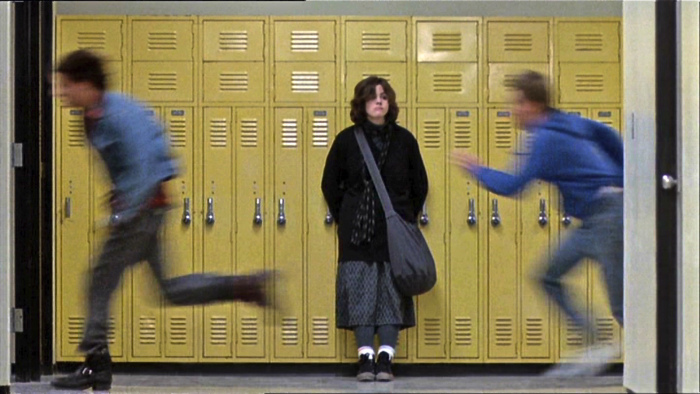 When this movie came out, I was 12 or 13 just discovering cigarettes, The Smiths and buying my first pair of Doc Martens. I remember loving the Ally Sheedy character . She was strange, neurotic, she didn't fit in…I related. When the "princess" gives her a makeover to look pretty, I hated it! "Why let her do that to you??!!" By the time Miss Ringworm is through with her, she's got an Alice band in her hair, a nasty blouse in place of the Yohji-esque knits and half a L'Oreal counter of makeup on her face. She looked way better in her sloppy black knits, unruly hair, and way cooler as a strange, neurotic creature. I still think that to this day.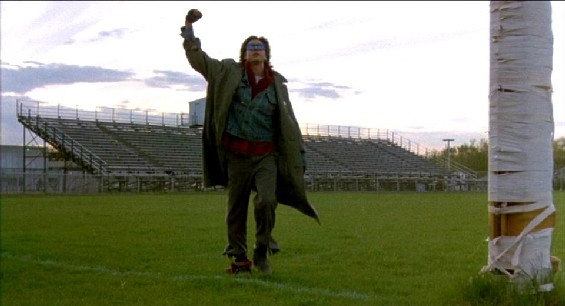 Regardless, it's a great movie and (as anyone over the age of 40 will tell you) it holds a special place in their heart, as does the closing Simple Minds track "Don't You Forget About Me".
I also remember finding the janitor kind of hot too.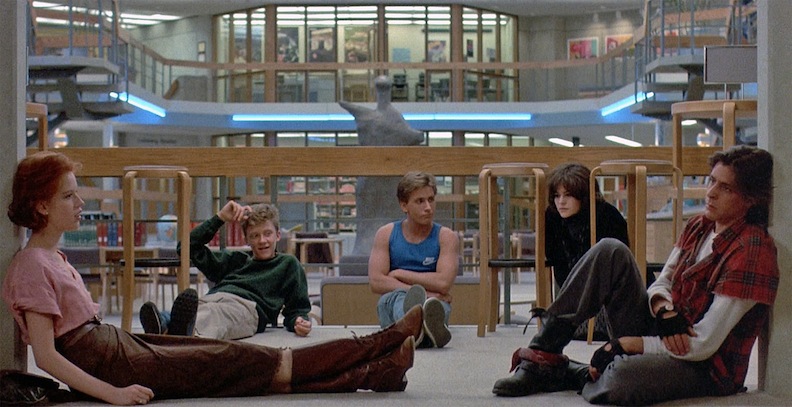 This weekend, I'll be putting myself in detention, throwing salami at sculptures, and running amok through the corridors…just for the sheer, irresistible, goddamn glamour of it all.

Check out the above clip from "The Breakfast Club". For more "Friday Box Offices" by Rob Curry, click here.