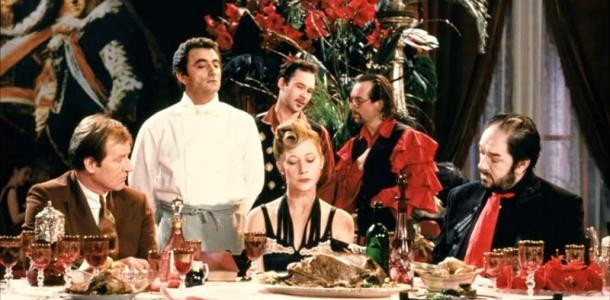 Image courtesy of FilmFresh.com
"The Cook, The Thief, His Wife, and Her Lover" (1989) is a visual feast for the eyes, yet at the same time, a study of brutality, humiliation and crass, vulgar consumerism. Directed by Peter Greenaway the film is, on the most obvious level, the story of the four titled characters, but can also be regarded as a political allegory of the 1980's in the UK (or indeed modern society, as a whole).
This doesn't immediately sound like a movie that should be included in a list of essential viewing for Fashion or Art students…until you take a look.
Jean Paul Gaultier created the "typically-him" costumes, which change color as the characters move from room to room. The restaurant owned by the Thief is where all the action takes place and is of gargantuan proportions, redolent of paintings by Dutch and Flemish Masters, but with a French Baroque sensibility. But this is not realism – we're always aware of the artificiality of what we're watching, highlighted by the changing colors of the clothes. The final scene is an iconic movie moment.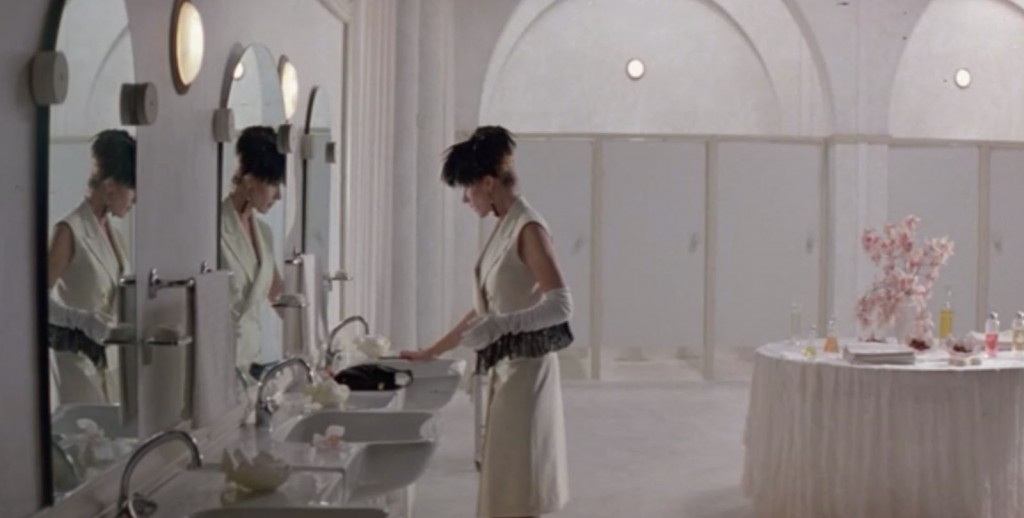 Michael Nyman's droning and hypnotic score is a perfect marriage with the visuals. Also of interest is that the cinematographer, Sacha Vierny was also cinematographer for "Last Year at Marienbad".
This weekend I'll be clad in vintage Gaultier, eating foie gras and aspic from golden platters, whilst ignoring bullies in restaurants…just for the sheer, irresistible, goddamn glamour of it all.
See the above clip from "The Cook, the Thief, His Wife and Her Lover". For more "Friday Box Offices", click here.