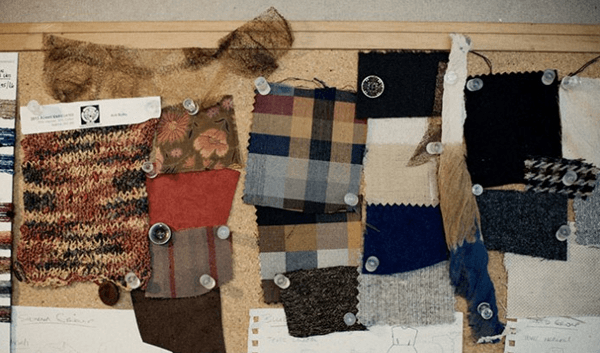 Sourcing fabrics can be one of the most difficult parts of starting a collection – there are so many variables to take into account: color, quality, weight, cost – it can seem overwhelming. But you're in luck, because there's a new online platform that is going to make this task a whole lot easier.
The brainchild of founders Benita Singh and Summer Rayne Oakes, Source4Style is connecting designers with textile mills from around the world. Their New York warehouse houses samples of every item listed on the site, so you can have access to swatches in just a few days, and then connect directly with the supplier to place your order. Source4Style also provides seasonal trend reports, and sends out a weekly newsletter to introduce new suppliers. Pretty much a designers' dream come true.
The School of Fashion has teamed up with Source4Style to offer our senior design students a University Membership to the site, allowing them to utilize all of the amazing tools and features they have to offer as they work on their senior collections!
Fashion School Daily spoke with founder Benita Singh about her inspiration for Source4Style, and received an insider's guide to the platform's unique features. Follow the jump to read more!
How did you develop the idea for Source4Style?
The idea for Source4Style originated back in 2010. My co-founder Summer Rayne Oakes and I were in the sourcing industry and saw so many great textiles suppliers that weren't going to trade shows, primarily because of the cost. And in many cases these suppliers are offering truly unique textiles. Whether it be recycled salmon leather from Chile or intricate ikat prints from Uzbekistan.
As we built out the platform, we quickly saw the need on the other side of the supply chain. Designers are looking for inspiration and new textiles 365-days a year, rather than just a few days a year at an offline tradeshow.

How did you go about sourcing vendors from around the world?
We started with our personal networks. I worked with some great suppliers in India and Latin America. We then did some research – scouring everything from fashion blogs to textiles journals – to create a database of suppliers we would love to showcase. We started approaching them and the response was great.
Now we're working with suppliers in over 30 countries – and we launch new suppliers on the marketplace each week.
What makes your platform unique?
From a curation standpoint, we bring together inspirational materials you can't find anywhere else with the staples a designer needs to make a great collection. From a technology standpoint, we offer a robust search filter to help designers find exactly what they're looking for. Designers can search by country, material type, minimum order requirement and availability (in-stock vs. made-to-order).
We also bring together a utilitarian sourcing marketplace with global trends through our regular articles and monthly webinars (starting January 17, 2013).

What advice would you give to designers about using Source4Style?
Take advantage of the search filter to find suppliers that fulfill your business criteria, particularly the search by minimum feature. If you are a student, don't be shy about setting the minimum to 10 or 20 yards. You will find suppliers!
Also, take the opportunity to order swatches. We inventory swatches of every material on the marketplace, precisely to give our designers immediate access to inspiration.
Also, keep in mind that we are a global sourcing platform, which means that when you order through Source4Style you're connecting directly with suppliers around the globe. The Google map on each material page lets you know where your order will ship from.
Thank you Benita!