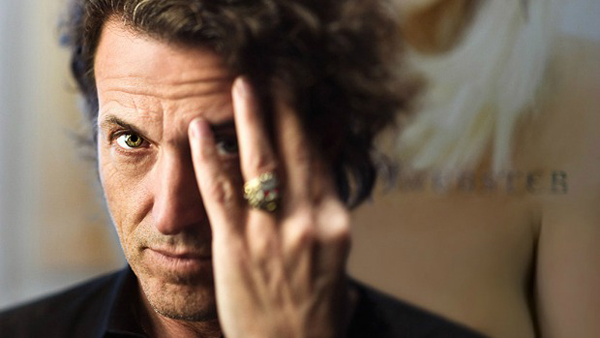 Photo Courtesy of Stephen Webster.
When you first meet Stephen Webster, it feels more like you're in the presence of a rock icon than a fine jewelry designer. His personality fills the room, and he's got more than a few crazy stories to share. But what else would you expect from the man who counts Ozzy Osbourne, Christina Aguilera, and even the late Elizabeth Taylor as clients and friends. Fashion School Daily had a chance to chat with Mr. Webster last time he was in San Francisco, and got the lowdown on his unique approach to jewelry design, his rock'n'roll lifestyle, and what he's doing to change the industry for the better.
You originally entered Medway College to study design as a teenager, how did you end up studying jewelry?
I went there as a naïve schoolboy to do fashion design – and all I knew was I always interested in fashion, even at 16, and that I could draw. So that was my qualification for going. I got in, so that was good, but then I looked at the world of fashion design, I was a 16 year old from an all boys school, and there were sewing machines and girls. And I just thought, I don't think I'm ready for this, and then just happened upon jewelry. Our college had a very good jewelry design department on the technical side, and I just fell in love with the craft.
When you first started designing your own line, was it scary creating something that was so much an extension of your personality and putting that out there for others to see?
That jump – art school, Canada, on my own – it was quite a long time. I went to art school and after that I did apprenticeships for five years, and then on to Canada (designing jewelry for the après ski crowd) for three years.
Then I moved back to England and then to California for three years. And it was during that time that I got a confidence about my jewelry. It was much more about the fact that I loved big gemstones – it was going to be really colorful and it wasn't going to follow the rules.
It wasn't until I moved back to London after that, about 1989-1990, that I started this company. And I started to sort of think about the inspiration – it came from things that I enjoy. Instead of being, "Oh this is going to be a collection inspired by flowers," it was much more personal. And I think it was probably about 12 or 13 years ago when I was just going for it. Doing jewelry inspired by tattoos, and music, things that were totally breaking the rules.
Even though there might be a normality about that type of stuff now – it was not normal then, especially not in fine jewelry. And that really started to put my name on the map.
Follow the jump to read more!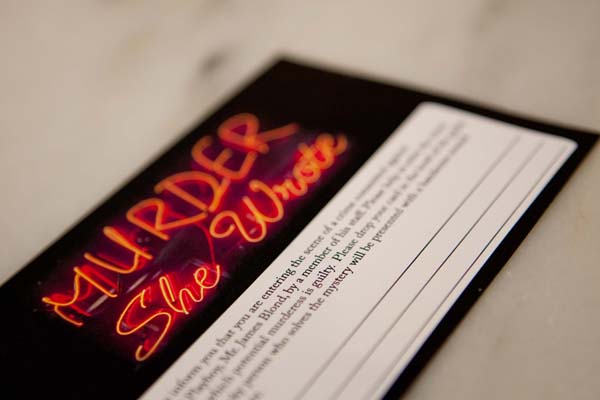 Solving a mystery at the Murder She Wrote collection debut. Photo by Drew Altizer.
You have now been designing jewelry for 35 years, how do you continue to find inspiration each year?
I wrote a whole story. For the Murder She Wrote collection, I created all of the characters – the dead man, the girls – I wrote it all. It's nice because I feel that I can be a bit cheeky – you know part of my personality is that I do like to laugh, and I know that is one thing that people pick up on. So that really has to be part of the inspiration. You have to try and combine everything. And that idea is a much more recent thing that has come about in the last five years or so, we've really been able to push it out there.
Like the Seven Deadly Sins collection we did last year, which was a huge hit. Beautifully made things, all the things that fine jewelry should be. But I wrote that scenario about each of the girls being one of the deadly sins, and people got really caught up in it. And then you set up the scene and its like a night out and a huge event – and once you start doing those things everyone wants a part of it.
And I know this doesn't really answer your question, but I really approach it in a very different way. I would probably struggle to sit with a pen and a paper and just create a whole collection. For next year, I've got this whole idea about a fantasy wardrobe when you go traveling, and destinations, and all these things. We are really excited about it, but nobody knows what it's going to look like yet. And then we'll have our meeting in January and within a few weeks we'll have it mostly planned out what everything will look like.
A few of the stunning rings from the collection. Photo by Drew Altizer.
You're also the creative director at Garrard (a London heritage brand). How does your creative process differ when you are designing for your own line and when designing for Garrard?
With Garrard it is much more about a creative direction. Its harder for me – even though I understand jewelry and they were the first people who ever bought my jewelry – it's much more of a challenge when you've got a heritage brand, and the heritage is not actually the jewelry. It was much more about the silver and the shop – the shop was amazing. So when you focus it down – you can't build a brand today in silver, it is only one element. So we try to build it around that and expand it, taking things from the archives and making it relevant.
You have worked with the NGO Solidaridad to promote safe and healthy mining practices and fair trade – how did you get involved with them and what have you gained from the experience?
I've always been interested in better stories connected to my industry. So right from the whole blood diamond situation, I had already worked with Amnesty International, promoting the human element of it. I was ready to speak about why and how you can avoid that kind of product. But it was really about building trust.
When Fair Trade wanted to get involved in gold, they came to me, and I was interested – but I said the one thing I'm going to need if I'm going to change my business is a guarantee of the supply chain with some normality. And that's what they did, about three or four years ago. And when it was coming to the market, I said that I wanted to go to the mines. Because I knew that I was going to end up being a spokesperson for it, and if I'm going to do that I need to see it.
So I went with my brother earlier this year, and it was an amazing experience. Quite an emotional journey, and we filmed it. And then we came back and instantly there was all this attention – I was on panels at Art Basel and the independent newspaper in England printed my whole diary. And it's cool because even though it's a small step, it's important for people to recognize.
Gold has never been more expensive, and this small scale mining – these people are in poverty making $2.00 a day. These are things that need governments to change – and if it isn't going to be governments, it's going to be Fair Trade. At least with them, it is guaranteed. Fair Trade just wants to provide this better way, and they do, and its pretty amazing.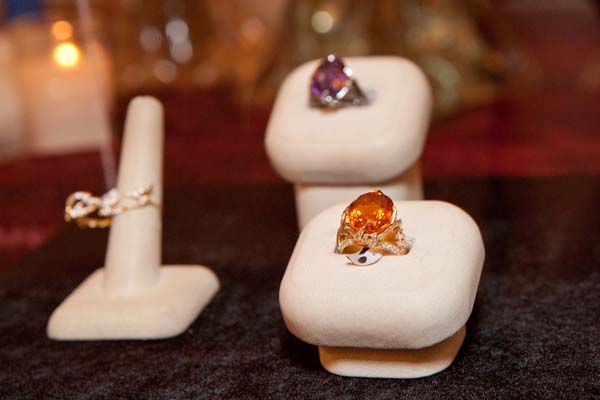 We wouldn't mind owning one of these – or a few! Photo by Drew Altizer.
You are known for your fine craftsmanship and level of detail, do you see that type of artistry in any young jewelry designers today?
It's amazing actually. I talk to a lot of young people, and I think that one of the biggest frustrations for people that are coming into the industry now is that there aren't the same possibilities of the craft with jewelry that I had. When I came in, Europe was where everything was made. And as that disappears, there are fewer chances for people to learn about the craft, rather than just being a designer. But I think it's something that is very important, and I commend the designers who are really taking the time to learn.
What has been the most rewarding aspect of your career?
I get to meet loads of wonderful people. I never thought in my life that I would be traveling around the world, touring my jewelry and my stories – being a little bit like a personality in this industry. It might sound a bit shallow – but it's really brilliant.
And even though it's exhausting, it is a great job, because that is not even an option for most jewelers. It's almost like being in a band and promoting an album – each collection we do we hit the road for events like this. Some people might think "Oh I'd hate it," but I've had the same job all my life – 36 years – and it couldn't be more different today.
And I've got such an amazing team, about 70 people all over the world, and their enthusiasm is just amazing. And even the people who sell my jewelry, they have a special enthusiasm. It's really cool.
Thank you Stephen for taking the time to chat with Fashion School Daily!