Burgers, brew, and an incredible view – it sounds more like a spell from Hocus Pocus rather than the easiest way to describe celebrity chef Hubert Keller's newest restaurant Burger Bar. Although with how tasty the food was, I wouldn't be surprised if there was some magic involved.
Located smack dab in Union Square on the 6th floor of Macy's, the restaurant has a bird's eye view of all the tourists, artists, and everyone else chilling in the square. I walked in on opening day expecting a crowd but since it was still early, things weren't moving that fast yet. However, right after I signed in the masses started piling in and I could hear the hostess start telling people they would be waiting around an hour or more. No one seemed to mind to much, especially as Keller himself was making his rounds through the place shaking hands, smiling, taking photos, and being an all around charming man.
The prices ranged from about $9 for a plain burger to the $60 Rossini. It depends on how you build your burger. I wanted to build my own and picked the chef's veggie burger as my starting point; adding the ciabatta bread, chipotle aioli sauce, some greens, and a side of sweet potato fries. For the record, I would like to say: it was one of the best veggie burgers I've ever had.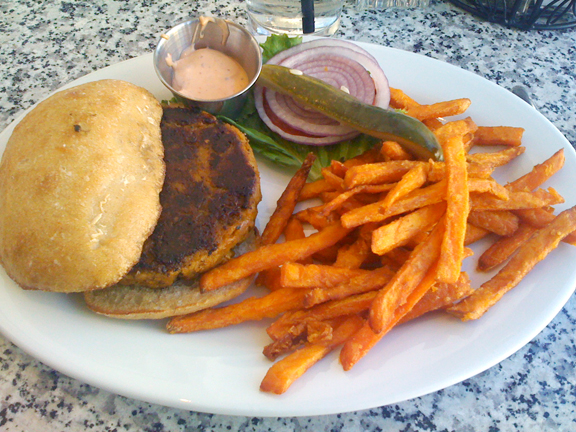 Mmmmm….veggie burger.
There was no cardboard here what so ever. My companions had just as many good things to say about their meat burgers, so those non-vegetarians out there are obviously in for a treat as well.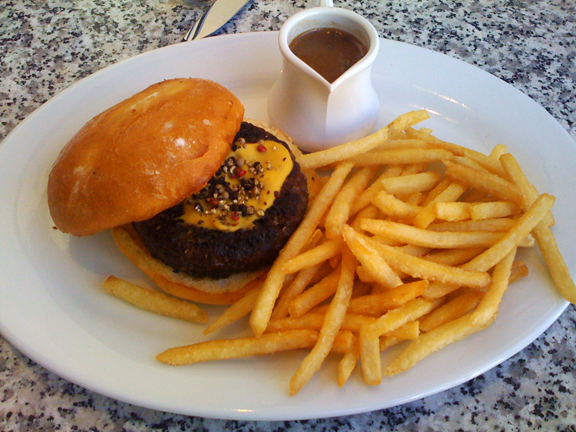 For all you meat eaters…
From the good food to the friendly environment, it's easy to say Burger Bar won me over and I'm sure that its crowded and fast-paced first day was not its last.
Burger Bar is located on the 6th floor of Macy's at 251 Geary St. For more info visit www.burger-bar.com.
Written by: Renata Lindroos