It's been a while since I've shot with an Academy of Art University student. They are just as talented and smart as the pros. Our school has some amazing photographers and I jump at the opportunity to work with them. Besides the fact that my agents are almost always pleased with the outcome of these shoots, I don't have to deal with the "I'm published, I'm better than you!" attitude. Best of all, I can be myself. When a model is able to be his or herself in a shoot, unforgettable images can be made, and of course that means more runway shows, print and hopefully editorials!
Lydia Hudgens is an up and coming photographer at the school. She is an undergraduate student that is passionate about her craft. I decided to work with Lydia mainly because I liked the lighting in her photographs. She seemed to be a photographer that understands this concept very well. Her portfolio displayed images that were consistent in quality lighting for outdoor and studio shoots. There is something intriguing about her. I don't know if it's the ripped black stockings or the streak of pink in her hair, but she is young and insightful and for that I am thankful and inspired.
Strolling into Lydia's two-story apartment off South Van Ness was a little hard that morning. The call time was 8:30 AM and I am definitely not a morning person. Lydia has her own stylist, which is not usually the case when working with a student photographer, but I have come to find out that she is very business savvy.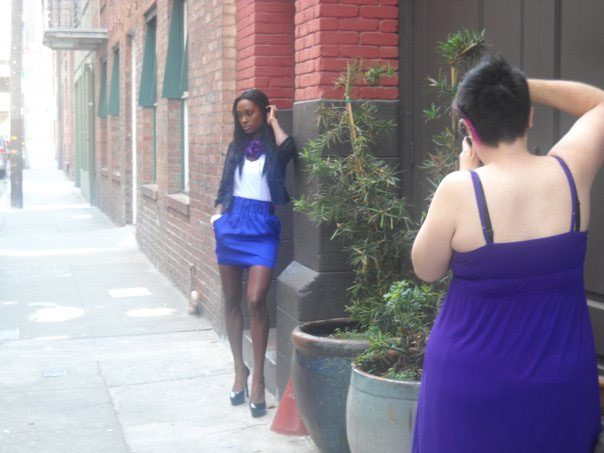 A black Chanel-style suit jacket, a crimson blue pencil skirt and a plain white v-neck cotton tee were pulled and styled with black platforms, a pearl bracelet and a chunky purple flower necklace. The shoot prep was flowing smoothly, but we ran into a snag when we arrived in the Financial District (the shoot location). Lydia was having problems with the Canon that she checked out from school. The battery was constantly dying and it seemed as though we just got our hands on a dud. LOL. Despite, the problems that we faced, we were able to get some shots, but whether or not those shots will pass the agency test? We will just have to wait and see. Overall, working with Lydia was worth it.
Click here to read more of "The Model Life of Erin"