You don't mess with Beauty Lies Truth. This is the non-profit organization that is set out to tell the truth about the beauty industry, bar. no. bullshit.
What's now a comprehensive website that curates and reviews natural beauty products and advocates for change – including letter writing campaigns to fight for better testing – started out as a blog in 2014. Founded by Alexis Krauss, front woman of American noise pop band Sleigh Bells, and her Harvard Business School friend Jessica Assaf, they are on a mission to create meaningful change in a misleading industry.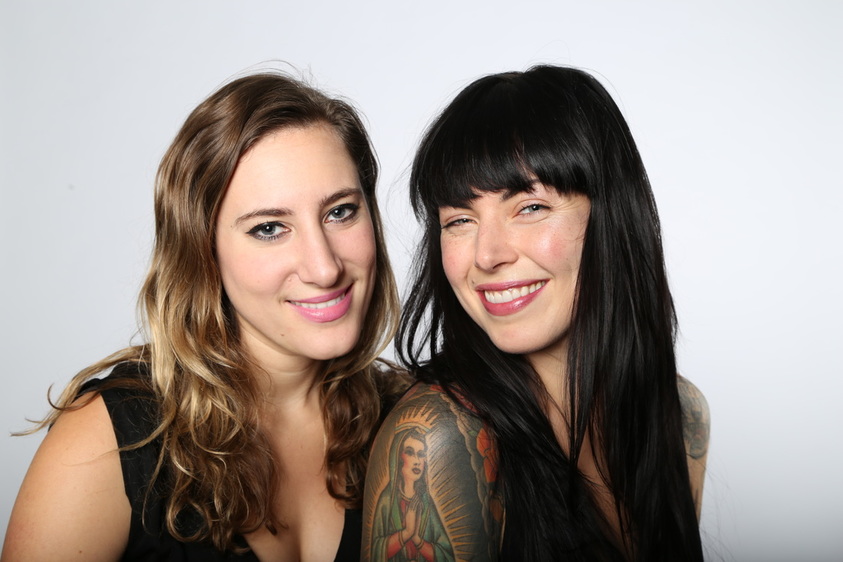 Musician Krauss, 30, combines her passion for the environment with a background in human rights and teaching with business savvy Assaf. The concept of Beauty Lies Truth came about over coffee and conversation in Brooklyn, New York, chatting about the scary state of cosmetic safety in the United States.
Krauss had read a shocking New York Times article about the use of plastic microbeads in personal care products, particularly exfoliants. The tiny beads that seem harmless, are in fact flowing through water pipes into ecosystems where they are killing marine life. The article stated that 'Scientists fear [microbeads] could be working their way back up the food chain to humans,' and Krauss wondered: "Can you imagine if we thought about what we put on our skin in the same way we think about what we eat?"
The feisty duo conceptualized a plan to get safe, effective, and affordable beauty and skincare products into everyone's hands, they won't allow you to be lied to anymore. Nor are they afraid to call out the companies that don't have the consumer's – or the environment's – best interests at their core either.
It's because of the number of cosmetic firms that still use toxic chemicals like this that Beauty Lies Truth began their crusade. While EWG provides a lot of numbers and research, Beauty Lies Truth want to fight to make safe the universal standard.
The #TruthBeauty movement, which launched on Kickstarter earlier this year, raised over $33,000 by backers who are just as eager to help show the world that there really is a market for non-toxic, effective skincare products. There are brands out there that don't use chemicals in their products, that don't test on animals, and that work with organizations like EWG to ensure that their products meet the highest standards, and are safe for consumers.
Organic companies such as California's Juice Beauty, tell us that over 60 percent of what you put onto your body, goes directly into the bloodstream. It's alarming that many of the ingredients we slather on our bodies on a daily basis, we cannot even pronounce. To help illustrate this point, the Beauty Lies Truth duo went around the streets of New York City, asking people if they could name any of the ingredients in their skincare. None of them could.
Krauss said their ultimate goal is to "educate consumers about the unregulated chemicals they are exposing their bodies and the environment to, empowering them to demand change from conventional companies and motivating them to support alternative brands and cleaner products."
Over 1000 toxic, carcinogenic [cancer-causing] chemicals that are used as active ingredients and preservatives in beauty and personal products have already been banned in the European Union, whereas in the U.S., the Food and Drug Administration have banned only 10.
Beauty Lies Truth wants to change that.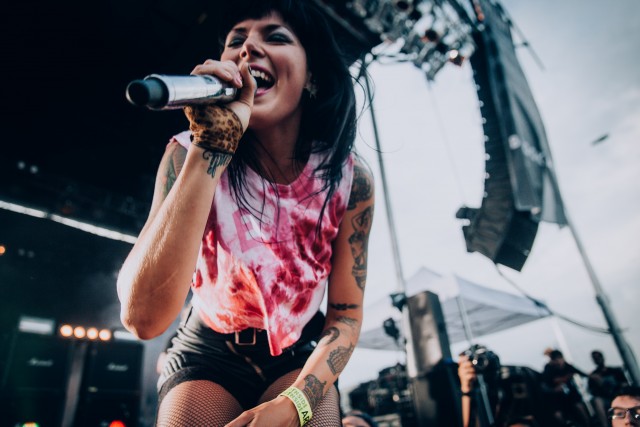 Interview – Alexis Krauss
What's the biggest deception surrounding the beauty industry?
Products are so effectively marketed, most consumers don't even know or question what's in them. Can you imagine if we thought about what we ate in the same way we thought about what we put on our skin? We'd be eating thousands of mysterious things we couldn't even pronounce.
You founded the site with a friend, Jessica Assaf. How does your friendship, active lifestyle, and musical background contribute to the #TruthBeauty mission?  
Jess is one of the most hard working and passionate people I know. She's an idea machine and I find her extremely inspiring. She doesn't care who she's going to piss off and that's key to being an effective activist.
As a result of Sleigh Bells I have some influence in the world of beauty and fashion and that platform has been critical to growing support for Beauty Lies Truth and the #TruthBeauty movement. Sleigh Bells fans have been incredible champions of Beauty Lies Truth.
As you mentioned I lead an active lifestyle. I spend a lot of time outdoors, exploring wild places. My love of nature and the planet has motivated me to do whatever I can to consume responsibly and sustainably. Using cleaner products on my body means exposing our air, water and land to less chemicals. The #TruthBeauty movement is without a doubt an environmental movement.
You've once said, "If you can't pronounce it, if you don't know what the f*** it is, you probably shouldn't be putting it on your body." Is there anything in your beauty routine or while out on tour that you have to make exceptions for? 
Unless you are a chemist it's still much harder to understand what's in your eyeliner than it is to understand what's in your body lotion. There is a reason why mainstream cosmetic companies formulate with so many synthetics…they work! While the natural beauty world has come a long way developing transparent and effective formulations for makeup, it can still be challenging to find eye makeup that lasts. I'll still use some conventional liquid liners especially when I'm on stage.
What do you think of the stigma around organic products not working as well as conventional chemical based products, deodorants or toothpaste for example?
I think it's becoming less and less of an issue. The stigma mostly only exists because alternative brands don't have the same marketing machines behind them as huge corporations, and mainstream brands have worked hard to discredit natural companies. As more and more people start buying and using simpler, safer products the market for them will grow and customers will share how wonderful these products are with the world. Formulations will also continue to get better as the demand for  non-toxic, organic, fair trade, and cruelty free products increases.
If you came into my house, how would you detox my beauty routine?
You have to start small so that you don't get overwhelmed. I'd probably begin with your moisturizer. Let's get rid of any any lotions with harsh preservatives like parabens and petrochemical lubricants like mineral oil. Instead let's start exploring the wonders of plant based oils and butters
Which organic products can't you live without?
Shea butter and coconut oil.
What are your go-to beauty resources to educate yourself?
I really value the resources provided by the Environmental Working Group and the Campaign for Safe Cosmetics. I think alternative brands such as Earth Tu Face, Allafia, ILIA, Juice Beauty, AuNaturale, SW Basics, Ursa Major, One Love Organics and Beautycounter (just to name a few), and stores like Follain are some of the best sources for information on safe and sustainable skin care formulations.
When you launched on Kickstarter, you generously offered skincare and makeup bags filled with organic goodies for backers. How did you choose the products, and what have you done or plan to do now the campaign is over? (I noticed all the brand partners are female owned brands.)
The goal of the #TruthBeauty Kickstarter was to get our top picks for safe and effective makeup and skincare products into the hands of our supporters. Jess and I meticulously chose the products ourselves. The products we chose best represented the contents of our own beauty bags and highlighted essentials from some of our favorite companies. Since women are the primary consumers of makeup and skincare products we decided to support brands run by women. We believe it's critical for women to take control of their bodies and take back the power in the beauty industry!
While there seems to be deeper issues that stem back to the FDA and its battle with organic verses natural, and how testing in the E.U. is much more stringent than the U.S. What can companies do to prove their safety and effectiveness?  
I think companies must do everything they can to source high quality ingredients and work with respected certifying bodies such as USDA Organic, Fair Trade USA, and Leaping Bunny just to name a few. Companies need to act as ethically and transparently as possible and provide their consumers with comprehensive educational resources.
I read that you were toying with the idea of creating an app or some sort of tool that would aid with the beauty choices we make. Can you elaborate on that?
Jess and I are working on ways to expand the #TruthBeauty movement and create resources that will allow consumers to more easily choose excellent products that adhere to our strict standards and meet their beauty and skin care needs. More soon!
Written by Faye Harris for Whatittakesmag.com