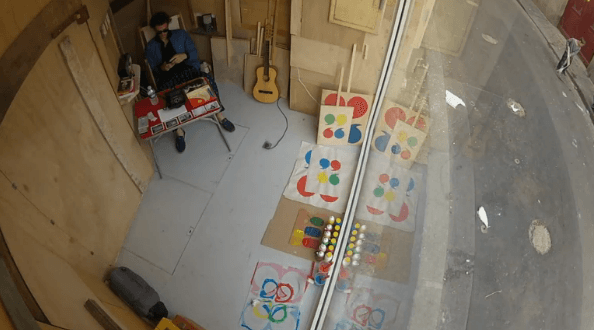 Just kicking back.
Band of Outsiders, a label that is highly coveted by the coolest guys and gals, is staging the "Longest Show Ever" – a total of 60 hours – to showcase it's Spring '13 menswear collection in Paris.
Starting this morning at 9:30 AM, one model is hanging out in a gallery window outfitted with a "small compartment built from cardboard boxes and wood planks". He's allowed to leave his box every two hours so that he can put on the next look (and hopefully take a bathroom break), but not to sleep. He'll be doing that in the box as well. Maybe they're doing pajamas this season? With each look, he's given a new prop – so far we've seen him read a book, mess around with an old camera, and show us his creative side with some pencils and paper (he sketched some "buildings and people" the brand tweeted).
Follow the jump to read more!
The man behind the brand, designer Scott Sternberg, was formerly a Hollywood producer and has become known for his out-of-the-box ideas and presentations, but this takes things to a whole other level. And did we mention that you can watch every minute of it? Head over to the label's website to catch every exciting occurrence. Currently, there are a bunch of little kids who seem very perplexed by the man in the window.