Please welcome another new blogger to our FSD blogging army: Annie Wehby, a Fashion Journalism major, will be our gal about town. From concerts to fashion events, she will be our go-to gal for all the cool (and not-so-cool) spots in San Francisco.
Although Coda Supper Club in the Mission District isn't your typical hipster haunt, the upscale club was home to 11 local indie bands from the Bay Area last Tuesday night; covering classics from the Velvet Underground and Nico.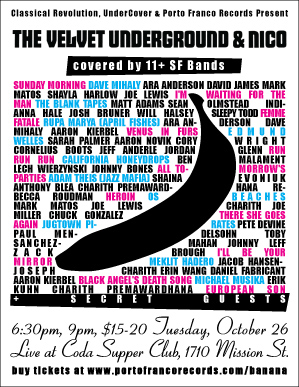 While none of the bands could quite replicate Nico's sexy German drone or Lou Reed's particular brand of crazy, there was a rousing rendition of "Run Run Run" and "Femme Fatale."
Coda featured two separate show times at both 6:30 and 9:30 p.m. to cater to the dinner and drinking crowd. I, for one went to the later show and despite the somewhat stuffy menu, they did have $6 sweet potato fries. That combined with the sultry tunes was no doubt the reason the place was packed all night — not a bad deal.
Despite the lack of any Andy Warhol superstar-esque performances, this was one instance where a cover band performance didn't include bad '80s hair or any tributes to Journey. Win!
Written by: Annie Wehby
Click here to read more of "Annie's Social Diary"